It's that time of year again to laissez les bons temps rouler, throw off the chains of drudgery and party New Orleans style – only this year there is none of that – no parades, no beads, no partying, no baring of bosoms, no masked balls, no much of anything, at least publicly. But the creative juices continue to flow, and if we can't have our traditional fun, we at least can have … Yardi Gras. Roughly translated, it means if we can't have parade floats, we'll have yard floats instead. All that artistry has to go somewhere.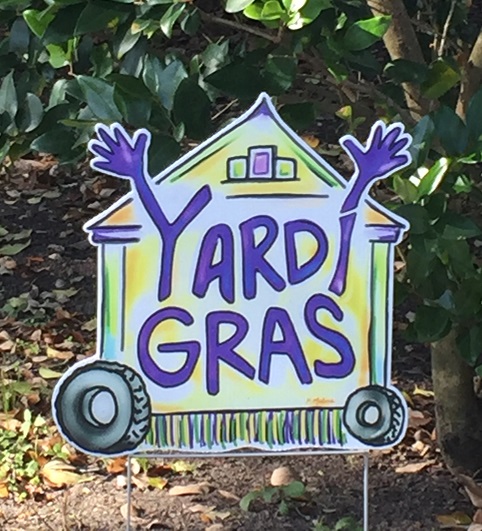 And there's plenty of it to go around. Every day since the Mardi Gras season began – January 6 – these yard floats have been popping up in my neighborhood of Broadmoor, and I've collected a sampling. Hats off to this year's krewes …
Birds are popular this year … tis the season of the landed flamingo, among others.
And if you're going to be staying home anyways, make it fun …
New Orleans inspired …
Not to be outdone, the flora and fauna are here …
There is no last, there is no least, there is only Fat Tuesday …