Bahía
We've carved out one week to see the coast of Ecuador – nowhere near enough time to see it all – all 1,465 miles of it. So we have to pick and choose. There's not an awful lot to read, at least in English, about Ecuador, in terms of travel and tourism, and what there is to read leaves you wondering if what you're reading is a hard sell or a really hard sell. In the end, choosing where to stay on the coast was a crap shoot.  There were a handful of towns whose names kept coming up – and there was one that sounded like a perfect combination – a quiet town (compared to others along the coast that are described as "party towns"), all the modern amenities, including good Internet, it's right on the ocean, and it would be 81 degrees when we got there, according to weather.com. It's Bahía de Caráquez, on the central coast, an hour north of Manta, where the flight from Quito is  taking us.
It's a short flight from Quito to Manta – 50 minutes. We did consider taking the bus, but it was about a six-hour trip. It would have been nice to see the scenery going through the mountains to the coast, but in the end, it would have meant giving up a beach day. Once we landed in Manta, Viviana secured us a taxi that would take us to Bahía for $35, which is pretty much the going rate. The road took us  through Crucita and San Jancinto, through farm country. Rice paddies along the roadside,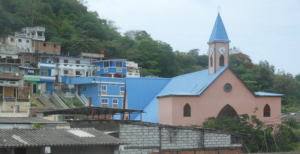 passing trucks laden down with bananas. We come into Bahía from the southern end of town, and my first impression is how modern it looks – a shock to the eyes after our hour's drive through the country. It's still early, only 8 o'clock in the morning, so not many people about, but everything looked clean and shiny and ready for business. A few minutes later, we're dropped off at Bahía Bed & Breakfast, our home for the next five nights. We've shown up about 10 hours ahead of schedule, but no problemo. Sofia, one of the owners, leads us to the dining area for breakfast, and when breakfast is over, our room will be ready.
Given our lack of Spanish (pre-Viviana), we figured it would be best if we booked as much of everything we could before we got to Ecuador, because there's no telling where we'd end up if we were counting on our "por favor, señor" to get us a room on any given night in a strange town where no one speaks English. What you give up in freedom of movement and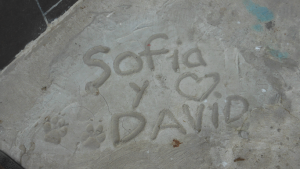 spontaneous decision making, you make up in the comfort  of knowing you've at least got a place to stay. We lucked out with Bahía Bed & Breakfast, run by newlyweds David from Canada and Sofia from Colombia. They love it here in Bahía, it's the way of life here.
Breakfast is fabulous. An omelet, toast and jam, cafe con leche. The kind of breakfast that makes you look forward to tomorrow morning when you can do it all over again. You don't have to be staying here to get breakfast, as we find out from Bruce, who, as it happens, is not staying here; he'll tell you, "It's the best breakfast in Bahía." It's also got the best people staying as guests.

Over breakfast we meet Daron from Colorado and the next morning, Marcelus from Argentina. Daron is at the tail-end of a three-month trip through Latin and South America, and it sounds as though Marcelus is just at the beginning of the current leg of his journey around the world. Marcelus has some nice photos of Ecuador on his Around the World at 50 Facebook page. I'm looking forward to seeing where he heads next.
As promised, our room is ready after breakfast, so a quick change into our bathing suits, with towels and sunscreen (and you absolutely MUST wear sunscreen here, even if you're not a sunscreen person; this is equator sun, not that wimpy New Hampshire sun) thrown in a bag, and with David's directions to the beach ("Just follow the malecón into town and you'll see it") and directions to the mercado, where we could pick up some fresh fruit, we were on our way to start our beach vacation. Bring it on!
At the mercado in town, we see what they mean when they say food is really cheap in Ecuador.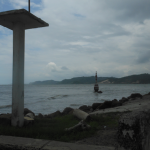 We buy seven oranges for a dollar and three big mangos for another dollar. This is a real treat. From there it was down to the beach – just in time to watch high tide coming in, crashing against the rocks up by the seawall. Bahía de Caráquez means "Caraquez Bay,"and indeed,
Bahía the town is located at the mouth of the bay, which narrows into the Chone River estuary farther east. So the waves come in at the mouth, but as we round the malecón and walk along the bay as it narrows, we find a beach that seems immune to the tide. It's good for a few hours of sun and fun – the water is perfect, the air temperature is perfect; life is perfect. Eventually the high tide finds us – perfect timing; time for dinner. Sofia recommend El Muelle Uno on the water's edge, which turned out to be a good choice. I had a meat dish, which came with rice and
beans, and Viviana and Celeste went for the fish, and why wouldn't you when it's caught fresh outside your front door? For local beers, there's Pilsener and Club Verde, both brewed by the same company. There's not much to choose between them – most everyone drinks the Pilsener, but at $1.70, I went for the Club Verde tonight, a tradition I maintained for the rest of the vacation. Eating at El Muelle Uno was another tradition we maintained; it became our regular eating hangout – the prices are good, the food is good, it's convenient to the hostel – all good. I caught Fernando at his usual post one day as I was walking past, encouraging people to come in and eat.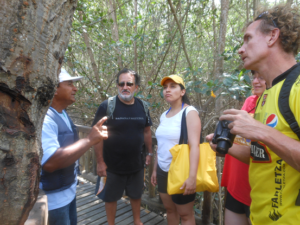 Next day, the three of us join Daron and Marcelo on a trip up the river to Isla Corazon, a heart-shaped island of mangroves on the Chone River Estuary that is home to a variety of birds – frigate birds fill the sky, with pintails along the shoreline and egrets in the trees, and many, many species that our Spanish guide told us all about, but that went right over my head. What I do know is that this bird sanctuary is now a protected area, thanks to the efforts of local fishermen who turned the
island into a mangrove restoration project and turned it into an ecotourism project by installing an elevated walkway through a part of the island, which allows visitors to get up close to the mangrove ecosystem and the birds that thrive in it.
For panoramic views of Bahía, take a cab to "La Cruz" atop one of the highest hills in town. Save the cobblestone stairs for the walk down – you only live once. Hotels and apartment buildings dot the shoreline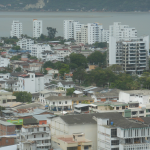 on the tip of the peninsula. On the north side, we can see the newly constructed bridge that spans the Chone River estuary, linking Bahia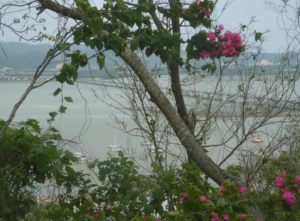 to St. Vincente on the other side. This really is a delightful town – its residents are proud of its designation as an EcoCity – it's a quiet town and clean, away from the madding crowd, but not too far.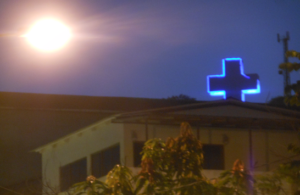 The town also boasts an archeological museum that has gathered artifacts from the region, including some from the Valdiva Culture, dating back to 3500 BC, and up through to the 1500s when the Spanish first discovered this area of the continent.
On one of our trips into town, we stopped in at Coco Bongo, a hostel with a restaurant on the malecon, where I'd heard the ex-pats are known to frequent. I happily met up with Don and Cheryl from the States, who now live an hour north of Bahia. They tell me stories of what it's like living in Ecuador, and despite any pitfalls, it looks like they've found what they were looking for down here.
On one of our first nights in town, Daron took us over to Carlos' bar on the malecon – Spanish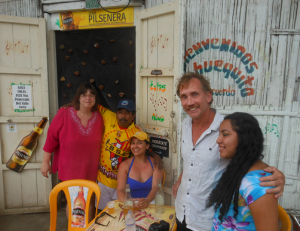 music emanating from the bar outside to our table, meringue and salsa fill the sidewalk, and Pilsener and Club Verde fill our table. Carlos is a man of all trades – shrimp fisherman, taxi driver, hauler, net caster, bar owner, and tour guide, just scratch the surface.
One day we all go on an expedition to an "archeological beach" on the southern outskirts of Bahia. It sounds exciting – What will we find? To give us the best bang for our buck, Carlos takes us in his truck (which doubles as a taxi) along the beach – it's low tide and it'll be fun to ride the beach. Technically, driving on the beach is illegal, but I think it's something like the rules about solid lines on the highway –
ignorable. We're up for it, and it's all going very well, until we get to a spot where the access down a dune has washed away and if we're going to get down near the water's edge, we have to build a ramp.
Which we do, constructing it out of small boulders and large rocks, and somehow it works. Carlos' truck gingerly takes the ramp, and we're on our way. For about a mile or so, until an oncoming truck pulls up beside us and informs us the beach is washed out up ahead and there's no coming, no going, at least that way. So it's back to the highway to take roads through the country and get to the beach that way. Fruit trees galore and plenty of farmland line both sides of the road. And there it is ahead of us, the beach.
I'm not sure what part was the archeological part, but the ecological part was good enough. As I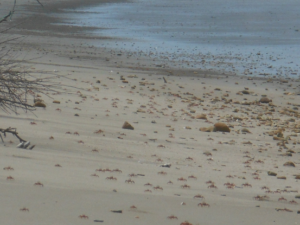 head off to explore the southern end of the beach, I come across thousands of crabs, scurrying along the beach as my footsteps thunder in the sand. Amazing creatures – one minute there are thousands of them and the next moment they're gone, hidden beneath the sand in a flash.
The water is warm and it beckons us in, but before wading out too far, the bottom turns rocky, just enough to scrape your knees and feet if you're not careful. Careful is our middle name.
Sun setting over Bahia  …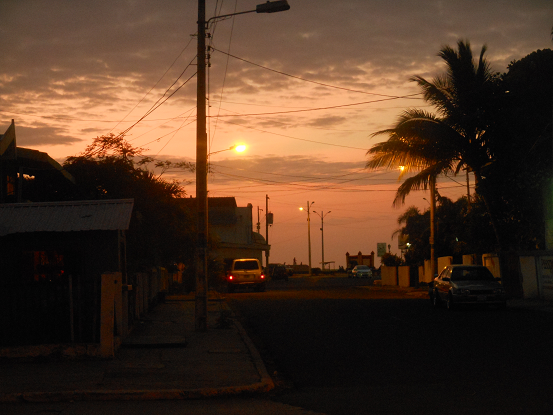 Boca De Briceño
About five miles north of Bahía is the charming beach town Briceño (a $1 bus ride). I can't speak to what the nightlife is like here, but the daytime is lazy and lazier. It's the quiet alternative to Canoa, the party town up the road a piece – Briceño is for lying in hammocks, drinking a cold one, a dip in the ocean, rinse and repeat.
It's to Briceño that Carlos takes us one day to teach us all how to throw a shrimp net. We're
going to practice on the beach. It couldn't be easier! Carlos makes it look easy; and it is relatively easy to throw. It's the getting it to land like Carlos gets it to land that's the hard part. We all give it a shot, and kudos to Daron for letting me capture him doing the throw. Check out this short video on YouTube.

After we all got a chance to throw, Carlos took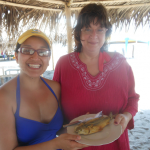 his net into the ocean and cast it in search of, who knows? On his second cast, he catches a fish that's big enough to fry up for lunch. And so we do. What a perfect life!
Canoa
Four miles up the coast from Briceño is Canoa. The bus from Bahía costs $1, which picks us up a block away from our hostel, and the first stop over the bridge is San Vincente, which doesn't seem to have modernized the same way Bahía has. And to make it worse, San Vincente has decided to tear up all the streets in town at the same time to lay pipe. Our bus kicks up dust as it rumbles through town, but soon we're on the road north, with stunning views of the ocean and oceanfront properties. The two-lane highway cuts through Canoa on its way north, and when the bus stops by the side of the road, half the occupants of the bus get off. Canoa is a major draw – a surfer town, great waves, strong current, good swimming, great fun, little shops, throw in food and drink, and there are all the fixings for a great party town. And that's what it is.
All this crammed into four square blocks, and once the sun goes down, the night lights up, with the strip closest to the beach sporting one bar after another and plenty of two-for-one specials to go around. We learn how drinking gets done down here: Arriba, abajo, al centro, a dentro, and it all goes down smooth.
Salinas
We've chosen Salinas to spend our last two days on the coast. This entails taking a taxi (thank you, Carlos!) to Portoviejo, where we catch the bus to Salinas. And although there's no time to stop at any of the towns we pass along the way, I am resolved to make my next trip to Ecuador include a stay along the coast around Montanita and points north and south. The bus takes us to Santa Elena terminal, where we catch another bus that takes us through La Libertad and into Salinas. We would have had to get off the bus in La Libertad to know what it offers; I've read that there's a fairly big ex-pat community that loves it here, so this too will be worth exploring next time. But it's on to Salinas, which like Bahía is on a peninsula jutting out into the Pacific. Unlike Bahía, though, Salinas is all about tourism.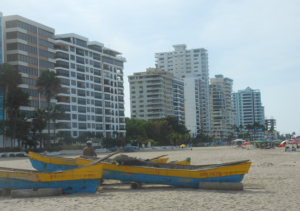 Days were for the beach – swimming, people watching and soaking up the rays as needed. Our hotel, Casablanca Salinas, was right on the malecón. Both mornings we had breakfast on the front patio, with this view …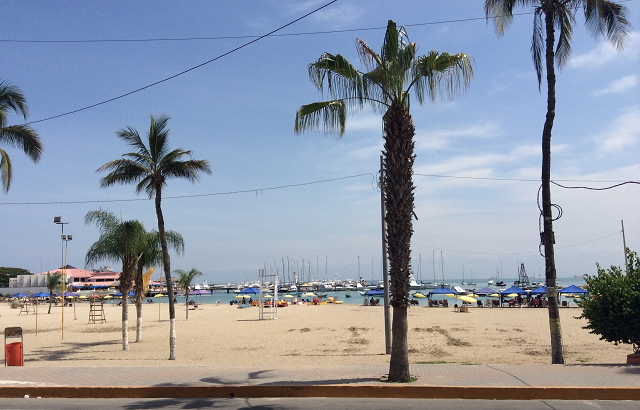 Talk about being spoiled. Unfortunately, it was only for two days. But we made the most of it. What's not to love?