Two weeks in San Francisco is a dream come true for me. Three years ago, on my last visit to the city with Bridget, we crammed as much as we could into our four-day stay, absolutely delighted by everything we saw and did. When it was time for us to leave, it wasn't without regret, but as we got Dexy on the road heading east out of town, I cushioned the regret with the notion that I'd be back, and that I'd spend more time exploring all that San Francisco had to offer.
Three years later, and I've made it back. And while I don't get to explore all of what San Fran has to offer, two weeks is enough to explore at least a little bit more. It's great thanks to my friends Art and Carol that I'm even here. When Art and I met up in Downpatrick, Northern Ireland, for a couple of Van shows late last year, he mentioned that he and Carol were off to Hawaii for two weeks in June. Before you could say "It's a marvelous night for a Moondance," we'd arranged that I would stay at their place in Bernal Heights and look after their cats while they were on vacation. So there we were, Rufus and Mack and me, ready to pounce.
As is my wont, any place I land that excites me, automatically becomes a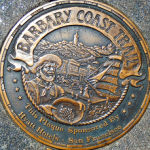 candidate as a location in my forthcoming novel. San Francisco fits that bill, so before much else, I'm off to the public library downtown to do some historical research about the Irish, and I make a delightful discovery. Unlike on the East Coast in the mid-1800s, where upon their arrival the Irish faced a wall of discrimination they had to leap over to grasp even the lowest rung of the ladder, here in the west there was no establishment and the Irish were as free as everyone else to make their mark on this new frontier. This is surely the stuff of a good story, I think to myself.
Between bouts of reading about the discovery of gold up in them thar hills and the goings on along the Barbary Coast, I make a break for lunch to meet up with fellow Free Stater Travis Eden at StrEATfood, an open market of food and drink vendors in SOMA (South of Market) set up in a parking lot on 11th Street beneath Highway 101. Travis and I catch up over a seriously good hamburger with serious amounts of bacon. Then it's back to the books for me.
Downtown has its places of interest, including City Hall, Davies Symphony Hall and the Asian Art Museum, but it's farther up Market Street, in the Powell Street/Union Square quadrant, where most of the action is. As well as the shops and eateries, it's also the best place to catch one of the trolleys heading uptown, toward North Beach and Fisherman's Wharf.
The trolley ride to North Beach is all uphill, cutting along the edge of Chinatown, and it's times like this that one is most happy not to have to rely on walking to get from point A to point B in this city of hills. And there at the top of the hill, before the headlong descent to the water, is a straight-on view of Alcatraz out in the bay, with Sausalito rising in the background. Fisherman's Wharf is down there too, but first a side trip to Washington Square in North Beach to sample the food and drink and some live music on stage at the annual North Beach Festival.
Down at Fisherman's Wharf, Wendy and I stroll along the boardwalk past the piers and take in the shops at Pier 39, and of course the sea lions and the views north, south, east and west. We resist the urge to fill up on chocolate, although it is surely listed as one of the must-do's for tourists. We've made it to Fisherman's Wharf, and that's plenty enough to cross off the checklist.
I'm not sure if the Castro District is on the top-10 tourist must-see list, but it's on mine, based on the glimpse of it I'd got out the bus window when we'd passed through the area three years ago. It looked like a happening dude neighborhood then and the same holds true now. This is Harvey Milk territory, LGBT territory, and all the colors of the rainbow. We can't resist stopping in at the Harvey Milk restaurant at the corner of Castro and 18th for lunch and liquid refreshment – it just seems like the thing to do – before wandering around the neighborhood. My only regret was not finding what I was looking for in the sex toy shop: an outlandish sticker I could add to Dexy's back bumper collection. There was lots of obviously very useful stuff in there, but alas, no sticker, so I was forced to leave empty handed.
It was never more obvious than these two weeks in San Francisco just how much I need a music secretary. In a city where on a slow day there are three or four excellent things going on to choose from, it's never a question of what to do but how do I fit it all in? Except, apparently, in my case. So I opted to stay home and riffle through Carol and Art's music collection. Oh, we did get out to the opening evening of the SF Jazz Festival, so I suppose I wasn't totally devoid of music culture.
As gardening nuts, free admission to the Botanical Garden in Golden Gate Park is all it takes to get us over there and to spend an afternoon wandering through its 55 acres. Bursts of color everywhere – I am camera-happy. Like the song says, "If you're going to San Francisco, be sure to wear some flowers in your hair." At least two or three … oh, what the heck, let's make it an even eighteen.