It's a long road from Big Sur to Las Vegas, requiring many stops, including the requisite morning coffee. By the time we got to that coffee, we'd already put in a good day's work: packing up the campsite and lugging it the .3 miles to the car in the parking lot. This is a good walk, not onerous by any means, at least not on the way in. When you pack to go in, you only, by definition, take in what you can carry in one trip. But if you're camping for any length of time, you're always back to the car, picking up a pair of wool socks, a heavier sweater, the guitar, so by the last morning, when it's time to pack up, you feel like a pack mule walking to the car, and you really wish it was .1 miles.
Then, if you're us, there's the cramming it all back into the car. It has become an art, how we are able to get our stuff in and still see out the back window. The passenger seat floor area is now a storage bin. We have serious talks about downsizing. Not that it does any good, but we know we must do better the next time.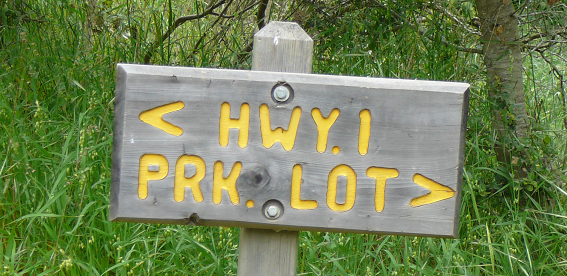 With Dexy ready to roll one more time, it's out to Hwy 1, heading 25 miles north to Carmel, our last stop on Hwy 1. It turns out there is nothing, in terms of coffee, or anything else loosely considered a convenience, between Big Sur and Carmel. And so it is that we find ourselves in Carmel at one of those chic California plazas with their boutique shops and boutique coffee. Boutique coffee with boutique pastries. Indulgence.
And then we're on the road again, heading east to Salinas to catch up with Hwy 101 heading south. If we stayed on 101 long enough, we'd head straight into Los Angeles. When we were driving up the coast from LA along Hwy 1, there were a few places where 1 and 101 were as one, where the former jogged inland, but today we're not heading near the coast – we said our goodbyes to the Pacific Ocean in Carmel, with the falsetto lyrics of "See You In September" by The Happenings running in the part of my brain that does the music tracks, giving me an ear worm for the rest of the morning (and because you too can have an earworm, here it is on YouTube). I'm not wishing my life away, but I'll be glad to be back to the coast when we get here the next time – September, if things work out right.
On the stretch of Hwy 101 we're on, it runs more or less parallel to the ocean, about 30 miles inland, big open ranch country. We're on El Camino Real (Spanish for "The Royal Road"), otherwise known as the California Mission Trail, a 600-mile road that connects the 21 missions set up by the Spanish during the 1700s. Before California was the state of California, USA, it was the province of Alta California, which together with Baha California comprised Las Californias, all under Spanish rule. It became an outlier territory of Mexico when that country won independence from Spain in 1821, but it was theirs to lose in what Americans call the Mexican-American War, and so they did in 1848, when the Americans got California (along with Texas and New Mexico) for financial considerations. But back when the Spanish were running the show, they sent Catholic missionaries throughout the province to set up shop where the Natives were congregating, in order to convert them to Catholicism. The Spaniards needed as many converts as they could get, saddle them up, and send them off to fight the Russians, who were making invading noises to the north.
The network of missions runs from San Diego in the south to Sonoma in northern California, and in our 100-mile stretch from Salinas to Paso Robles, there are two – in Soledad (perhaps better known as the home of Soledad Prison) and San Miguel. El Camino Real is marked by roadside bells, each hanging on an 11-foot-high pole shaped like a shepherd's crook called a Franciscan walking stick, in honor of the Spanish Franciscan missionaries. The original bells were placed long after California became an American state, so there are no romantic stories here of 18th-century monks clanging coded messages to their brethren up and down the trail – alas, they are simply decoration.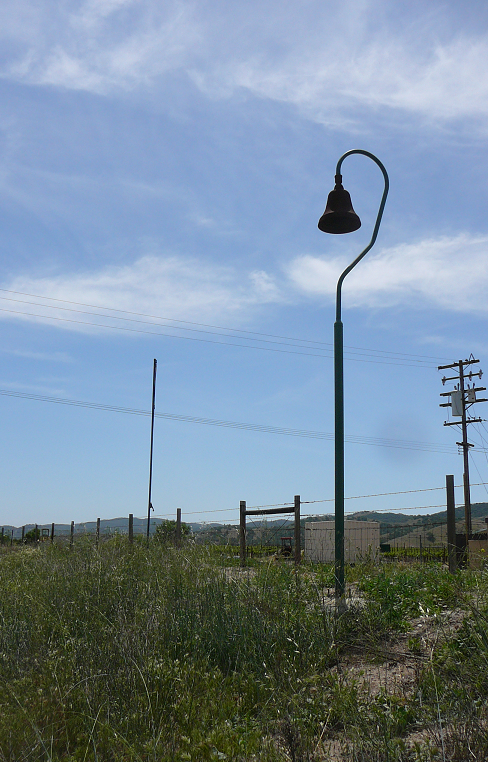 It's not just bells on the side of El Camino Real. It's a veritable road show of this and that and skeletons too …
We pull off in Paso Robles for gas and coffee refills, and you know, we're never looking for him, but there's Elvis, sitting pretty in McDonald's, getting his mojo working. He ain't nothin' but a hound dog.
West from Paso Robles along Hwy 198 and then south on I-5 into Bakersfield, we've headed into real desert country – the San Joaquin Valley. Not a lot of picture postcard views here, but we do see our first mega-gigantic producing oil field – a Chevron interest – called the Kern River Oil Field, with its many wells pumping up and down, trucks kicking up the dust, and we, along with life, move on. Further on up the road to Barstow, we pass Edwards Air Force Base, where American military aircraft are tested. I'm sure it has many claims to fame, but the one that stands out in my mind as we drive by is Chuck Yeager's flight that broke the sound barrier back in 1947. I wasn't even born yet.
We call it quits for the day when we get to Barstow – we need to get our kicks on Route 66 before we head up to Vegas.