For a city that tends toward excess, Las Vegas can be pretty tame if you let it be. Although, really, why else would you go to Las Vegas other than to indulge in the excessive? It's a man-made wonder that screams "PLAY ME!" "WIN BIG!" "SPEND, SPEND, SPEND!" At least that's how I've read the promos.
I wasn't planning on playing, winning or spending in Vegas. No fear and loathing either. I was strictly a curiosity seeker, come to see what all the hoopla is about – an observer. I set myself no rules, except one: No gambling. I've been known to play blackjack, but history has shown that I am equally adept at losing as I am at winning, so I am listening to the oddsmaker gods this time and resisting the urge.
And just as well I did. Our first night in town, we were in Casino Royale, sipping our $1 Margaritas and watching the players play. While Bridget was getting a lesson in craps, I watched a table of Blackjack Switch, where you play two hands and have the option of switching your two top cards after the first deal. I didn't look to see the ante, but if it was ten bucks, I easily would have been down a hundred bucks in 20 minutes. They make it easy for you too. The first order of business is to hand all your money over to a cashier in a teller's booth, who loads up your debit card, and with your card, you head off to the gaming tables to buy your chips. Everything is done using the card, even the slot machines. No more putting your nickel in the slot and cranking the lever; now you just stick your card in and push the button. The thrill is gone. I saw one man at the Las Vegas Hilton, robotically pushing the Play button while he idly stared at his lap, as though he knew the futility and was resigned to it.
We timed our arrival in Las Vegas perfectly, getting there at the same time as longtime friends Linda and Ron, who had flown in from Washington state not for the excess but for the US Libertarian Party presidential nominating convention being held at the Red Rocks Resort 20 minutes west in the outskirts of town. So we headed over there to meet them before taking ourselves off to "the Strip." Red Rocks is some kind of opulent, the front entrance bathed in red light and a lobby dripping in chandeliers, and there were Linda and Ron waiting patiently in the long check-in line with the others just off the airport shuttle. With that done, we all headed up to their swanky hotel room with a view across the desert of the Vegas skyline in the distance. But I don't think if you're staying at Red Rocks, it's for the views.
Six years ago, Linda and Ron took a year off, got themselves an RV and headed out on the road to see the country, and in those days, before everyone and her uncle had a blog, Linda would post travel photos and a travel log of their epic journey. I daresay that following their road trip online, if it didn't plant them, it surely watered the seeds of my wanderlust. Over a late lunch downstairs in one of the resort restaurants, we shared stories from the road and our Toronto days long ago. As we said our goodbyes, we were saying goodbye for now, see you in September, when our road leads us to their front door up in the northwest, with more notes from the road to compare.
Leaving our friends to their own devices, Bridget and I hopped in the car and headed over to the Strip to find our hotel. We were booked into Circus Circus, chosen because of the incredibly good deal available on room rates. Checking in meant standing in a long line – it seems there is never a shortage of people checking into Las Vegas. I've heard how Vegas hotels lure you in with heavily discounted room rates on rooms that feature king-size beds and jacuzzi pools with the attendant plush bath towels and fancy bathrobes, and while I could have hoped for that and more, it was not to be. Forty bucks a night at Circus Circus gets you a Motel 6 experience complete with mini-fridge and hot-and-cold running water.
When we headed out to the Strip shortly after dark, it didn't take us long to figure out why we got such a good rate … in terms of geography, Circus Circus is in the boonies. It isn't really, but in this city where the casino hotels are cheek by jowl with not a square inch of real estate to be had up and down South Las Vegas Blvd (aka the Strip), Circus Circus occupies a spot at the north end, bordered by a KOA campground on one side, a fenced in acres-wide plot of dust and concrete that looks for all the world like the site of a planned for but now abandoned casino project on its other side, and across the street from a less-than-glitzy hodge podge of souvenir shops. It's not exactly desolate up here at the top end of the Strip, but as we walked south toward the bright lights and the action, it gave us that impression.
Night time is the right time for the Strip. In the daylight, South Las Vegas Blvd is one long claustrophobic slab of hot concrete plunked down in a desert sandbox. But at night, the Strip comes alive, all show, with its neon lights illuminating the grandiose architecture and glittering in the pools of water that serve as the front-yard gateways to the more opulent casinos. But truly, along the Strip there is no such thing as less-opulent. The American Babylon. Erupting volcanoes, stories-high water displays, towering casinos. costumed characters, street musicians, even one guy offering "Punch me in the nuts for $20." I didn't see any takers, but it's not like I stood around to watch.
When we woke the next morning, our best options for our day off were clothes shopping at the outlet mall or sitting by the pool, soaking up the desert sun. But first, a morning latte at "Viva McDonald's" and standing in line at the half-price ticket booth to get tickets for an evening show. With first-choice Penn & Teller sold out, it was a no-brainer which show to go to: "The King," starring Trent Carlini as Elvis. Quintessential Vegas, quintessential Elvis and, seemingly, quintessential us.
In terms of accomplishment, we would have been better off taking a poolside day, but we've got a wedding to go to in August and we need dresses, so our sense of duty propelled us to the mall. In and out of changing rooms for the better part of a couple of hours, but it was all to no avail, at least in terms of finding the perfect dress. On the plus side, though, we saved ourselves from an afternoon of slathering on the SPF 190 to protect us from the deadly UV rays.
In contrast, our evening plans had success written all over them. First off, "The King" at the Las Vegas Hilton.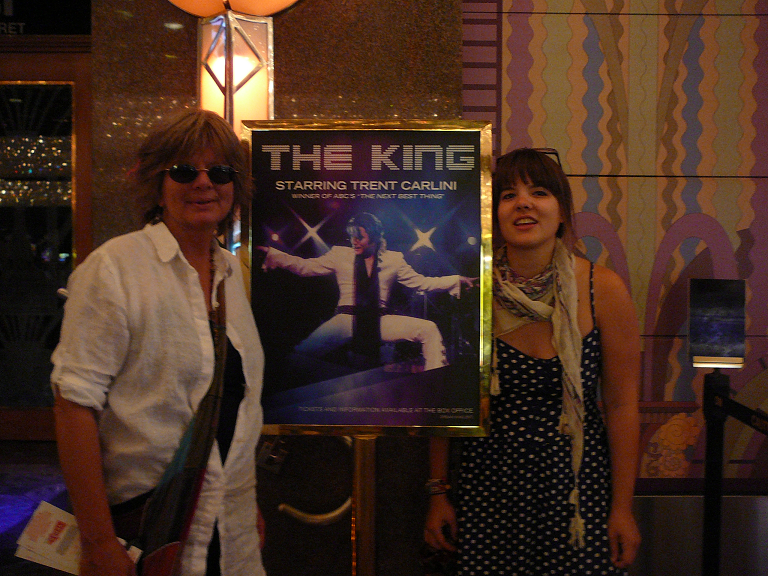 Here we are in Vegas, where Elvis played in his last incarnation on stage. The white pantsuit years. The first time Bridget and I saw Elvis was in early March in Tupelo, Mississippi, on our drive from New Orleans to Nashville. On our first night out of New Orleans, we stayed with Lisa, a fellow couchsurfer, in Jackson, Mississippi. It was she who suggested we take the scenic drive to Nashville along the Natchez Trace Parkway and we could stop in at Tupelo, Elvis's birthplace, if we were so inclined. When we saw the exit for Tupelo, we figured why not. Plus, this is the place where Tupelo Honey comes from – we could do both. We didn't "do" the honey, but we sure did do Elvis – visiting the home he was born in, seeing the church he and his family attended and sundry other things that make up the Elvis memorial in Tupelo. I don't know what got me to jump on the Elvis bandwagon, but once we got one of the guitars out of the car and started playing it on the front porch of his house, we were both hooked. From Tupelo, we saw him in Memphis – at Sun Studios and at Graceland – and then he just kept showing up, mostly in places along Old Route 66 where we popped up. We don't search him out, he just pops up. And here he is in Vegas.
The show was a hoot. "The King" stars Trent Carlini, who with the aid of a lot of cake makeup, looks an awful lot like Elvis, he sweats like Elvis, he does that lip snarl like Elvis and can do a formidable hip swivel, and he sings like Elvis. The show starts with a movie montage of early Elvis clips and then Carlini comes on stage in hip-swiveling black, leading with a bit of banter into "Blue Suede Shoes" and it goes from there. He does a number of costume changes throughout the show, ending with the white pantsuit, and in the final song, which might have been "Don't Be Cruel," his assistant places a half dozen blue silk scarves around his sweaty neck, which he proceeds to give to six lucky females lined up at the front of the stage, doing their impression of screaming Elvis fans. OK, we weren't that good, but then again, it's all just play acting. It's like the Miss America pageant, where he's down to his last scarf and who will the lucky winner be? It turns out to be Bridget, who also gets a kiss, and she kisses him right back. From playing on his porch in Tupelo, Mississippi, all the way to Vegas, our Elvis journey is complete.
Ir was still early when the show let out – plenty of time to get back to our hotel, pick up the car, and head to Fremont Street, driving on Las Vegas Blvd past the Stratosphere Las Vegas, which at 1,149 feet dwarfs every other building in the city (the next-tallest building is the Fountainbleau at 735 feet), and on through the city's downtown to get there. Downtown is definitely on the seedy side, but if you're looking for a wedding chapel, you're in the right place. We took advantage of the free parking at the El Cortez Hotel and Casino's garage at Ogden and 7th, which is directly across the street from the hotel on Fremont Street. We walked the block to Fremont, turned the corner, and walked toward the light. Lots of light, flashes of light, more and more of it the closer we got to Las Vegas Blvd, crossed the street and fell into the Fremont Street Experience.
Four blocks long, Fremont Street Experience is a pedestrian-only walkway, its length covered by a metal canopy that 1) protects its inhabitants from the outside world and 2) protects the outside world from it. Ignoring for a second all the lights from the casinos and all the noise created by the four different live acts, one on each block, and consider just the light and sound show up on the canopy: On the hour, lasting for about 15 minutes, what they call Viva Vision bursts onto the canopy, using 555,000 watts of sound and 12 million lights that'll wow the socks off you. We saw the 10 and 11 o'clock shows, the first one featuring Queen and the second one, The Doors. As the hour approaches, it gets eerie. We'd walked in about 9:30, into a sea of bright lights, swarms of people of all ages, eating, drinking, talking, just generally swarming, beads for sale, souvenirs, casinos on all sides, music blaring from various stages, and up above, an 800-foot-long zipline running beneath the canopy, a constant stream of thrill-seekers zipping overhead on the four lines.
Then, a few minutes before the hour, the bands stop playing. Oddly enough, the noise level doesn't seem to lessen, but then all the lights go out and a hush falls over the place. The dark hush probably lasts not more than 10 seconds, but it seems an eternity, and then with one loud and very bright flash, the canopy comes alive with an incredible show that has everyone cranking their necks skyward, like they were watching for the second coming. Fifteen minutes later, the canopy goes dark again, the street level lights come back on, the music starts playing, and the crowds of people go back to swarming. We found $1 Margaritas at the Fremont Casino and joined the swarms.
Viva Las Vegas!