In the weeks before we headed out on this road trip of ours, Bridget and I pored over the map of North America, looking at all the places we could go. Very few of those places had a date stamp on them. In fact, just three – New Orleans for Mardi Gras; Austin, Texas, for SXSW; and Golden, British Columbia, for my niece's wedding on August 25.
August 25 is approaching, but first a quick trip through the foothills of Alberta to visit my brothers – first stop, St. Albert, on the northwestern outskirts of Alberta's capital, Edmonton, is about four hours east of Jasper. Back in the early '80s, when I first visited on the occasion of my older brother Scott's wedding to the lovely Val, St. Albert was the quintessential bedroom community – a quiet town amid the farmers' fields, the lazy Sturgeon River flowing past. It's not so bedroomy anymore. More like a rec room where everyone has come to play – malls and box stores line Hwy 2, the main thoroughfare through town, and Edmonton's under-construction ring road, Anthony Henday Drive, cuts through town; and the transformation of sleepy-time town to suburban shopping plaza is complete. Everyone's moving to Alberta, it seems, and Edmonton's growth has to spread somewhere. St. Albert has been gobbled up.
But none of that really matters, at least to me – I've not come to see St. Albert, I've come to visit Scott and Val and have two days off the road, where Val will feed us till our pant seams burst and Scott's overflowing library of books and record collection fills our senses from sunup to sundown and then some. It's a gustatory, musical and literary mini-vacation – no mountains or rivers and sundry other nature to photograph (although we do get down to Val's vegetable plot at the community garden down by the Sturgeon River); instead we fill up with food and books and much talk.
Then we're off to Calgary – at least Bridget and I are; Scott and Val will be following us down the road the next day. Calgary is where my younger brother, Grant, and the three women in his life – my sister-in-law Mary and their two girls, Jennifer and Andrea – call home. We're getting to town just in time for Jenn's wedding shower, hosted by her soon-to-be mother-in-law, Adrienne.
Mary, Jenn and Andrea, with Jenn's new Coach bag, at the shower

The bride-to-be got snagged into playing a drinking game called "Whose wedding dress is it?" in which she got to try on all the dresses of the married ladies in attendance and guess whose it was, with the penalty of having to drink up if she guessed wrong. It ended up being not much of a drinking game – Jenn only missed a couple of them. One of the ones she had no problem with was her mom's …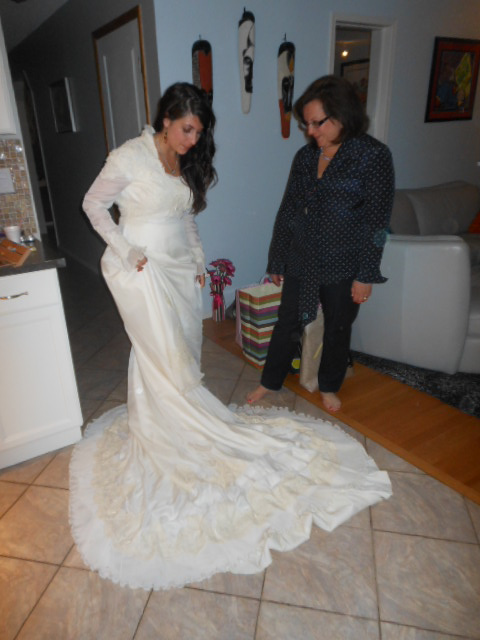 Then a nice group picture with all the ladies, some of them many years later, in their wedding dresses. [In the interest of historical accuracy, that's not my wedding dress I'm wearing (3rd from right) – that's Val's; I'm just the stand-in]
When the Vales get together, it doesn't take a wedding to make a party of it; but a wedding is an excellent excuse. More food, more drink, and two days later, it's time to pack it all up and move the party down the road to Golden. We've got a wedding to get to. Bridget's and my plan to leave a day early and stop in along the way to do some hiking in Lake Louise … well, that never happened. The best we could do was join the caravan from Calgary to Golden, which stopped for a group photo at Lake Louise. One of the most photographed locations in Canada, I'm sure.
From Lake Louise it's just a short while up the road to Golden, a small town at the junction of the Columbia and Kicking Horse rivers. Golden's main industry used to be logging (and trains!), but all that changed when the Kicking Horse Resort came to town, setting up business at the top of the mountain, and tourism became the number one game in town. It's the top of that mountain where Jenn and Sam are going to get married, and up we go.
The resort that has everything, including a gondola to get you to the top for skiing in winter and biking down in summer, and terrific views any time of the year. A spectacular place for a wedding. The day after, those of us who stayed an extra day to detox pooled together our photos of the weekend, and to a body, we all agreed that we could hardly wait to see what the professional photographer did with the backdrop. As we all wait for those pictures to show up, here's a taste of what it looked like …
The bride and groom, Jenn and Sam

A wedding not soon forgotten. All the best to the very happy newlyweds, Jenn and Sam!