The Alberta Rockies, along British Columbia's southeast border, are the heart of Canada's natural wonderland. Beauty is always in the eye of the beholder, but believe me, this part of the world is a gem, particularly if you like mountain lakes, glaciers, jagged peaks and alpine meadows. It's one scene after another. Bridget and I have a few days to explore the area before heading east into Alberta's foothills to visit family in St. Albert and Calgary.
Banff
Banff is probably Canada's most popular year-round tourist destination, and probably half the kids in the country have been here either to work or to play. I spent two summers here as a teenager working at the Banff Springs Hotel – a luxury hotel originally built in the 1880s along the Canadian Pacific railroad. Think big, think opulent.
The view from the back of the hotel, at least as I remember it, includes Bow Falls and its river that wends its way around the town and between the mountains. I cajole Bridget to one of the hotel's back patios for that view; but it's not there anymore! Trees that are beyond tall obstruct the view, so we hop in the car and head down the hill to the falls for a close-up. It ain't Niagara but, hey, we all can't be No. 1.
Across the river and into town, the place is all hustle and bustle – eating, drinking, shopping, taking photos, tourists galore – a perfect place for Bridget to set up shop with her violin …
We've allotted ourselves two nights in Banff … two nights anywhere gives us a day to get there, whatever is left of that day and night to check the place out, and a full day the next day for a hike. We set up our tent at Two Jack Main campground near Lake Minnewanka, 12 kilometers away up one of the many mountains surrounding the town. We're ready in the morning to head out to Mount Norquay (yet another mountain outside of town) for a hike to the Cascade Ampitheatre that the fellow at the tourist center in town has recommended. Norquay does double duty: downhill skiing in winter, hiking in summer. Buggy in summer too. No matter how much bug spray we slathered on, the bugs kept attacking, and we simply had to call it quits after a mile or so in, else we would have gotten eaten alive. Based on the little we saw, I can only imagine how beautiful the amphitheatre would have been, but that will have to wait for another day.
But by far the best visuals of the day were on the drive back down Norquay!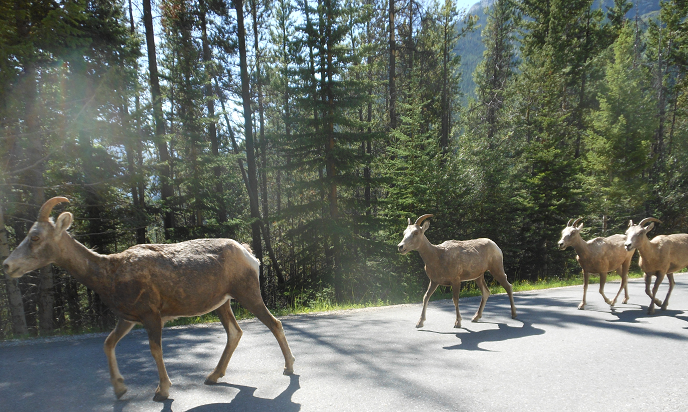 The abbreviated hike meant we had time for a swim at Johnson Lake, near our campground. It's a shallow lake, so the water is a bit warmer perhaps than other lakes in the area, but calling it warm is a stretch. It didn't stop me from going in, but a quick swim out to the middle and back was all I could do. If Johnson Lake is any indication, it could be that my summer swimming days are over for the year, unless we're talking indoor pool and heated.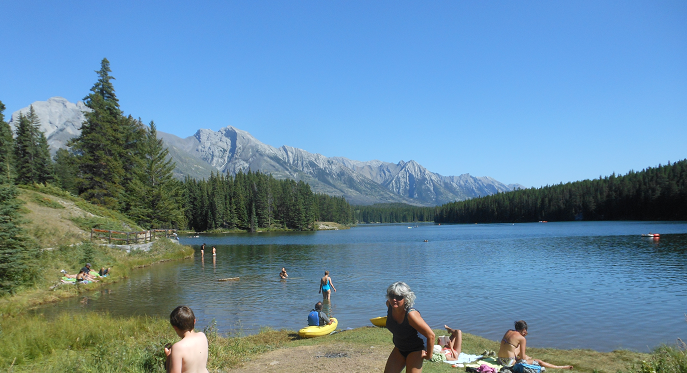 With so much grandeur in the area, and nowhere near enough time to explore it all, it's hard to pick and choose what to do next.
Icefields Parkway
But choose we must. Our destination from Banff is Jasper. First we have to backtrack to Lake Louise, and this time we take the Bow Valley Parkway, the scenic route that hugs the Trans Canada Highway between Banff and Lake Louise – a popular route for cyclists, and also bears, as it turns out. Although we've seen bear warning signs every time we head out on a trail, this is our first sighting of one – a baby black bear running across the road into the woods. Far too quickly for a photo op; all we have is the memory.
We don't stop in Lake Louise – our plan is to spend a night there in a week's time, when we'll be circling back through the area on the way to my niece's wedding in Golden, BC. But it's at Lake Louise that we begin our journey up the Icefields Parkway, often referred to as the most scenic drive in the world – 233 km on a road that parallels the Continental Divide through the Rockies, stretching from Banff National Park on the south to Jasper National Park to the north. It's Saturday, and we need to get to Jasper while it's still light out in hopes of finding an available campsite. Good luck to us! What that all means is we can't dawdle along the way; but we do take time to stop in the Saskatchewan River Valley so we can hike Parkers Ridge, a 2.4km rather steep climb with many switchbacks that is so worth the muscle strain for the views along the way and the ultimate view at the top of the ridge.
At the top – the Saskatchewan Glacier …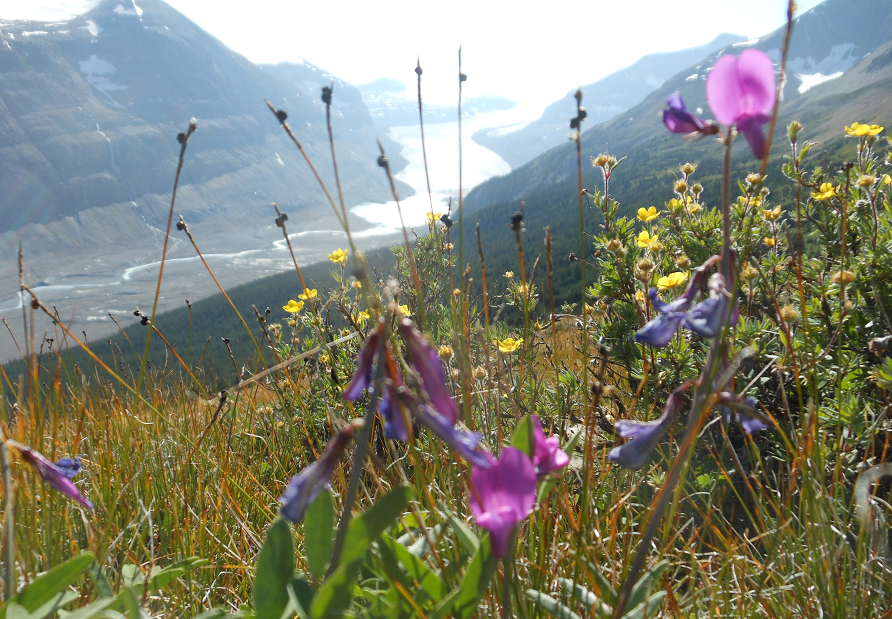 We have to hustle to get up to Jasper and find a place to stay for the night, actually two nights, but the plan is to return to the Icefields Parkway tomorrow and explore some more. Jasper, here we come!
Oh, dear. It turns out we've left our arrival in town too late. The two campgrounds in the area (which are both very large) are booked up, but as the campground gatekeepers at both places said, "You could always try the overflow camping at Snaring Lake," said in such a way that we weren't entirely sure this was our best option. However, when there are no other options in the game book, overflow camping it is. Way, way on the outskirts of town, for $10 a night, you can pitch your tent near Snaring River, and for your 10 bucks you get a flat piece of ground, a pit toilet and trains that go by (on the same tracks that go past the Lamplighter Campground in Revelstoke, no doubt) just out of sight at what sounded like 10 yards away. Indeed, you get what you pay for.
In the morning, well rested (not) and ready to hit the road, we head back to the Icefields Parkway just south of town. I drop Bridget off at the Valley of the Five Lakes, and while she takes a few hours to hike around the lakes, I head further south to Athabasca Falls for a hike of my own that is perhaps a little less strenuous than hers. I can still feel Parkers Ridge in my legs.
Athabasca Falls, about 30 km south of Japser, lies to the west of the Icefields Parkway on a loop called 93A (the Parkway itself is Hwy 93). The falls are not steep at all, but the Athabasca River is a powerful force right here where it flows over the falls into the gorge.
The walk along the river reminds me that one doesn't always have to climb up steep inclines to enjoy the scenery …
Up the road on 93A, there's a turnoff for Moab Lake. I imagine a beach by a lake with room to stretch out and have a picnic lunch; but Moab is not meant for hikers and beach bums, it's for kayakers, kayakers in good shape, who think nothing of portaging down the longish trail from the parking lot to the lake's edge. A beautiful day to be out on the lake.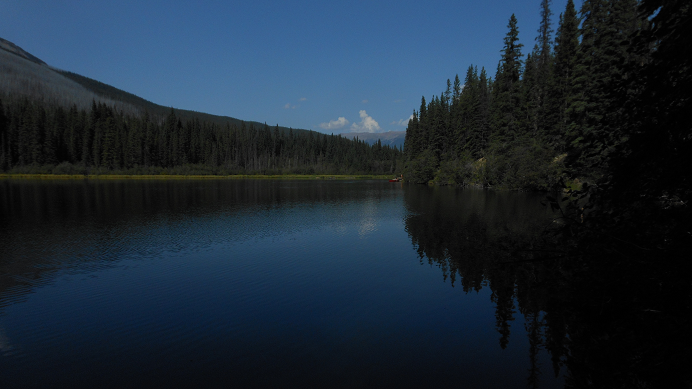 Back on the Parkway, here are a couple of random shots …
Tree working on being a mountain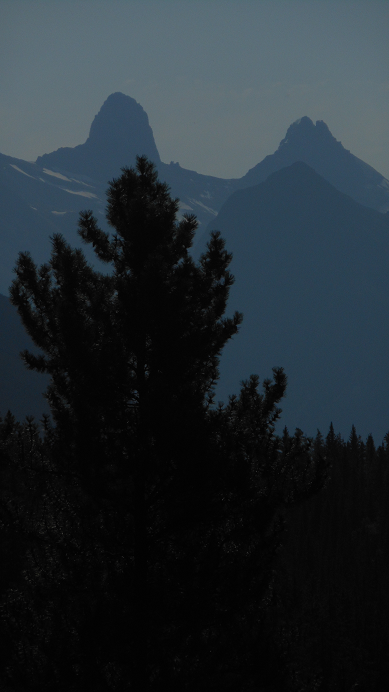 Jasper
Our first night in Jasper, after pitching our tent at Snaring River, we headed back into town and ended up at The Whistle Stop for a drink.
In an effort to scope out the scene in town, I struck up a conversation in the bathroom with a frequent visitor to Jasper, and she summed it up succinctly: Banff is the place to go if you want to have a good time in town; Jasper is the place to go if you want to do nature. We finished up our drinks and headed back to our campsite for a night of train sounds.
Our second night in town, we repeated the process, but this time at the Jasper Brewing Co. The good news is we'd upgraded campgrounds since the night before. Tonight we were at Wapiti Campground, and the trains were miles away. But not the bears.
At every campground we've stayed at this summer, we are warned when we book in to be careful of bears, not to leave food and bear-friendly smelly things outside or in our tent, to keep everything in our car. And so we do (well, except for that one night a few weeks ago when I inadvertently took an apple into the tent, hidden away in my handbag and not discovered until the next morning when I was searching for the car keys). So here we are at Wapiti Campground, minding our own business, sleeping soundly until something like 8:30 in the morning when we hear a car horn blasting away HONK HONK HONK HONK HONK HONK – relentless – at what sounds like five feet from our tent. The horn finally stops, Bridget and I share a few choice words about people and the noises they make first thing in the morning, roll over, and try to go back to sleep. About an hour later, when I get up, our neighbors at the next site ask us if we'd seen the black bear. They had … the bear had puts its front paws on the back step of their camper an hour earlier, and by the time they got out of bed to check it out, the bear had wandered over to our site and was sniffing around at the back of it, right where our heads were. And that's when the horns kicked in, scaring the bear off. So that was pretty exciting, except for the fact that we missed it all. That close!
Not a bad time to pack up the tent and store it away for a while. We'll be sleeping in real beds for the next week – and these days, that's all the excitement I need. That and a cup of coffee. We have to head into town for that.
With our large coffees from Timmy's in the cupholders, we point Dexy east, out of the Rockies and into the foothills of Alberta. Not only are we saying goodbye to camping for the next while, we're also saying goodbye to the mountains. We'll get back to them later, but first, we've got family to see and a wedding to get to in five days.