I've put myself in a bind here … attempting to recount something that happened eight months ago, and I've got no notes. Just photographs. The good thing, though, is the pictures tell the story just as well as I could. And if a picture tells a thousand words, here, then, is the story of Wendy's and my road trip through Oregon in 34,000 words …
Immediately over the border from Northern California, we stopped at the tourist information center and collected all the maps and guidebooks we would need, including an 8 1/2 x 11 sheet listing all the scenic sites along the Oregon coast. We did manage to stop at a couple of them before landing in Gold Beach to find a place to stay for a couple of nights.
I didn't know anything about Gold Beach, but a few years ago when Bridget and I were driving south along the Oregon coast to our destination of Brookings, the last town in Oregon before crossing into Northern California, we passed Gold Beach, and I remember thinking it looked like my kind of town. So here we were – one-and-a-half days and two nights to soak it all in. It turns out it wasn't exactly my kind of town, but it was a great little place for a short stay, complete with two sensational sunsets.  Big shout-out to the Irish Rustic Lodge, in a great setting, with its fabulous jacuzzis overlooking the ocean and trails heading down to the beach. On our one full day, I headed off down the beach with my camera and stuck my toes in the water.
From Gold Beach, we headed north along the coast, passing through a number of towns, including Bandon, where Bridget and I stayed one night,  in and out. Seeing it in the daylight gives me a much bigger impression! Next time I head to Oregon, I think I'll make Bandon a destination – who knows, maybe this one is my kind of town.
We took the road along the Umpqua River inland to Eugene, arriving in time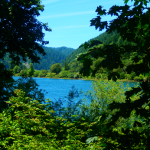 for their Saturday market downtown. We poked around the stalls, and I found a lunch stand near the music tent and whiled away the afternoon. The next day we spent a couple of hours at Hendricks Park – quite the gem, with its trails that meander through 80 acres of gardens.
About an hour and a half north and east of Eugene is Silver Falls National Park. It was a beautiful day for a hike, so we headed over. And once again, with camera in hand, it was off to see the sights …
We end the day with a short drive to Salem, the capital of Oregon and our home for two nights. The next day we wandered around downtown, stopping for lunch at the Wild Pear. Our stroll about the town was kind of eerie; it felt like we had wandered into a movie set where there were no extras – no one in the shops, no one walking on the streets. But there were a few people enjoying the afternoon sunshine in Riverfront Park – a carousel for the kiddies, a mosaic globe for the world travelers, and a lovely stroll along the river. Cultural animals, we also took advantage of free Tuesdays at the Hallie Ford Museum of Art.
The following day, it was the short (in mileage) drive up to Portland and the airport, to send Wendy off on her way … and I to go mine. The traffic in the city is horrendous – Portland is ranked the 10th worst traffic-congested city in the U.S., and I believe it. I was glad to get out of there and make my way to the coast. To get there, I take Route 26, the same road Bridget and I took out of Portland a few years ago. Only this time, when I get to the coast, I head north, and in doing so, make good on my intention to drive the entire U.S. Pacific coast, from top to bottom. So far, I've covered the spread from San Diego on the Southern California coast to here – and tomorrow takes me up to Washington, another gorgeous coastal drive. But tonight I stop in Seaside, Oregon – a tourist town on the ocean that's fairly bustling in these early days of summer.
The Seaside sign says the end of the Lewis and Clark trail. A nice place to stop.