La di da, I am back in blogger land. It's been six months without a word, and for that I do apologize. By way of explanation, let me begin at the end …
I'm down in Ecuador right now, for a few months – and today my home is a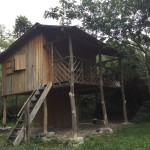 pole cabin at Rumi Wilco in Vilcabamba in the Andes, not so far from the Peru border. This cabin I'm in is downriver, about two miles from town, not exactly in the jungle, but certainly tropical forest. I've slipped back into the equatorial way of life like a cat takes to Friskies. There is no sense of urgency; things either are or they're not, and that's just the way it is. Setting my pace to slow is such a treat.
I'm only staying at this cabin for a few more days, until Carnivale is over and a chunk of guests check out – then it's back to a room at the main area of the lodge. Where they have Internet, in a sketchy kind of way. That means I have a forced vacation, where I get to do nothing.
To be honest, it would take a trained eye to tell the difference between my usual Ecuador slow pace and nothing, but I appreciate the nuance.
It has been a perfect afternoon, a perfect afternoon for looking at my travel photos – a file on my laptop where I dump all my photos from the road. Egads! I haven't edited any photos since July. So that's what I spent the afternoon doing: going through my photos. I have a bunch from last summer of Oregon and Washington that remind me just how beautiful the Pacific Northwest is. I want to go back again and again. North of Washington, I crossed the Canadian border into British Columbia in August, and for the next two weeks, apparently I didn't look at any scenery, all I did was hang out with friends and family, there and in neighboring Alberta.
Back in the States, plenty of Montana scenery, and plenty more "research photos" – setting for book 3 in the trilogy. I had a fabulous time, learned a lot, and it's got me excited to think that this is where the book is heading. And from Montana, I made a beeline to Michigan, not really stopping to smell any roses until I got to the Upper Peninsula. If anyone ever invites you on a vacation to the Upper Peninsula, you should take up the offer – there's something for everyone, although if the signs on the walls of my hotel room were any indication, the main tourist attractions are fishing and skidoing, two very popular north country sports, along with shooting wild animals.
Enough of the scenery already. Michigan is also home to my very good friend Linda, whom I visited for a few days before heading back into Canada in September, this time to Ontario, where a whirlwind week of friends and family ushered me into Toronto. Where we had ten days of absolutely great fun, and get this, ten nights on a friend's houseboat parked at Centre Island in Toronto Harbour. Oh, the delight of it all. Including two Van Morrison shows, which hit home.
Speaking of home, that's where we're headed next. I've picked up Dennis in Toronto, and we shared the driving through Eastern Ontario. From Toronto, the road leads east to Tweed and a few days out in the country with friends Billy and Lynn, a brief stop in Belleville for lunch with Karen and Herb, then pretty much follow the 401 along the St Lawrence River all the way to Montreal and south through the countryside to Ste Sylvestre and into the Eastern Townships to Danville, Quebec (with a stop to visit the gravesite of my grandparents and great-grandparents).
Next stop: New Hampshire. Where the road ends and Dexy gets a much needed rest. Many roads traveled and none nicer than the one that leads home.
And for the next three months plus, mostly I worked on my book (y estudio espagnol!). Which brings us full circle to today, lying in a hammock among the trees, thinking of all the wonderful roads there are to travel.
My 2015 Top Ten List From the Road (in chronological order)
1. Three months in Ecuador to start the year.
2. April in New Orleans – I don't want to leave.
3. May in Japan to celebrate son Sean's marriage to lovely Mai.
4. Cleveland, with Dan, for a day at the Rock N Roll Hall of Fame.
5. Colorado National Monument is beyond stunning.
6. San Francisco for an incredible two weeks.
7. The Pacific Northwest leaves me speechless.
8. The Wild West in Montana – take me back to the 1860s.
9. Seeing Toronto with new eyes, and having a blast.
10. Visiting with friends and family spread far and wide throughout the United States and Canada. For all my love of places, it is the people I share it with that makes it all come together.
Postcards from the road will follow … once I get Internet that will let me upload all those mega-giga-bytes. For now, ciao from the Andes!