Santa Fe – the mecca of the southwest. Given its history, it's amazing that Santa Fe didn't turn into a ghost town, let alone become a mecca.
Nine hundred years ago, what is now Santa Fe was the site of a number of Indian pueblos situated on the Santa Fe River. The Spaniards arrived at the end of the 16th century, taking over the place and imposing Roman Catholicism, which, as it turned out, didn't sit well with many of the locals. In a revolt in 1680, the Pueblo Indians retook the town, but before the century was out, it was back in Spanish hands, where it remained until the mid-19th century, when the Spanish lost all their southwest territories to the United States, who won that war. In terms of catches, Santa Fe wasn't much of one – the Santa Fe River had all but dried up years before – it was a town sitting on a pile of dust and getting dustier. In the 1880s, when it was decided not to build a railroad to Santa Fe, it looked like the final nail in the coffin. A lot of people left … but then a different set of people began to trickle in, attracted by the landscape and the rich native culture.
If you attract enough like-minded people to one spot, there is bound to be a couple of city planners in the bunch. In 1912, the city imposed a strict building code that declared all structures had to be built in the Spanish Pueblo style – flat-roofed, adobe buildings. The town had been laid out by the Spaniards, its key feature being a plaza in the center of town, with the Palace of the Governors on the north side and the Cathedral Basilica of St Francis of Assisi on the east. Over the years, they had to tear down a lot of buildings in order to get the uniformity of style they were looking for, but those two buildings remain as early examples of the pueblo/adobe style.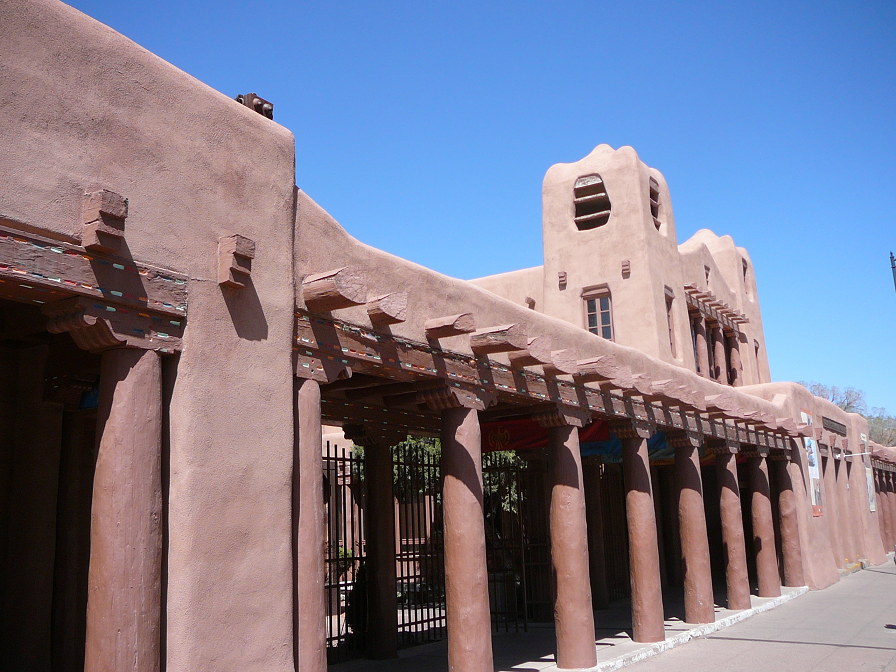 Cathedral Basilica of St. Francis of Assisi
Later on, they relaxed the rules to allow buildings in the Territorial Revival style, whose key feature is white pillars, so now there are these two types of buildings in Santa Fe and that's it. Of course the city has stretched way out to the burbs since then, and it's peculiar to the eye to see miles and miles of communities all wearing the same uniform.
"Build it and they will come." And so they have. Art and artistry oozes from every nook and cranny, at least in the downtown area, which radiates out from the plaza.
Bridget and I rarely go into museums when we show up in town – it's strictly a budget thing – but Santa Fe is one of the exceptions. We were both keen to see the Georgia O'Keeffe Museum, and it was our No. 1 destination on our first morning in town. Right after scoping out the town for busking opportunities for Bridget. We were somewhat surprised to find no music, live or otherwise, out on the plaza. But there were lots of people out selling their jewelry. Native, turquoise jewelry – destination No. 2. But it was off to the museum first. I've never been a big fan of O'Keeffe's overall body of work – with the exception of her flower pictures, the colors she loved always seemed washed out to me. I wanted to see her paintings up close, here in New Mexico, to see if I could discover what it was she saw, so that I might see too.
It didn't work. But I did enjoy my time in the gift shop flipping through the flower prints. And I did learn something: The museum shows two short films about O'Keeffe, and in one of them she says how she hated it when she was living on Lake George, New York. "All I see is green" she said, or words to that effect. I, on the other hand, would give my eye teeth to live on Lake George. That's when it hit me. We are irresistibly drawn to a place because we see ourselves reflected in what we see, at one with our surroundings. When I look out on New Mexico, I see those same washed-out colors that O'Keeffe saw; the only difference between O'Keeffe and me (other than the fact that I can't paint) is those colors resonate with her, while I toss them aside as an empty canvas. Put us on Lake George and our roles would be reversed. Beauty is certainly in the eye of the beholder, and beauty is certainly part of it, but it's the being at one that is more the key.
It intrigued me a few days later, walking down the chic Canyon Road – an enclave of art galleries and a few eateries – to see how some modern artists have depicted the same scenes O'Keeffe painted, only theirs are filled with vibrant colors. Such contrast. I thoroughly enjoyed my walk along Canyon Road – although it is still winter in these parts, spring is making itself known, and I can only imagine how nature and art must commingle in the summer months.
The first gallery I popped into belongs to Ernesto Mayans – and I suspect his story mimics other artists along the street. When I ask him how he came to Santa Fe, he quickly credits his wife for knowing he needed to come here from New York 30 years ago. I don't know what the art scene is like in New York, and I wouldn't presume to know what it's like here in New Mexico, but it sure seems there's more room to move and create down here. So what there's no water. I wandered around the gallery, enjoying the colors, and came across a clipping on display about the time photographer Andre Kertesz visited Santa Fe and had a showing at Ernesto Mayans Gallery, in what turns out to be his final showing before he died not many months later. According to the article, Kertesz was quite taken with Santa Fe – he could feel that pull.
And look at this very, very cool piece from Avilio Jemenez called "Day of the Dead" I found on the wall in Dancing Ladies.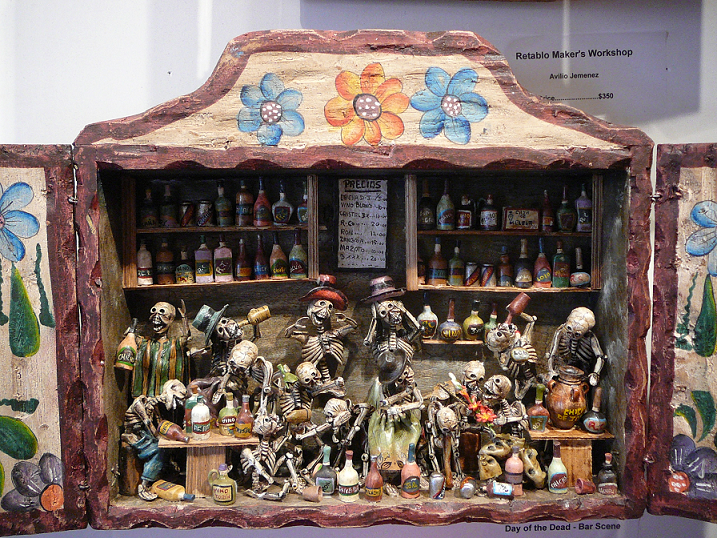 The pieces are made from boiled potatoes and plaster and then hand-painted. Absolutely delightful. Almost whimsical.
Famished before dinner, I made my last stop the Mirador Gallery, which appeared to have a kitchen. What an entrance … a collection of Tibetan contemporary masters on the way to the restaurant. I didn't spend too much time looking at the art – I'm afraid my rumbling stomach hurried me through to the Dish n' Spoon in the back, where Sancho was happy to sell me a Haagan Dazs ice cream bar to take on my way. A few minutes down the road I found some early tulips in bloom outside the Pushkin Gallery and went to take a picture, only to realize I'd left my camera back with the Tibetans. I had been standing at the counter in the Mirador, talking with Daniel, when he moved to the side and I got this wonderful view out the gallery's front window and had to take a shot.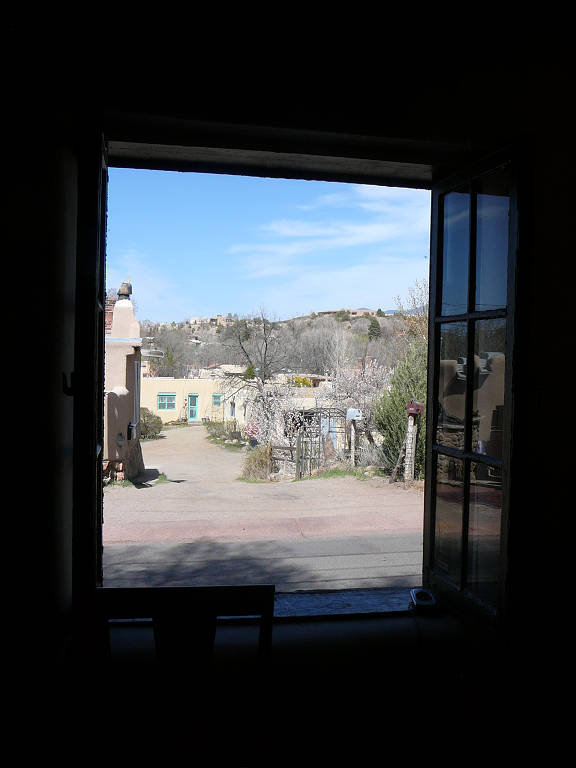 I must have left the camera on the counter when I went digging in my purse for a card I could give to Daniel (yes, I carry around a "business" card – on one side is the cover of "Astral Weeks Live: A Fan's Notes" and on the other side is my blog address, for just such an occasion) … I always want the people I talk to to know they're going to show up in my blog one day. It gives them a chance to say no, they'd prefer not to be mentioned. But most of the time, folks are perfectly happy to be included in my road trip storylog.
Art definitely is Santa Fe's strong suit. It's not just the galleries. Shop windows are beautifully decorated, picture-perfect sidewalk displays at every turn, craftsmen and women displaying their wares in the park, and sculptures everywhere, including these fascinating Lyman Whitaker wind sculptures outside the Loretto Chapel on Old Santa Fe Trail …
Inside the Loretto Chapel is no slouch either. The beautiful altar and stained glass windows are just the half of it. The chapel's staircase is the main attraction. As the brochure says, "this 'miraculous staircase' contains 33 steps in two full 360-degree turns … no center support, nor is it held from its sides." It's a remarkable feat.
A little farther down the Santa Fe Trail is the San Miguel Mission – built in 1610, it is the oldest church in the United States. Not surprisingly, during the 1680 Pueblo Revolt in Santa Fe, this Spanish church was a key target and was pretty much destroyed, but was rebuilt in 1692 when the Spanish reclaimed the town. An interesting twist on the site of the church: Beneath its foundation they've discovered evidence of Native Americans living there as early as 1300. I wonder if the Pueblo Indians doing the revolting 300 years later knew that bit of information? You'd almost have to think they would. Among the artifacts inside the church, including a bell inscribed in 1356, are the 12 stations of the cross hanging on the church's walls. I am reminded of the stations of the cross in Lowell, Massachusetts, as Jack Kerouac described them in "Dr. Sax":
mad, vast, religious, the Twelve Stations of the Cross, little individual twelve altars set in, you go in front, kneel, everything but incense in the air (the roar of the river, mysteries of nature, fireflies in the night flickering to the waxy stare of statues, I knew Doctor Sax was there flowing in the back darks with his wild and hincty cape).
From church to gift shop and then into the Santa Fe Store, where I meet Nina, who is working behind the counter today. Like so many in Santa Fe, Nina is an import, arriving with her family from Poland years ago. She loves it here. When I ask her what it's like looking at the same adobe architecture all the time and whether the saminess gets a bit boring, Nina said that boring was the furthest thing from her mind, that she loves the architecture here, it makes her feel fine. Who can argue with that?
While I had been out soaking up the atmosphere about town, Bridget was busking on the plaza … She had met two guys playing outside a restaurant near the plaza on our first afternoon in town, and with one thing leading to another, she was invited to play with them when they set up on the plaza two days later. They sounded great, and when I walked by (on my way to buying a lovely turquoise ring made by a local artisan), there was a large throng of people gathered around them enjoying the music. It's a strange scene in Santa Fe – overflowing with art, but with the exception of Andre, Michael and Bridget, no music, at least not out on the streets. Andre did know about an open mic night at Santa Fe Sol out on the Turquoise Trail just south of town, so we headed over there our second night, straight from a day on the road up to Taos and back. More about Taos later, but for right now, we were glad to see the Santa Fe Brewery just across the parking lot from Santa Fe Sol. With plenty of time on our hands, we opted for a sampler tray before settling in for their Tuesday night $2 pints.
Then it was over to the Sol to get Bridget signed up. When it was her turn, Bridget warmed them up with a few songs on her violin and ended her set with a song she's written on mandolin. I know what it was like for me watching her perform her own song for the first time in public, but for this and her own take on Santa Fe, it's best to check out her blog post.
Time to call it a day and head back to the campsite. We're roughing it in Santa Fe, staying at Rancheros de Santa Fe Campground south of town, out on Old Las Vegas Highway, part of the old Route 66. We're getting our kicks again. Sleeping out under the stars on Route 66. It's chilly out there at night.