You know how it is when you book into a hotel, especially the kind we book ourselves into, there's a rack of stuff to do in the area: DINOSAUR MUSEUM! THE LOUVRE! bus tours, skydiving, ballooning – you know the stuff. That rack is like a babe magnet to me. I take all the maps I can get – I love maps, especially the kind I can hold in my hands, and I'm always up for ideas that don't charge admission. EconoLodge always has a full rack of this stuff, and as is my want, I was rummaging through it when I found something that scored on both counts: a map and no charge for admission. The map is for the Turquoise Trail, a back road that takes you from Albuquerque to Santa Fe, and if you don't stop to shop on the way, you can get by with nothing more than the price of gas.
The trail starts a little southeast of Albuquerque in Tijeras and heads north through rolling hills and forest to Santa Fe, following a 58-mile stretch of road with an ignominious past. Between 1863 and 1866, the Navajo were forced by agents of the U.S. government to leave their lands in northeastern Arizona and march 400 miles on foot to their incarceration at Fort Sumner, New Mexico. "The Long March," as the Navajo refer to it, followed four different routes, and one of them, led by Kit Carson, took this one, now designated a national scenic byway. Ah, the ways of men. The dead are long gone, replaced by a paved road that winds through magnificent, albeit dry-looking, vistas.
Although our little map pinpoints 72 "items of interest" along the trail, a closer examination shows that a good number of those interesting things are existing or planned communities and real estate agents who'll help you find the home of your dreams out here in the land of open spaces. We spot a couple of cafes and bed-and-breakfasts as we drive along, but for long stretches it is just wide-open expanses, waiting for someone to build on. Home on the range.
Points 25 to 49 are in the town of Madrid (pronounced MAH-drid), about halfway up the trail. It's a good place to stop for lunch. In the late 1800s, Madrid was a company town – a coal mining operation was set up in the nearby Ortiz Mountains and by 1899, about 2,500 company men and their families lived here in wood-framed cabins. The mine shut down in 1954 and when everyone left, all that was left standing were the emptied buildings – a veritable ghost town. Today it is anything but.
We pull into a spot in front of Chumani Gallery at the south end of town. Chumani Gallery's proprietor, Jesse Shakespeare, is sitting on the bench out front playing his guitar and talking with his wife, Pam Ellsworth, who owns the shop just up the way. The gallery has some lovely jewelry, paintings and sculptures, and among them are a few book titles sitting in short stacks – three copies of this title, a half dozen of that – and of course they pique my interest. I soon find out that Jesse is an author, as well as typesetter, printer and publisher, of three books, and that just scratches the surface of what Jesse does. He's also an avid music fan, and soon enough we're talking about Van Morrison and my book "Astral Weeks Live: A Fan's Notes," and gall-darned if he doesn't want to buy a copy. He can add it to his expanding collection of books from authors he's met along the way. He just likes to collect books. I know the type. And yes, William S. is in his family tree.
When I step outside to find Bridget, she's there by the car, talking with Albert, who's driven up with his two daughters and has offered to help her maneuver our two big suitcases back into the trunk. I'd forgotten I'd left her with that job. I keep copies of my book in a box crammed in the back area of the trunk, behind the two big suitcases that feel like they're full of lead. There's a lot of heaving and ho-ing every time I go in for a copy and I am sure Bridget was glad of Albert's help. In the meantime, his two girls, Alana and Laney, have scampered on ahead to Pam's shop, and we follow suit.
up to Pam's shop, Dream Gallery

Alana and Laney have Pam's attention. which lets Bridget and me wander about the store. So many beautiful things. I wish my budget (and the space in my car) allowed me to shop for all the things I love to look at and touch and would love to look at and touch again, but it doesn't, so I just try to make it as big a moment as I can and then move on. The framed art hanging on the wall was more than enough to fill my senses.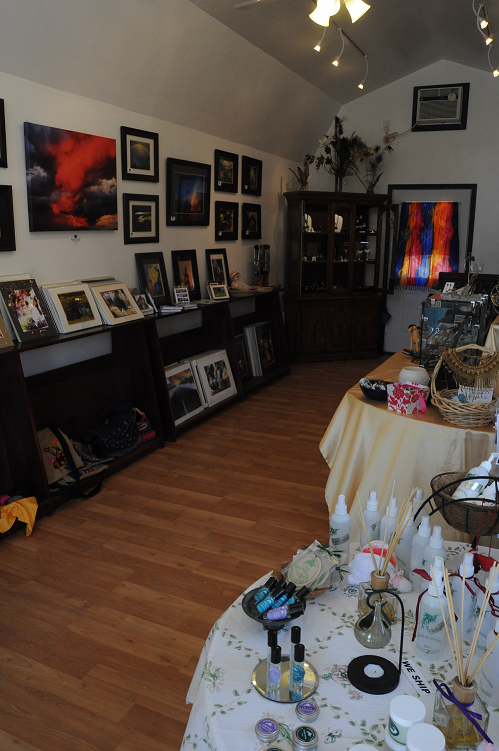 Pam came to New Mexico with Jesse in 2005, relocating from California, and says she knew she was home from the moment she got here. Her kinship with Madrid is echoed around town – like in New Orleans, when so many would say they came for a two-week vacation seven years ago and never left. There is a home for everyone, and it's a good feeling to be in a town where so many people are here by decided choice, and they dig it.
Albert's there to collect his girls and, as we wander outside, Jesse meets us in Pam's (winter) garden …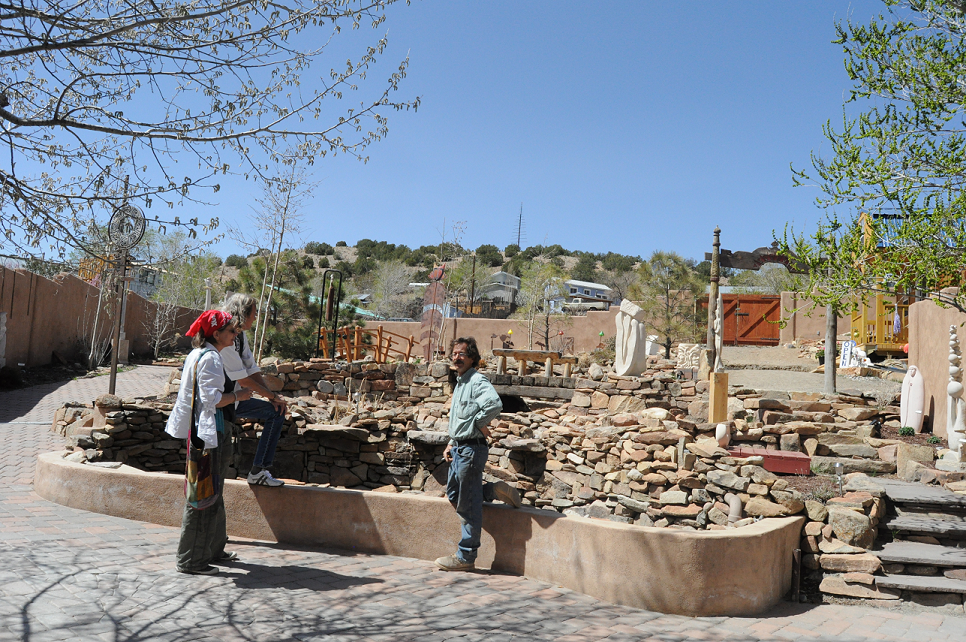 When Bridget and I mention we're going to head farther into town to get lunch, Jesse and Albert echo what Pam has suggested: Go to Mama Lisa's. With that recommend, we head off to get Dexy while Albert and the girls head off to do something work-related that will take them out of town for a while, and when they get back, we're going to drive over to their house on the mountaintop. Take in the views. But first, take in the views in town.
From the board, Bridget chooses a chicken curry dish that is delish and I get the squash soup that comes with some homemade bread and a side salad. Look at all the chunks of squash! Fabulous.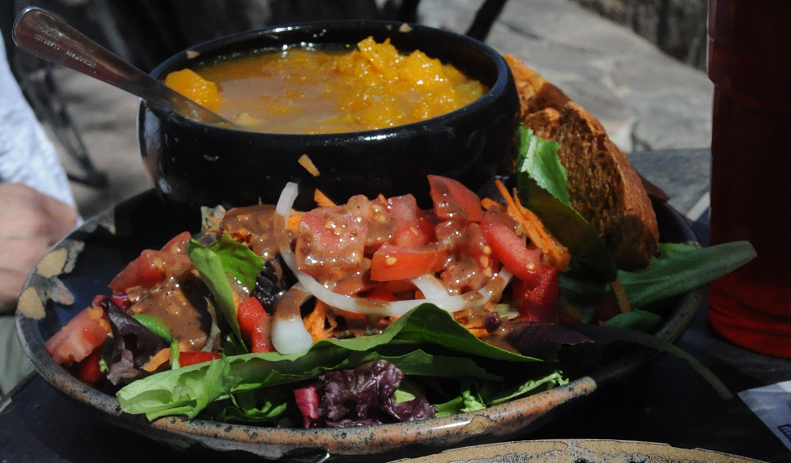 Our prix fixe lunch comes with dessert and while I'm digging into my strawberry shortcake, Albert, Laney and Alana arrive and order a shortcake for themselves. The girls take Bridget to see the chickens, just down the alley …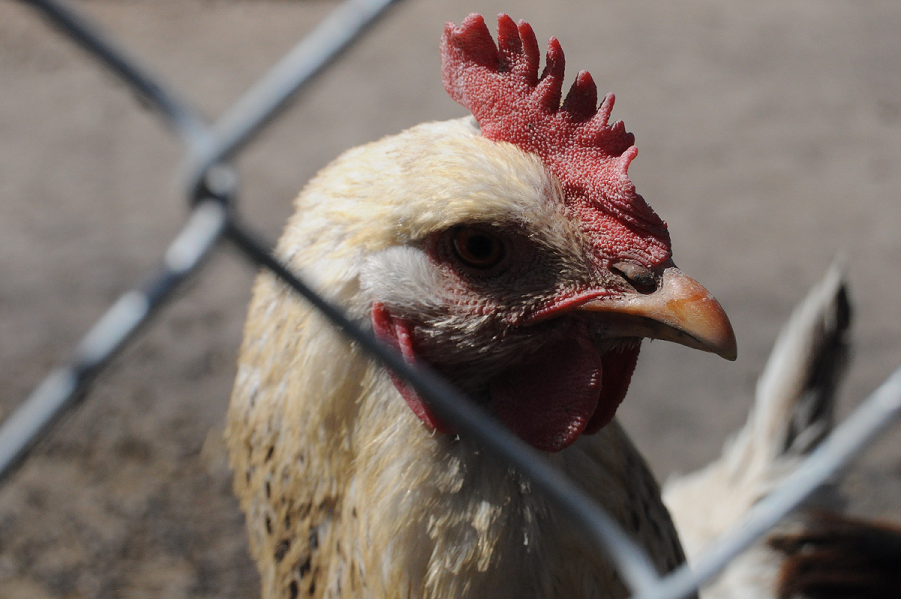 … and when they get back, we all climb into Albert's truck and head off to his home on the mountain. I'd offered to follow him out from town in Dexy, to save him from having to return us to town, but Albert said, "Oh, we can just take my truck." Farther on down the road, when we pull into his driveway, I realize why we're in his truck, not my car. The drive up makes me laugh and laugh and laugh. It felt like driving in a bumper car on a skyward trajectory. Bump and jostle all the way. Too much fun!
Inside their house we get to meet the rest of the family …
Miley really knows how to put on a smile!
Albert gives us a tour of the house he's built – lots of open space and easy to be in, and, as he points out, it's a work in progress. His contract work doesn't give him much time to work on his own place – he's always busy putting up homes for others. The conversation turns to the people moving to Madrid – how the town is changing from the '70s, when basically a bunch of hippies put what little money down they had and bought up some of the homes that had been abandoned during the '50s when the mining company closed up shop. Madrid attracted a certain kind of person – free-thinking artistic folks looking to live off the grid. Everyone just doing their own thing. This is a very attractive concept, and that's the double-edged sword. It seems that among the latest influx of Madrid movers are those who want change, want the government to take charge of things the townsfolk have been taking care of on their own up to this point. They're attracted by the freedom, but then they want to quash it. It sure makes you wonder. And here I was thinking the water supply, not the people, would be the major issue in town. But no; Albert says that some people get water hauled in, but he's built a rainwater system that has more than served his needs.
Talk of water makes me thirsty. I'm always thirsty these days. This is dry country. I've been blowing a bloody nose for weeks, and I know I've got to get some skin lotion before I brittle up altogether. But for now a glass of water, and we're off to climb to the top of the mountain, where we're rewarded with 360-degree views. This is what Georgia O'Keeffe fell in love with.
We've got to get a move on – we'd like to get to our campsite outside of Santa Fe before the sun goes down, so we can see what we're doing. Down the driveway we go, with the girls singing "The Bumpy Road Song," a little ditty that hits on the key features of the drive down (or up) their very fun driveway. In two shakes we're back in town. Hugs all around, Albert extends an invitation to stay overnight with them if we're back this way, and we promise to take him up on his offer should our travels bring us to Madrid again.
Left to our own devices, Bridget and I take turns nipping into shops and taking photos of this picturesque town. Unfortunately, in a hasty moment, I deleted whatever photos I took in Madrid, but very fortunately, Bridget took all the photos we'd need, so everything you see in this post is her eye on the subject.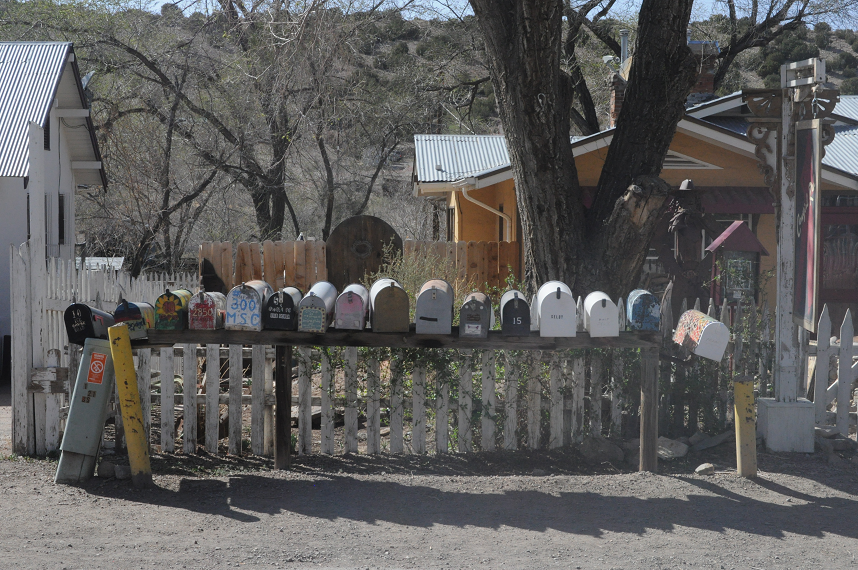 Oh, look – up ahead there is another roadside attraction; someone is a fan of Tom Robbins, I see.
And with turquoise on my brain, you know where I'm heading …
A retail opportunity awaits this little fixer-upper in town …
Madrid – far from the madding crowd – one little town off the beaten track. For some it is a designation for lunch or a bit of shopping for local arts and crafts, and for others, it is a magnet that calls them home. People, places and things are constantly changing, and there's no stopping it, but as I stand there taking it all in, I wish for half a second that things would never change here in this treasure of a place nestled in the mountains of New Mexico.