Miles and miles of road ahead of us, and we're not stopping for much. Eat and sleep, and that's pretty much it. We see a lot of miles of middle America, but mostly it was whizzing past outside the window.
In Iowa, like Nebraska, the crops have been harvested, the corn fields are shorn, and the sense of emptiness is all around.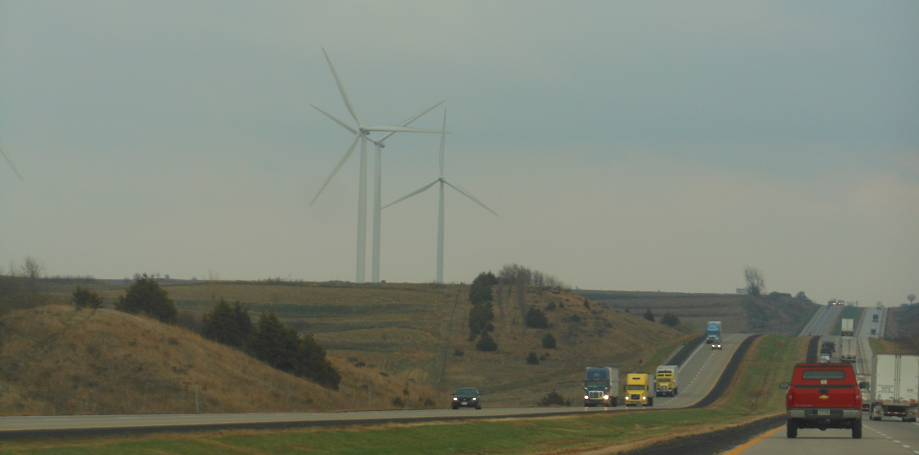 De Soto, Iowa, home of John Wayne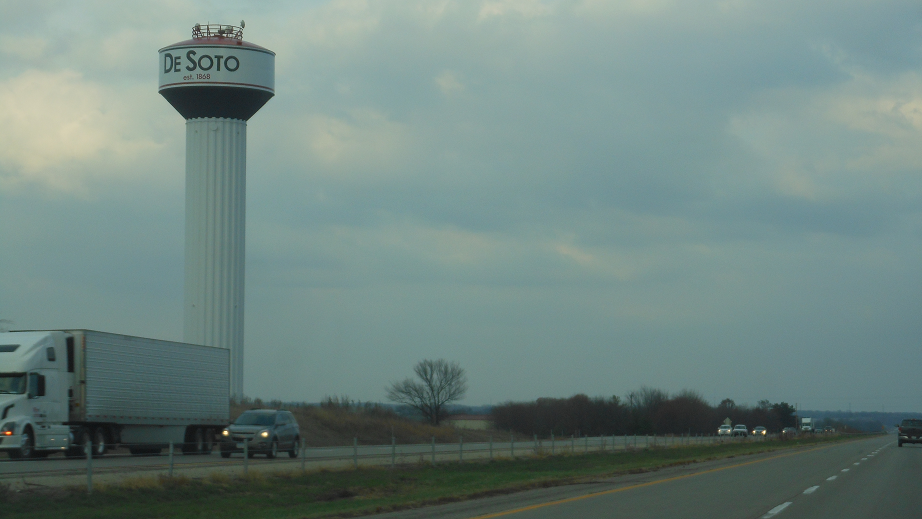 In West Branch, Iowa, home of Herbert Hoover

Illinois is a blur going by. We'd toyed briefly with the idea of stopping in Chicago for a few days, but we couldn't get it to fit. So say goodbye to Illinois and hello to Indiana. At Elkhart, we got off the interstate, taking Rte 33 down to Rte 6, and the change is apparent – the emptiness of Nebraska and Iowa is gone, more people, closer together, a lot more industry. It's not congested, but I'm not sure all would agree …
Route 6 takes us into Ohio through farm country.The day has grown overcast and by the time we pull into Chris and Rick's driveway the rain has begun to pick up. The golden leaves still left on the trees, the remainder strewn across lawns and in piles by the roadside, soggy with rain, reminds me of trick or treating on Halloween evenings just like this.
Chris and I are longtime proofreaders at ProofreadNow and longtime friends since our days of proofreading textbooks together in another lifetime. I am delighted to be here, and so is Bridget when she finds out the Brncik's son was great friends with Dan Auerbach, guitarist and singer with The Black Keyes and that she was sleeping in the same bed Dan slept in on sleepover nights! Six degrees of separation just got a lot closer.
When we arrived on Friday, the news was all about Hurricane Sandy, making its way up the Eastern seaboard, due to hit land somewhere along the Northeast coast early next week. And it looks like it's going to hit hard. For us, it means a change of travel plans – it looks like our best bet is to go directly to Ithaca, New York, from here, putting the kibosh on our plans to stop in to visit Dan in western Pennsylvania on the way. If we can get to Ithaca before the storm hits early in the week, we can hole up there while the storm passes. In the meantime, plans to go up to the Rock and Roll Hall of Fame and Museum in Cleveland are still on for tomorrow.
Chris and Rick are game to see the museum, so the four us head up to Cleveland late morning, which gives us the entire afternoon at the museum. That turns out to be nowhere near enough time, if you're me, to see it all. Seven floors high, I never made it off the lower level – so much to see, so much to hear – I was enthralled with it all – video of the Beatles, the Stones, other legends of Rock and Roll, an Elvis gallery, and so much more. New entry in my to-do list: come back to Cleveland and see the rest of the museum – one afternoon is just not enough.
Here's a smidgen of what's on the bottom floor …
Van Morrison's contract for his American Bandstand appearance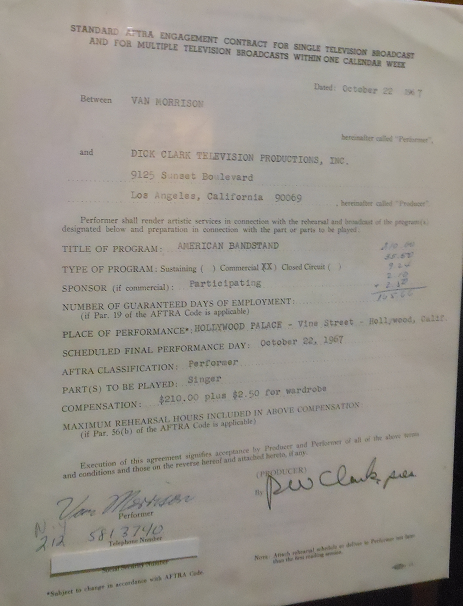 We're back in Akron by early evening, and after treating us to a lovely dinner, Rick and Chris get us back to their place in time to watch Game 3 of the World Series. Giants end up winning the game, putting them up 3-0 over Detroit. Our friends in San Francisco must be absolutely ecstatic. Game 4 tomorrow night