This is one of those towns that it would be good to know someone who lives here – come for a visit and find out about the hidden gems. As it was, we simply followed our noses and struck our own path. Our hotel was out on the southeastern edge of town, near the outer edge of the University of Colorado campus. And what that afforded us was a one-mile walk along Boulder Creek Path that took us into the town center.
We wandered along Pearl Street, which looked like the only street in business on a Sunday afternoon.
We stopped in for a late lunch/early beer at the Mountain Sun microbrewery and whiled away our afternoon between there and window shopping along Pearl 'til game time, where at another pub we got patio window seats for Game 6 of the National League Championship. The Giants continue to amaze. I'm not giving anything away when I tell you the Giants go on to win the game and tie the series 3-3.
Beat Book Shop on Pearl Street, closed on a Sunday afternoon

Monday dawned another beautiful autumn day, so we packed a lunch and our books and headed over to Eben G. Fine Park on the western edge of town for a picnic in the park. Complete with its own boulder.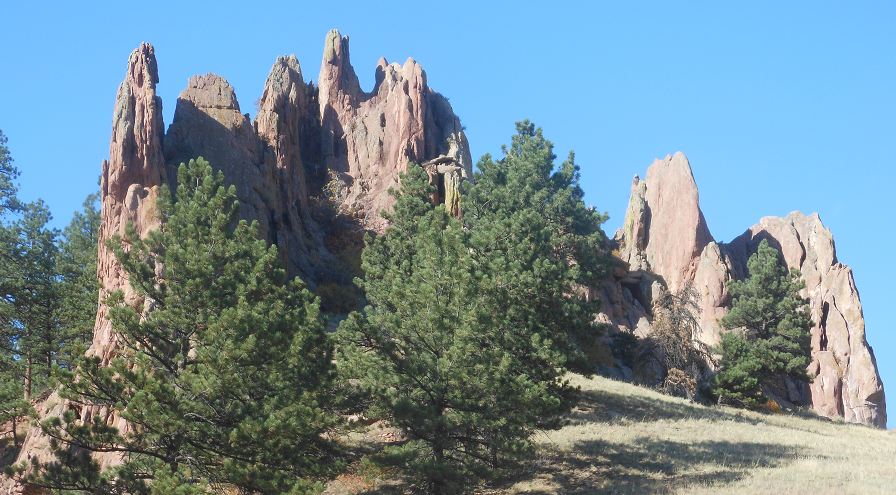 With still a bit of time left before we had to be in Aurora, we took Dexy on her last mountain drive of the road trip – this one up Flagstaff Road to Realization Point, somewhere in this set of mountains …
We made it to Aurora on the southeast side of Denver in time for dinner with Dave's nuclear family – his mom, Karen; his brother Phil; and his girlfriend Kaysey. Plenty of food and plenty of drink to go with the plenty of tales to share since we were in Denver back in May. Kasey and Dave put us up at their place, and while the two of them and Bridget continued the party, I holed up in the guest bedroom watching Inglourious Basterds. [These many months later, I don't remember anything about the movie, and worse, when I just now watched the trailer on imbd, none of it rang a bell. However, it was a good movie – the note I scribbled down says so!]
We said our goodbyes in the morning and off we went, getting back on I-80 for leg 2 of the road home. Next stop: Akron, Ohio. Over 1,300 miles, taking us through middle America.