San Diego has a great rep – and it's easy to see why. Beautiful weather, on the ocean, what's not to love? Location, location, location – and it works for me. I'm not sure why it is, but the West Coast has always had me under its spell. I was born in the east and have lived in the east all my life, so it could simply be a case of thinking the grass is greener here in the west; but I think it must go deeper than that. Lately I've been thinking that it might have to do with me being a sunset person. It's not that I don't like sunrises; it's just that I'm never up in time to see them. If I was, I imagine I'd enjoy sitting on the beach somewhere in Maine or the Carolinas and watching the sun come up, with the light playing on the water. At least I think I would, but it's not like I really know, never having had the experience.
I don't think I would ever tire of watching the sun set over the ocean. To test that theory, we're going to spend a lot of time on the West Coast, from California up to Vancouver Island in British Columbia. The first leg of that trip begins with a few weeks here in San Diego at the southernmost tip of California before we head north as far as Big Sur. We'll be back in the fall to complete the second half of our Pacific Coast journey. But for now, it's all about sunny southern California.
We arrived in San Diego on April Fool's Day and made our way to Pacific Beach, where Bridget's best friend since childhood, Natalie, and her boyfriend, Eric, have an apartment two and a half blocks from the ocean. We set up camp and made it our home for the next three-plus weeks, and I can't thank them enough for making us feel so welcome. The last time I saw Natalie and Eric was the day before they set out for California from New Hampshire almost a year ago. They love it here, and I don't blame them. I love it here too, and I just got here
Within an hour of our arrival, we headed down to the beach to enjoy our first of many sunsets. A picture-perfect evening, cool breezes coming in off the ocean and the waves crashing into shore.
The waves were unusually high – vestiges of a recent storm. The surfers must have loved it, but they had to make do in the days that followed as peace was restored to the ocean. And sunny days they were. When we weren't otherwise occupied, Bridget and I headed down to the beach most days, soaking up the rays, taking afternoon naps and catching up on our reading. I never got in swimming – the water was far too cold at 59 degrees – but I did see a few brave souls venturing in, mostly those younger kids who don't know from cold. And the surfers, but of course they had on their wet suits. I discovered a new sport – actually, it looks more like hard exercise than sport: standing on a surfboard and paddling along with an oar, sort of a combination of surfing and rowing. Only in California, you say?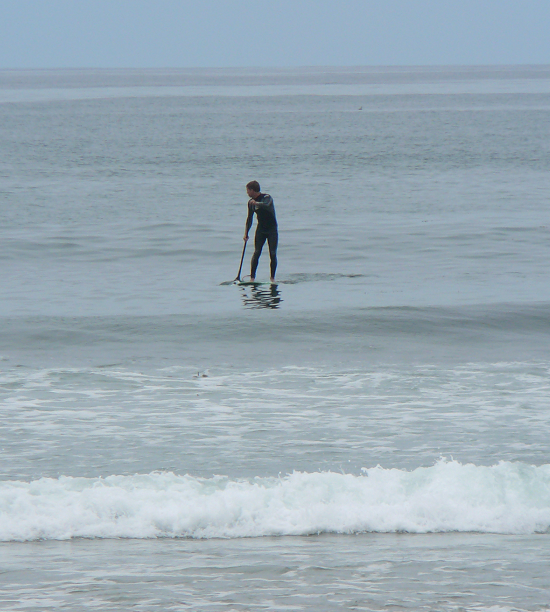 We arrived in town just in time for baseball season. The San Diego Padres had their season opener at home on April 5 against the LA Dodgers, and Natalie, Bridget and I were lucky enough to get handed tickets for the game, thanks to Eric's boss's husband, who couldn't make use of them.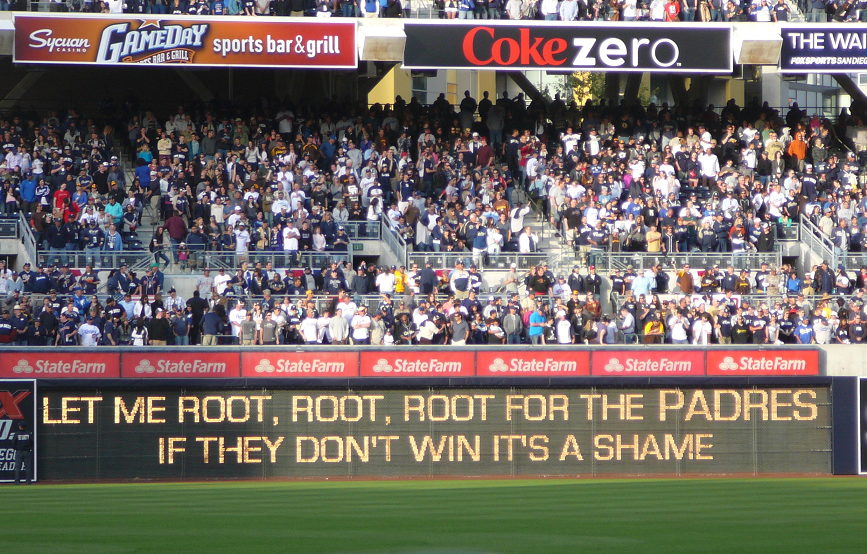 The Padres made a valiant effort, but they were not the best team on the field. It's hard to judge based on one game, but it looks like they have a hard year ahead of them.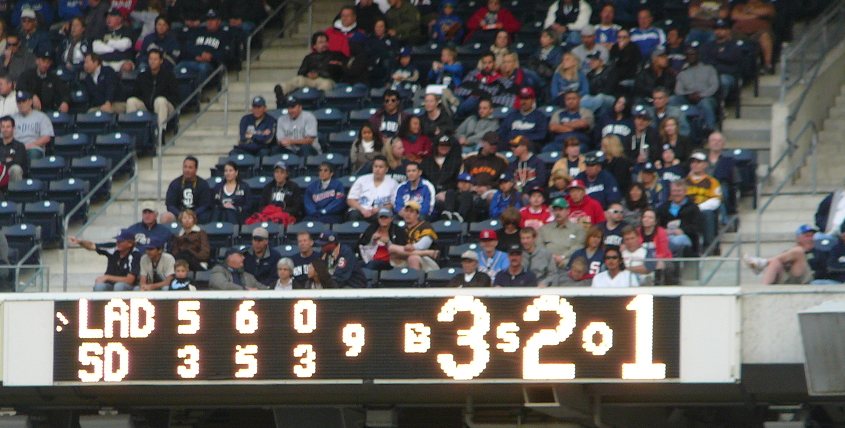 The following night, I headed back into town, this time to Little Italy, with fellow Van fan Colleen Aller and her husband, Barry, to see Martha Reeves and the Vandellas, who were playing at Anthology. Dinner first, though, at, you guessed it, an Italian restaurant down the street. Dinner was good, but Martha was even better. She's still got a lot of oomph in her voice and put on a good show, complete with her hits "Nowhere to Run," "Heat Wave," "Jimmy Mack," and ending with a powerhouse version of "Dancing in the Street," which had the entire audience up on their feet dancing.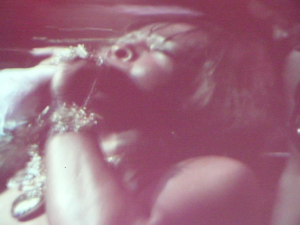 Two weeks later, all three of us were back at Anthology to catch Jon Cleary & The Philthy Phew. Jon is something else on piano and after catching him a couple of times solo in New Orleans, I was glad to be in the right place at the right time to see him with his band.
There's no point in going to Little Italy if you're not going to eat, and tonight Barry and Colleen treated me to dinner again, this time at Buon Appetito. It was April 20, and if this is San Diego, be prepared for a night of plastering the town with Kony posters. I'm not sure how it played out in the rest of the city, but the throngs didn't descend on Little Italy, although a couple of young gals did come down the street, putting up posters wherever they could. I have no idea how the Kony campaign is doing, but I suspect interest in it peaked a while ago, and the negative publicity and the hilarious sendup on an episode of "South Park" couldn't have helped much in the credibility department.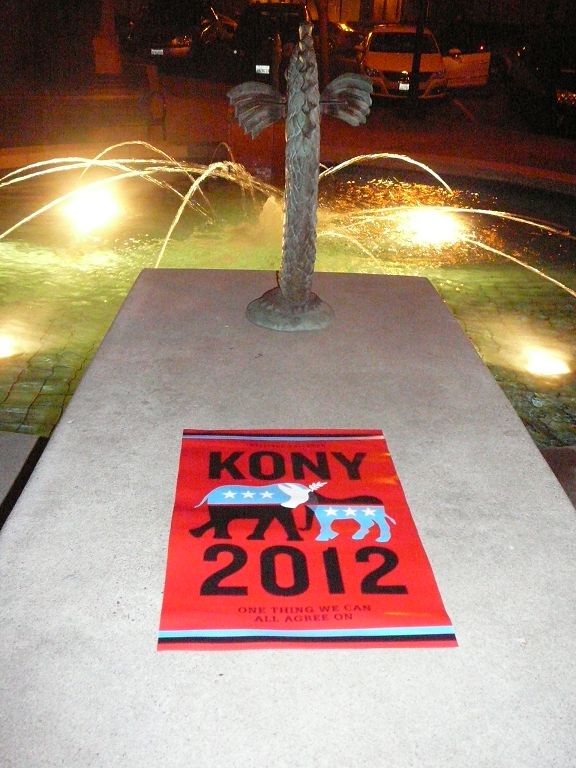 Although my stay in San Diego was very Pacific Beach-centric, Colleen and Barry invited me to their lovely home up in the hills in Escondito to spend the weekends. They treated me like royalty, and I was the perfect princess, being doted on the whole time. Colleen had bought out half the grocery store and we feasted like kings and queens – caledonia weekends of food and drink, music and laughter, and talking till our ears fell off and it was time for bed. When we weren't watching music videos from Colleen's collection, we spent hours out on the patio surrounded by her beautiful garden – a perfect place to relax and compare our notes on the ways of the world. And lest you think it was all just idle chit chat about nothing at all, we discovered a lot about ourselves, including a mutual interest in spirituality, gardening, and rock and roll. All grist for the mill. We were shining up there in the hills.
Look what's hiding up there in the tree …

About an hour north of San Diego is the town of Carlsbad – a lovely little town on the coast. Lovely doesn't quite describe Carlsbad, spectacular is more like it. I took a day trip up there to visit fellow ProofreadNow.com proofreader Jane Allen. ProofreadNow's proofreaders live all over the world, and for most of us, the only place we meet is on our computer screens, so I'm glad when my travels let me put a face to a name … it makes a big world a little smaller, and that works for me. Jane took me to her favorite fish taco "shack" for lunch and a drive down main street on the way to Encinitas just south of Carlsbad. I must have told Jane how much I enjoyed gardens, or maybe it's simply that she loves them too; whatever the reason, our destination was the Self-Realization Fellowship Retreat and Hermitage on San Rafael Avenue in Encinitas. Founded in 1937 by Paramahansa Yogananda, author of "Autobiography of a Yogi," the retreat and hermitage served as both the yogi's home and a place where he could hold classes with serious students interested in his teachings on spirituality. The meditation gardens on the property were designed by the yogi and are full of flowering shrubs, trees and a series of ponds full of exotic fish, all of which can be enjoyed by the public. And so we did, wandering along the walkways leading up to the top of the cliff that overlooks the ocean, stopping to enjoy the flowers in bloom. Benches are placed around the gardens, where you can sit and take it all in, and the tranquility of the surroundings easily lends itself as a place of meditation.
Heading back to Pacific Beach from Carlsbad, I took the coastal road, which took me through the beach towns of Solana Beach and Del Mar before coming to upscale La Jolla, which used to be separate from but, like Pacific Beach and Escondito, is now part of San Diego. A case of urban sprawl if you ever did see one. It's the new Los Angeles, just with less smog. A lot less smog.