We didn't come to Memphis for the food or the river walk or the ducks – we came for the music. Memphis – "Home of the Blues." We'd been told that the sum total of Memphis can be found on Beale Street and the two blocks on either side of it. That may or may not be true, but we weren't about to go find out, because once you leave the Beale Street area, the streets get a little sketchy, not the kind of place open for exploring. So Beale Street it was. History will tell you that in its heyday, Beale Street was the stomping grounds of such illustrious names as W.C. Handy, Louis Armstrong, Muddy Waters, Albert King, B.B. King, Rufus Thomas, Rosco Gordon and Bobby "Blue" Bland. Those must have been the days! But by the 1960s the street had become rundown and many establishments closed up shop. The major exception is the department store A. Schwab, which remains the only original store on Beale. It was a 1977 act of Congress that declared Beale Street the Home of the Blues. So it's not Memphis, it's Beale Street, that holds that honor. Now we know. Apparently that wasn't enough to get the street back on its feet, though – it continued its slide into desolation until the 1980s, when a complete redevelopment project gave us pretty much what we see today – a total tourist magnet. Souvenir shops, a record store, A. Schwab, food, clubs, neon signs, more food, and bars, all crammed into one block, with some spillage for another half block. Police blockades at each end of one block ensure that the area remains a pedestrian walkway. And the heavy police presence on the street ensure, if not peace and quiet, at least a semblance of order.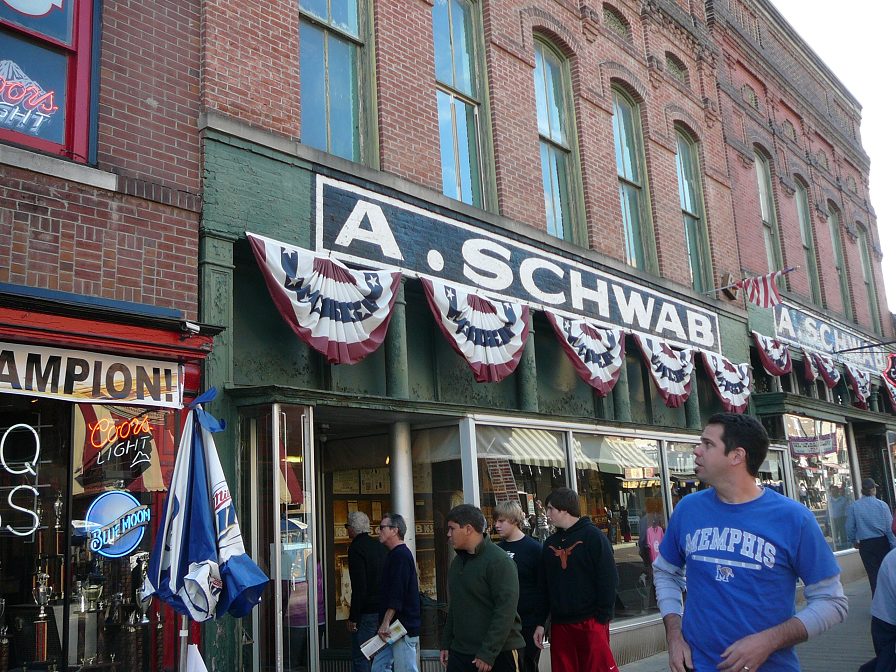 Beale Street is a hub of activity in the daytime, but nighttime is when it comes alive.
It's a miniature Bourbon Street – easy to spend the night wandering in and out of the various clubs, sampling the music and beer on tap that night. But first, dinner.
We'd pulled into our hotel in Memphis around 6 p.m. Wednesday night, totally ready for food. Good thing, because we had Dan Hart waiting for our arrival and ready to show us a good time on our first night in town. A former denizen of Maine, Dan moved to North Little Rock, Arkansas (two hours away from Memphis), but was kind enough to make the drive into town to guide us around. I've lost count of the number of shows Dan and I have gone to over the years – a lot of Van for sure, but the list extends to Steely Dan, Boz Scaggs, Peter Wolf and probably a few others, if I could only get my thinking cap on straight.
Dan had the perfect place to start out our night – the Blues City Cafe. His recommendation: the ribs. It's not hard to see why Dan says this is always his first stop whenever he comes to Memphis. If and when I get back to Memphis, I'll definitely be stopping in here first.
With our stomachs taken care of, it was out the door and off to see who was playing on Beale tonight. We were in and out of a handful of clubs: the Rum Boogie Cafe, which, hands down, has the coolest decor going – row upon row of signed guitars hanging from the ceiling. I was gawking at all the guitars so much so I forgot to pay attention to the band up on stage. The decor at B.B. King's comes in a close second: photos of blues legends hang on the walls and each of the tables in the place is hand-painted with this or that music great.
And among all those blues greats on the wall, take a look at this hand-painted sign hanging in the back corner …
It was blues up and down the street both nights we were there, and the finest was at the Beale Street Tap Room, provided by Vince Johnson and the Plantation Allstars. A mix of Chicago and Memphis blues, complete with a three-man horn section that blows the roof off, Vince and the band pack the house. They're a permanent fixture on Beale, so you can't miss 'em. And you shouldn't.
Our nights were spent on Beale, but our days took us further afield. Our No. 1 must-see in Memphis was Graceland. We began our Elvis Presley pilgrimage in Tupelo, Mississippi, and we were bringing it home here in Memphis. I'm not sure what I was expecting, maybe an epiphany like Paul Simon, but it never materialized. From the mansion to the grounds to the tour of his plane "Lisa Marie" and this shop and the next, everywhere I turned, it all screamed "We're in it for the money." I felt like an intruder in his house, staring at the shag rugs and wood paneling. But for all that, I was kind of hoping for the money we doled out that we'd get to see the bathroom, but no, the upstairs is not included in the tour. There are no blemishes on Elvis here at Graceland … the story stops in the early '70s and it's as though the last years of his life didn't exist. I did enjoy the car museum; Elvis owned some very cool cars, and I know if you were a car aficionado, you'd be drooling. The clips they showed from some of his movies were another highlight for me. It was his movies where I first heard and saw Elvis … I was two years old when Elvis had his first hit record and by the time I reached puberty, the world was offering me the Beatles and Rolling Stones, and Elvis was just another singer on the radio and starring opposite Shelley Fabares and Ann Margaret in B movies. The cases filled with press clippings and videos of him on the Steve Allen Show and Ed Sullivan in the early days were a real treat, and I was well-impressed with the wall of gold records to his name. I knew he was popular; I just didn't know how popular.
You have your pick of music museums in Memphis, but if you're only going to one, I figured it better be Sun Studio out on Union Avenue.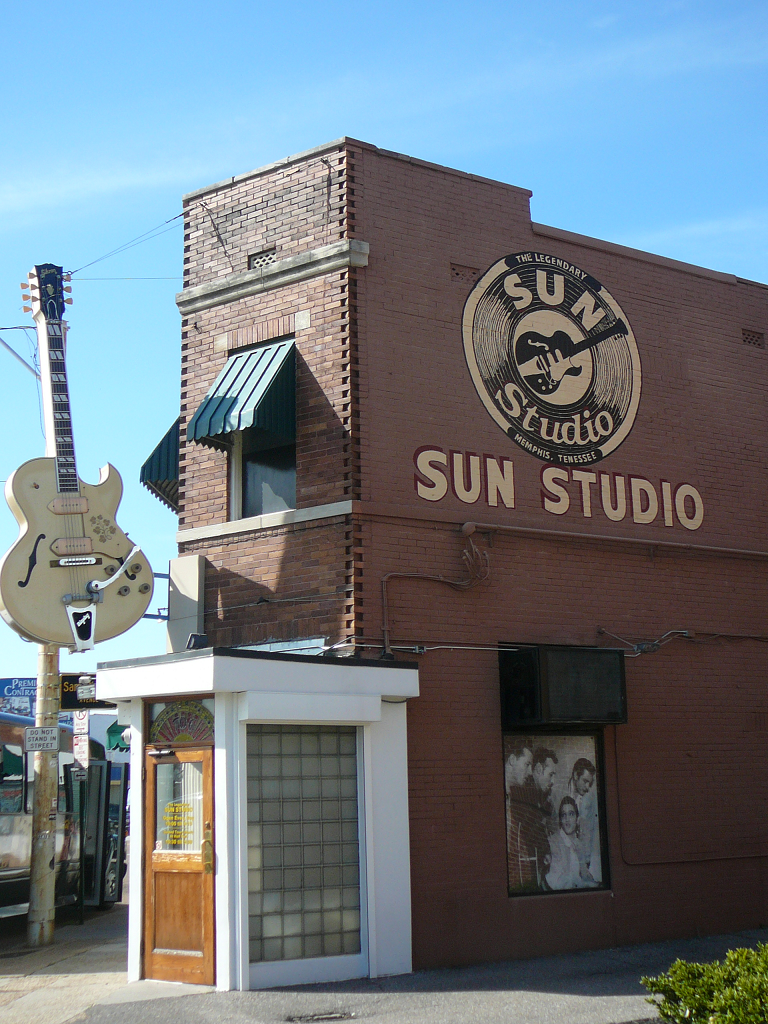 The studio opened its doors in 1950 and for 10 years the legendary Sam Phillips recorded some of the greats before the lease on the building ended and the studio closed in 1960. The building was bought in 1987 and the studio reopened, with artists such as U2, Bonnie Raitt and Chris Isaak recording tracks there in the evening hours. The building was turned into a museum with daytime tours.
Open the front door and you step into the past – a room right out of the '50s, complete with booths, stools at the lunch counter and a Wurlitzer juke box with hits from all the legends that recorded here during the '50s – from Elvis, Carl Perkins and Johnny Cash to Jerry Lee Lewis and Roy Orbison. And a few more in between, like Howlin' Wolf and the King of the Blues, B.B. King.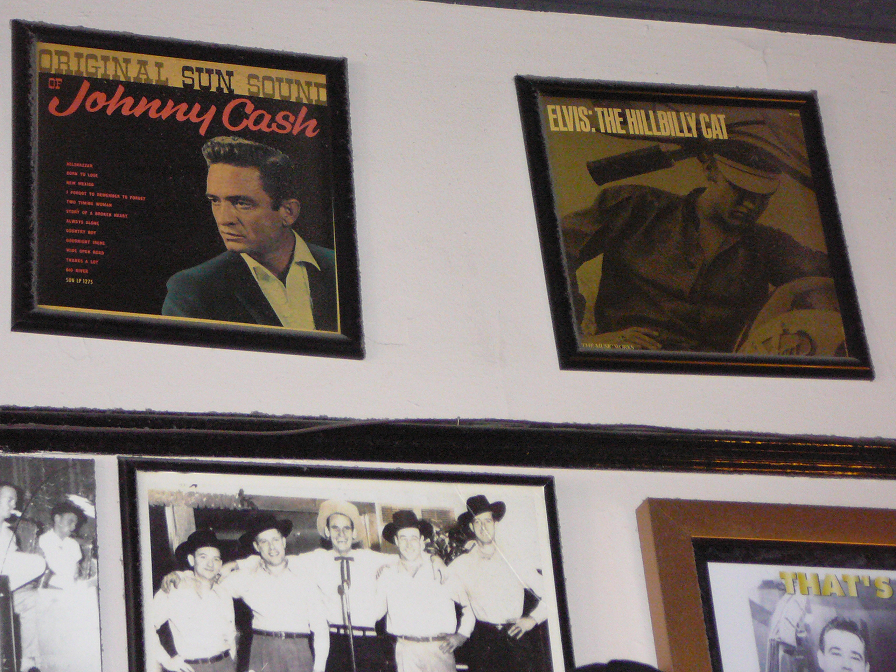 The hits play over the sound system and photos and newspaper clips decorate the walls and tabletops in among the shelves of T-shirts, CDs, books and other assorted paraphernalia available for sale. And for $4, you can step into the recording booth and record yourself for posterity … we desisted on the recording and took them up on the tour.
Our tour guide, Jason, dressed in '50s gear and coiffed with a little-dab'll-do-ya, herded us up the narrow stairs and into a room housing memorabilia from the studio's heyday.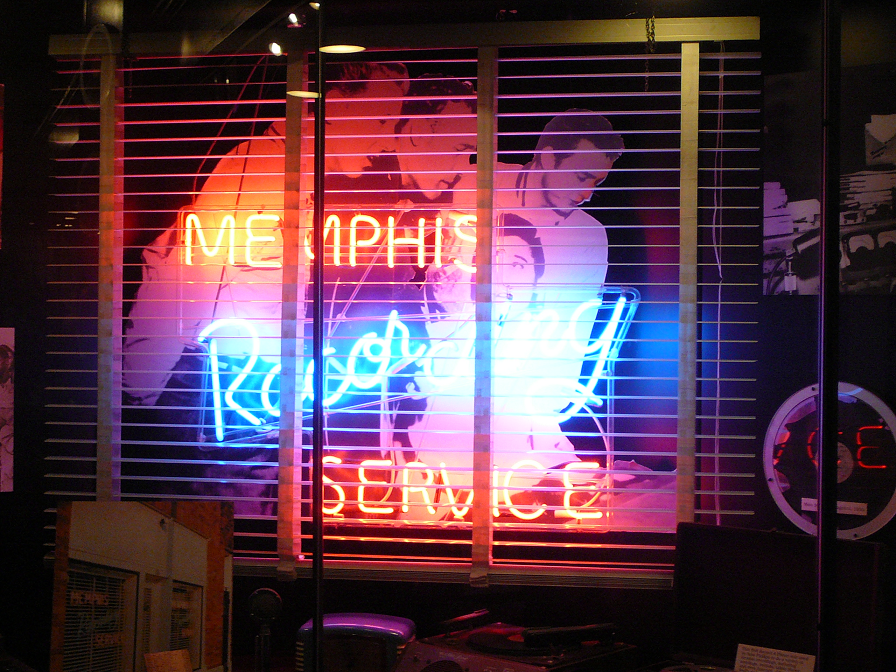 A flip of a switch here and a button there and its history comes alive. There's Jackie Brenston and the Delta Cats' "Rocket 88," featuring Ike Turner on piano. Recorded in 1951 at Sun Studio and sold to Chess, "Rocket 88," with its guitar distortion (due to a broken amplifier stuffed with wadded-up newspaper), is considered by most as the first recorded Rock and Roll song. And from there it's all history, right?
Jason tells us about the Prisonaires, prisoners in the state penitentiary who came to Sam Phillips' attention and recorded "Just Walkin' in the Rain" in 1953. The record was an immediate hit, selling 50,000 copies, paving the way for their release from prison. He plays us a snippet from Rufus Thomas Jr's "Bear Cat" and tells the story of how Sam got sued over it, rightly so given that it's copied note for note from Big Mama Thornton's "Hound Dog." There's a short clip of Elvis' first recording, "My Happiness," for which he'd plunked down his $4. When the recording was brought to Sam's attention, he wasn't terribly impressed, so it would be a few years before Elvis got to record his first song for Sun – "That's All Right" with Scotty Moore on guitar and Bill Black on bass. When DJ Dewey Phillips aired the song on his "Red Hot & Blue" show, it created a huge sensation in Memphis. And from there, it's simply more history.
Carl Perkins' "Blue Suede Shoes" – the first million-dollar hit for Sun; Johnny Cash's "I Walk The Line" going to No. 1; Roy Orbison's first Sun record in 1956 – "Ooby Dooby"; and the biggest-selling record for Sun – Jerry Lee Lewis' "Great Balls of Fire." Go downstairs into the recording studio and one wall is lined with hit after hit recorded here in this room. X's mark the floor where performers stood to record their songs, and the microphone Elvis used stands in the corner, pulled out and fondled lovingly by wanna-be crooners …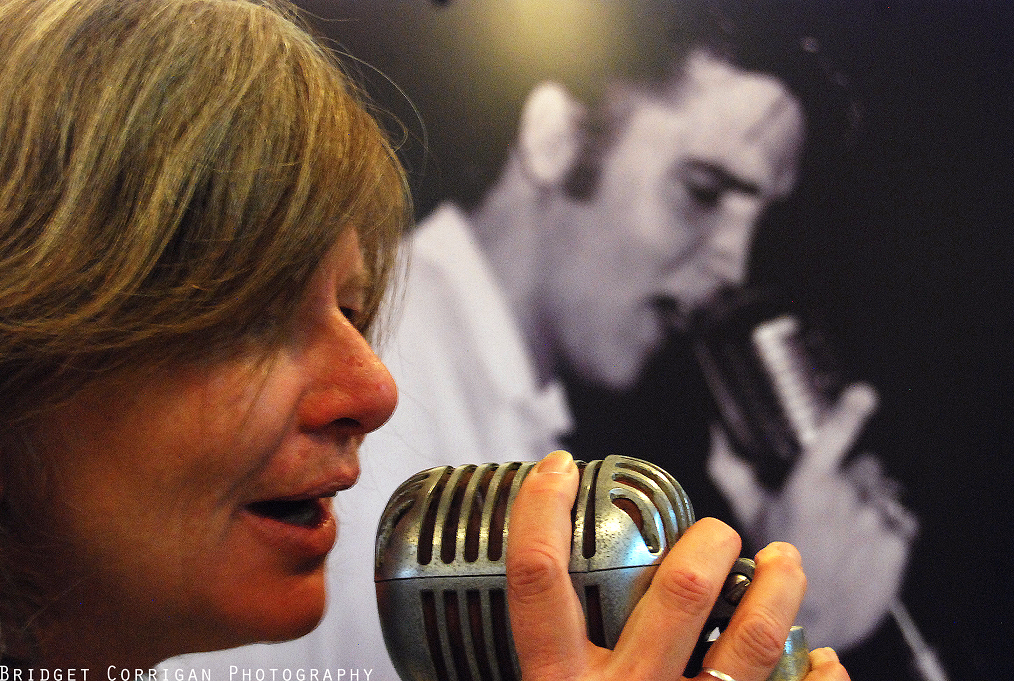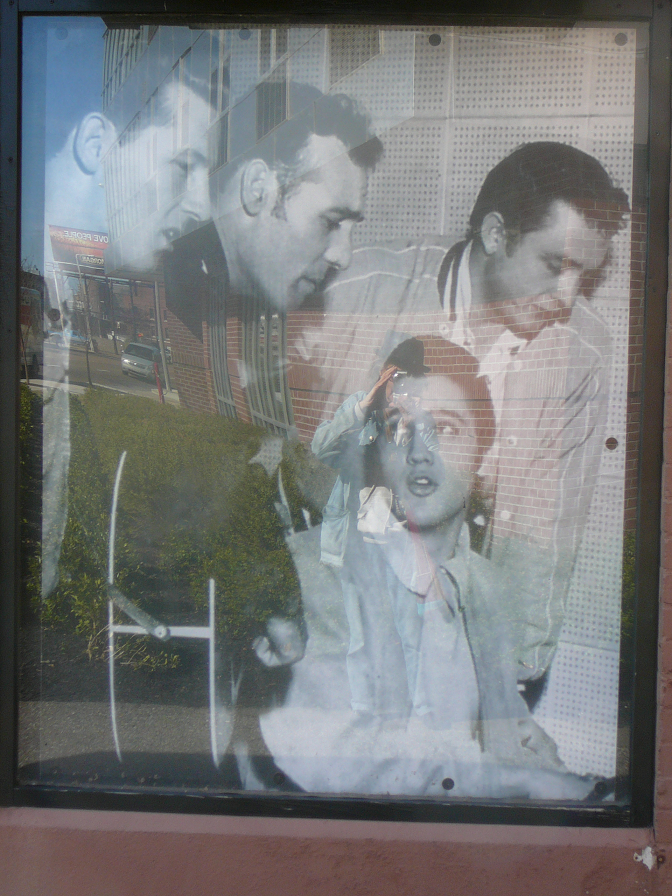 Like I said earlier, there are a lot of music museums in Memphis, and we're just going to have to save the ones we missed till the next time: Stax Museum, Rock 'n' Soul Museum and the Gibson guitar factory. In the meantime, our Elvis pilgrimage is over until, I suppose, we arrive in Las Vegas and blast our way into the Elvis-A-Rama Museum. Or maybe we'll be able to desist there too. You never know.