May 21 – An evening in New York is all I get this time and we split it between the West Village for dinner and uptown for drinks. We've settled on John's Pizzeria on Bleeker Street for our first course – we being Mike Fishman, Robbie Mendelson and me, and we dig in with gusto. Robbie's back from a few weeks in New Orleans for the Jazz Festival, and I've promised myself I've got to get back there next year. Pizza done, we head over to Bleeker Street Records to browse through the goods -I've heard of this place for years but have never made it down to the Village to check it out, and who knows when I'll be back again. A bit on the pricey side, and I resist the strong urge to buy. Maybe next time. Mike's got to make it an early night, so it's just Robbie and me in line at Rocco's for a sweet thing for dessert.
When Robbie heads off to catch the subway uptown, I catch up with Bridget and her friends, and we too head uptown, eventually ending up at the Irish Exit, a bar on 2nd Ave just off 52nd St. with a couple of pitchers of beer in front of us. Just another night in New York.
May 22 – Off to Connecticut, my old stomping grounds, for a couple of days with friends while Bridget stays on in New York to continue the party. My party consists of a long overdue visit with my good friend and fellow homeschooler Ginnie and her family in Stratford. It's always good to catch up. And no better time for a walk in the woods, this one by the Mill River that runs through Sleeping Giant State Park.
Back in our homeschooling days in the '90s, a few of the moms in our group would get together for moms' night out every once in a while. Sixteen years after our last moms' night out, we're at it again: Ginnie, RoseAnne, Robin and I meet up at one of our old haunts – Bloodroot, a vegetarian restaurant in Bridgeport – and it's like old home week, sharing stories of our kids growing up and grown up, scattered across the globe in some cases. A wee bit nostalgic. Somehow it feels like we've made it to the other side; and it's all good.
The view of Burr Cove on the Long Island Sound from the patio of Bloodroot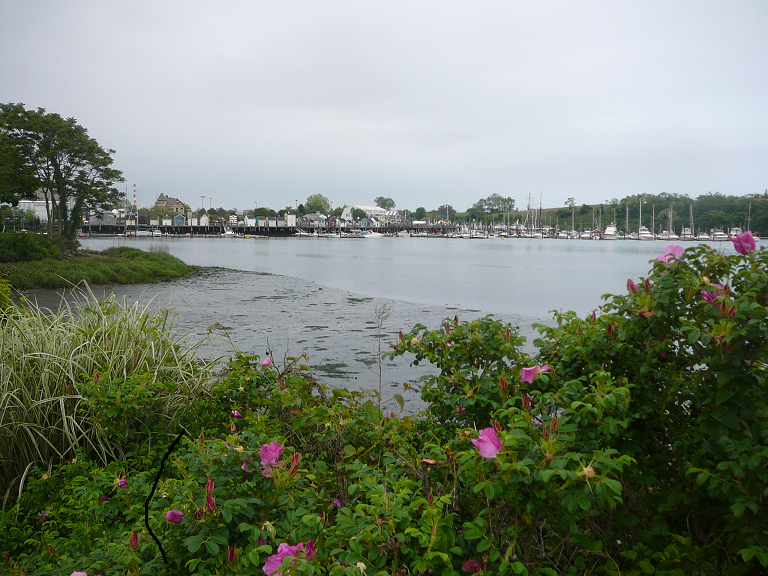 May 24 – Our last day on the road. Tonight we'll be home in New Hampshire. Over five months on the road, and it comes down to one last drive. But first I've got to pick up Bridget at the Fairfield station; her train from New York gets in around 1:30. Robin's invited me over for lunch and later we head over to meet the train and go for coffee. Saying goodbye to Robin, Bridget and I head up to Easton to our old home. The Sheehans, who purchased it from us, are still living there, and Lisa very kindly has invited us over so we can take a look at the house and how it's changed in the intervening years.
Ginnie's invited Bridget and me for dinner before we have to hit the road for home, so it's Easton to Stratford and a wonderful home-cooked meal with Tucker and Ginnie and two of their three children, Abbie and Cameron. Dennis can't make it – he's just got himself a job in New York City and is staying in town for the night. Cameron wasn't yet a twinkle in his parents' eyes back in the days when Sean and Bridget and Abbie and Dennis were doing their homeschooling thing – and now they're all grown up and making their way in the world, following their passions.
Bellies full, it's nightfall before we get away – on the road again. We're going home.

A self-professed live music junkie, Shannon is the author of Astral Weeks Live: A Fan's Notes, a book about her year on the road attending singer Van Morrison's epic live performances of his widely acclaimed album Astral Weeks. To find out more about the book or to order a copy signed by the author, click here.