Our last stop in Texas – El Paso – up in the northwest corner of the state, is a 577-mile scenic drive from Austin. Scenic, of course, is in the eye of the beholder. We were warned that it was a long and boring drive, but we found lots to look at and admire on the eight hour drive. We picked up Highway 290 out of Austin, which takes us through the towns of Dripping Springs, Johnson City (Johnson, as in Lyndon B.) and Stonewall and on to Fredericksburg before we picked up our old friend Interstate 10 just south of Segovia. We'd left I-10 in New Orleans to travel north through Mississippi, Tennessee and Arkansas, but we were back.
As we knock off the miles to El Paso, I am reminded of something I've just read in "Paradise Road" by Jay Atkinson. Inspired by Jack Kerouac's road trips through America and Mexico, Jay takes to the road with various Kerouac devotees, following the roads that Jack took. In the chapter I'm reading now, Jay and his friend Keith Bowden (aka Bongo) are driving south from Denver, Colorado, to Mexico City – a trip that Kerouac estimated at about 1,700-plus miles that took him through Colorado, New Mexico and Texas and on into Mexico. Two days into the trip, in the bowels of Texas in the foothills of the Rocky Mountains, Bongo says to his companion, "The U.S. changes a lot when you go west to east. If you go north to south, you can drive over a thousand miles and still see the same country."
Bridget and I have lots of north-south miles ahead of us, but today we're doing east-west, and Bongo's right about the scenery – ever-changing …
Bluebonnets, the state flower of Texas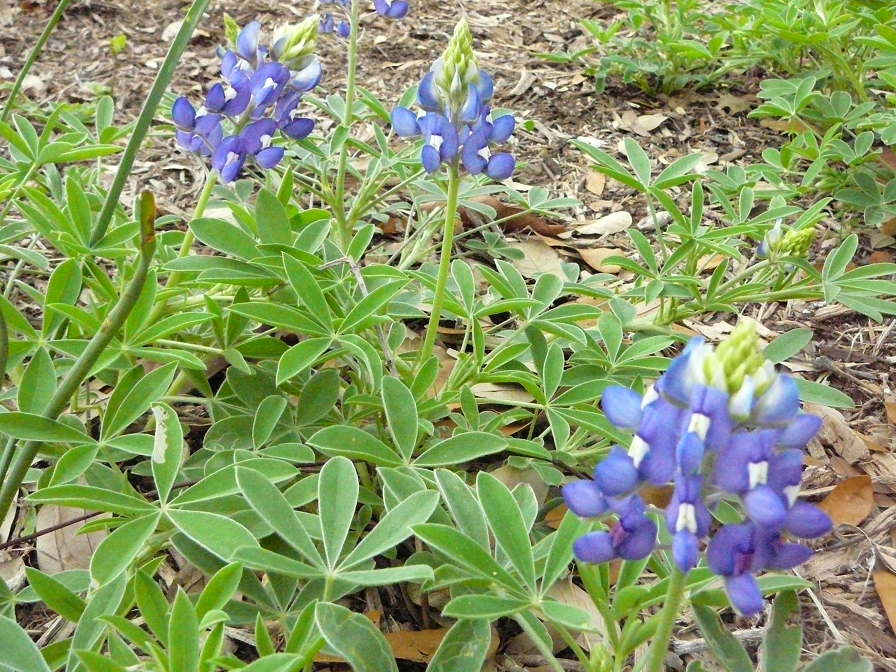 El Paso
We pulled into town late afternoon, destination the El Paso Inn, our home for two nights. After dining in on PB&J sandwiches, washed down with a gallon of water, we were ready to head out for a drive up the mountain for nighttime panoramic views of Arizona, Texas and Mexico (or so the guidebook said). With no guideposts to show us the way, we inevitably take a road up the mountainside that leads to nowhere. Turning around at a dead end, we circumnavigate our way down with a spectacular view of the lights of Juarez, Mexico, in the distance. Arizona and Texas are at our backs, on the other side of the mountain it seems. We'll look for those tomorrow; for now, let's get a bottle of Tequila and head back to the motel for a bit of R&R. When in Rome, right?
We had given ourselves just one full day in El Paso, and not to put too fine a point on it, the only reason we were here was we needed a place to stop after the long drive through Texas before heading north to White Sands, New Mexico. Time to regroup, get a bit of laundry done, give Dexy an oil change, and get a bit of proofreading done to pay off some of these bills. Plus, it was Thursday, March 22, and Kiefer Sutherland's new show, "Touch," was set to premier tonight, and we weren't about to miss it. That said, we did manage to get out of the motel by mid-afternoon and hauled ourselves into town to see what was up in El Paso. It turns out not much, at least downtown. South El Paso Street was bustling with retail trade, but beyond its few blocks, the streets were empty. Everyone has moved to the burbs, methinks. And time for us to move on to the scenic drive, but not before wandering past a few of the shops and buildings …
With not much happening downtown, that gave us plenty of time to find the elusive scenic drive and do the do. Voila, there it was, right where it should be on Rim Road, and up it we drove. No Arizona or Texas views, but there was Juarez, across the Rio Grande …
El Paso in the foreground, with Juarez, Mexico, across the way, beneath the mountain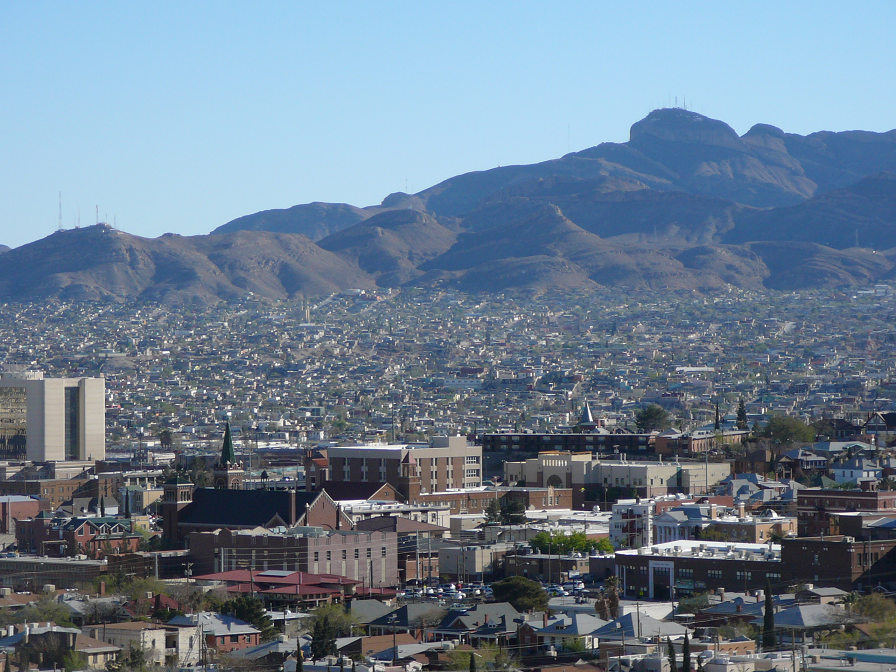 And that's as close to Mexico we came. Horror stories abound about border-crossing Mexico towns, and we weren't about to test that theory, so unlike Jay Atkinson and Bongo, and Jack and Neal before them, we stuck to the photo op.