day 3 – tuesday, october 15
Yesterday it was the parrotless Telegraph Hill and today it's Tank Hill. In a delightful change from yesterday, we are traveling by car – and if nothing else, that makes sightseeing of hills that have names a far sight easier.
We've met up with Carol Gould, who picks us up near the Civic Center downtown and scoots us out of there for a drive through where the rich people live. (This has turned out to be a recurring theme on this road trip: driving through expensive neighborhoods, taking in the architecture – it turns out I absolutely love looking at how rich people live, and apparently, so do many of my hosts. We share a taste for visual opulence it seems.)
Not one of the opulent, but certainly elegant …

Access to Tank Hill is up a steep footpath leading off Twin Peaks Blvd. Not to be confused with the show Twin Peaks. I don't know how many Twin Peaks there are in the United States, but this is the first time I've seen the name associated with anything other than the TV series. I wonder if one of the writers lived in San Francisco and used the name. But here we are – at the real Twin Peaks, or actually, just north of it, at the smaller Tank Hill. It offers a grand view of the city, from Golden Gate Bridge (on a clear day), across to Marin County, downtown and East Bay.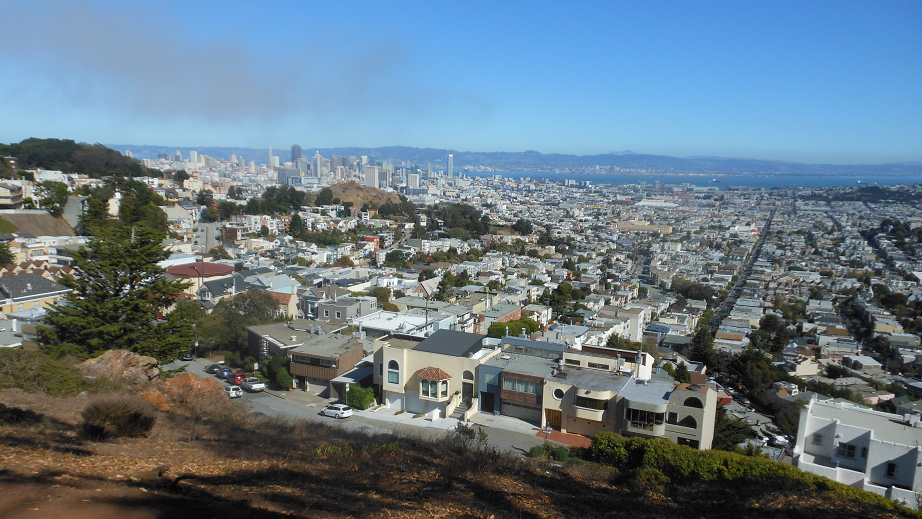 It would be spectacular at night. But today it's windy and the fog is rolling in …
Back in the car, Carol takes us through the Mt Sutro Open Space Reserve that backs on to Univ of California SF Medical Center; down the hill and we're soon in the Haight Ashbury district looking for a free place to park. Carol's good at this, and in no time at all, she's got the car parked on a side street less than a block from Haight, and we're out on foot. This is my third visit to San Francisco, but it's my first time in "The Haight."
Notwithstanding Van's "Brown Eyed Girl," my favorite song of 1967, hands down, was Scott McKenzie's "If You're Going To San Francisco." I was 12 that summer, in teeny-bopper heaven, grooving on California sounds, experiencing the whole San Fran hippie thing vicariously from afar on the other side of the continent in my head. As far as I was concerned, be sure to wear flowers in your hair was the epitome of peace and love and understanding and life in Haight Ashbury, and I'm afraid that as we stroll along, I manage to break out the vocals on it.
And here we are, smack dab in the middle of it …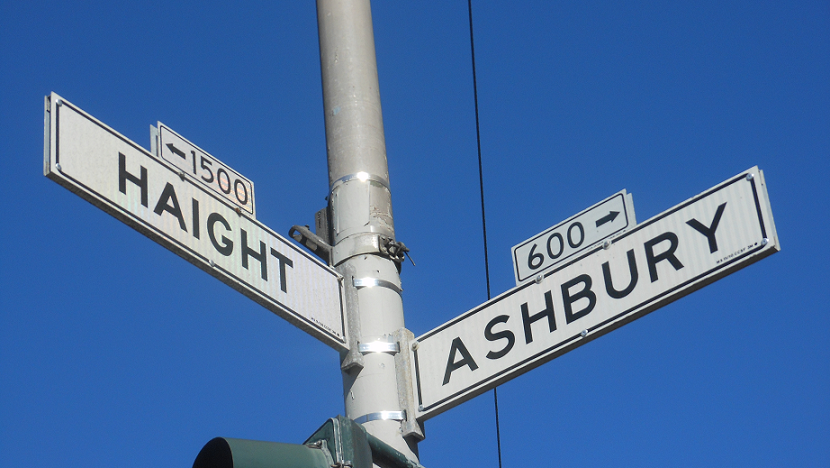 We take a short detour on to Ashbury. Up ahead, is that it?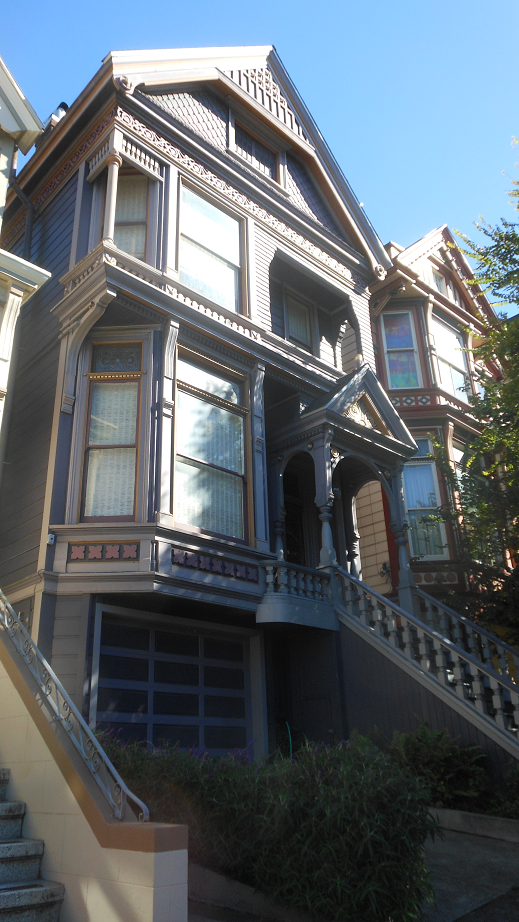 Yes! It is! The Dead's house.

Midweek on a fall day and it's quiet on Haight today. On a busy day, the crowd would look noticeably different from the days in the 60s when they were wearing flowers in their hair. There are vestiges of the past, mixed in with the new, and it makes for an eclectic street, retaining its earthy feel yet appealing to those with disposable incomes.
Lunch at one of Carol's favorite restaurants in the neighborhood – and while its name escapes me, we ate well. Thanks, Carol. Well-fortified, we took a stroll up and down the street, doing a little window shopping and taking in the views all around …
We stop in at Amoeba Music and I pick up Van's latest, Born To Sing: No Plan B. I picked up Bob Dylan's Tempest in Santa Cruz, and it has been in constant play ever since. It's going to be hard to squeeze Van into the rotation on the drive home, but surely somewhere in the 3,000 miles across the country, we'll be able to figure something out.
Carol had an afternoon appointment, so we bid farewell, knowing it will undoubtedly be at a Van show that we'll see each other next, and one can only hope that it's soon.
Bridget and I continued to meander along, taking in the flavor …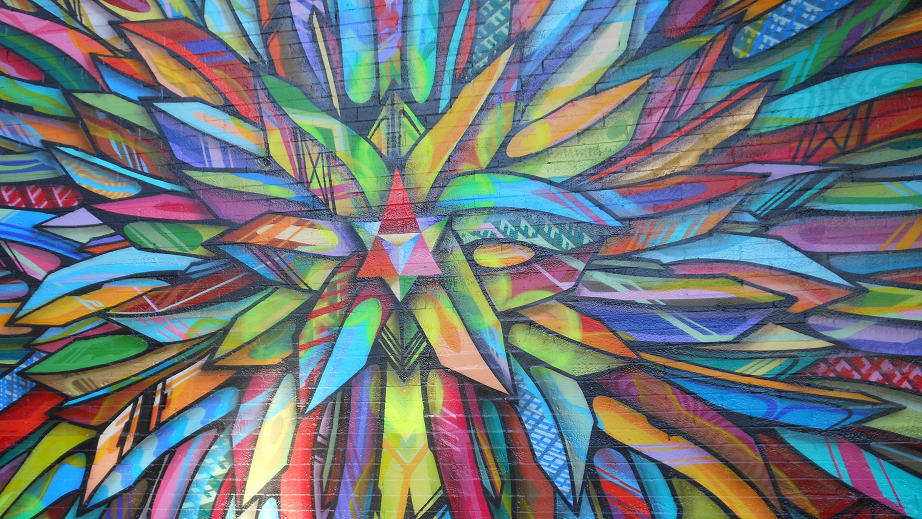 Then there was this place: The Red Victorian at 1665 Haight St. Built in 1904, it's history spans virtually the entire 20th century (such stories to tell) and today, the woman who owns it has decorated each of the rooms differently and runs it as a B&B. We had simply walked in to get coffees to go and it turned into this magical place – an explosion of art and history. Just my cup of tea. I make a promise to myself to stay here next time I come to town.
With the afternoon sun going down, time to wrap it up here and catch the bus heading downtown.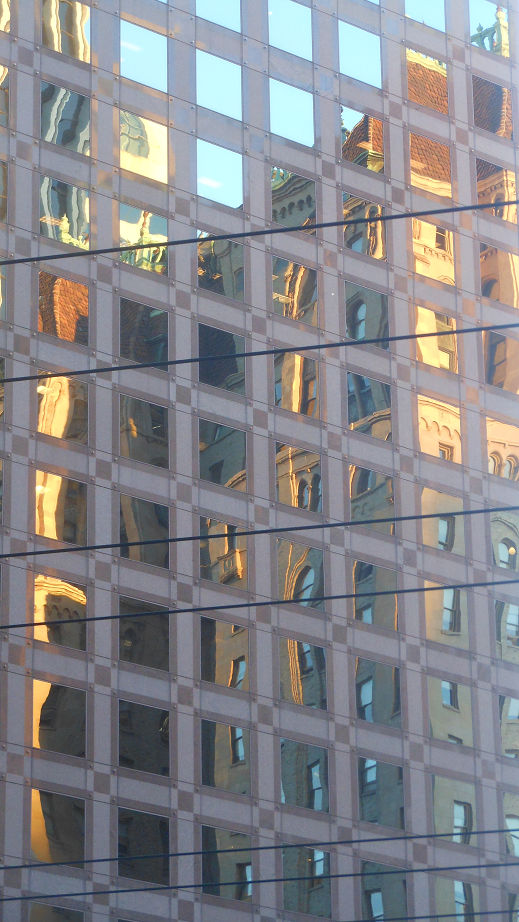 Bridget had her violin with her and was hoping to do some busking on a busy corner during the evening rush hour. Leaving her to her musical devices, I headed north at Powell St and Market and found myself in a spiderweb of streets before landing in San Francisco's downtown shopping district. Full of people looking like they've just come from work and are doing some remedial shopping before heading home. I could feel myself going at a much slower pace than those I passed by. On my way back to find Bridget, I stumbled upon Union Square Park, a delightful oasis in the middle of all this enterprise. I knew Bridget would love the square, so I went off to gather her and bring her back.
Sitting on a park bench in the square, thinking about this being the last night of our West Coast road trip, which began in late August in British Columbia, and savoring for a few moments just how grand it's been. How it's been one good thing after another. But enough of that – it's time to get back to Oakland and call it a night. Tomorrow: the Mission District.