Smooth or crunchy? Cane's or Popeye's? Mets or Yankees? Sunrise or sunset?
Me? I'm sunset all the way.
Granted, it would be almost impossible for me to choose sunrise, for no other reason than I would never be up at that hour, and if I was, the odds of me remembering to take my camera with me would be next to zero. But I have seen a few, and truly, I think the science will back me up here, sunsets are simply more beautiful. Plus, there is a good chance I will be awake.
Just look to the west, beyond the ocean, beyond the trees and the mountains, and watch the sun melt into the horizon. The mix of color and light changes from moment to moment, and each one of those moments is an Impressionist painting for me. I understand what Claude Monet saw in the lilies – every day the same, every day totally different.
Here's my impressionist take on the sunsets at Harris Beach in Oregon …
North America's Pacific Coast offers some of the most spectacular mountains and forests to explore by day, and when evening comes, simply stop the car wherever you are and take in all the ocean has to offer at sunset. From San Diego in southern California all the way up through northern California, Oregon and Washington, then over the Canadian border into beautiful British Columbia, it's one glorious view after another. Here then, from south to north is what the sun will do.
Before we head inland, there's more coast, this time in Ecuador, also on the Pacific Ocean – two beach towns on the southern coast, the sleepy Manglaralto and the party/surf town of Montanita, not that you can tell the difference at sunset …
Off to Ireland …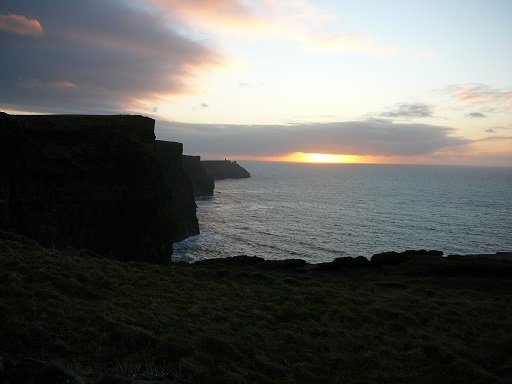 Back to the innards of the United States …
The Grand Canyon …
There are always more …
And now up to Canada. First, the interior of British Columbia …
… and Quebec
From my wonderful stay in Chania on the island of Crete …
One last one, to finish off – looking out on the Atlantic Ocean from Spanish Point, Ireland …