If you look closely enough, you'll see the billboard for Van's show tonight, as we look out the bus window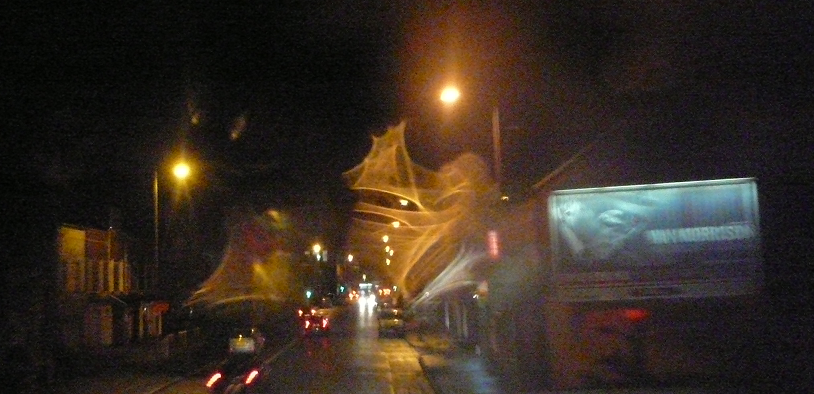 There was a marvelous moment during Shana Morrison's opening set, when Shana introduced "God Must Love Me" as an expression her grandmother, Van's mum Violet, would say when good things came along. Indeed. I imagined Violet sitting in the front row tonight, watching her granddaughter and son perform. A command performance. You just know she was sitting there saying, "God must love me!" She must have been. For a moment I thought of this as a performance for her and that the rest of us were merely the royal audience in attendance. That thought sent out a big blast of good kharma into the room, and I settled back, ready to take it where I find it.
Upfront, I have to say that Van's show tonight was sheer delight. Something happened that blew me away simply because it happened. But it's what happened that is the very cool part. You've not heard this story before …
If you've been following along with my blog, you'll know that Bridget and I have been traveling around Ireland for three weeks. She was my PR agent and I was her roadie. We timed our visit to coincide with Van's concerts, but the main reason I was here in Ireland was to do research for my next book, a historical novel whose opening occurs during Ireland's Great Famine in the late 1840s. I had the basic characters and storyline mapped out before I came. What this trip to Ireland was all about was finding a little town where I could place this story – it had to be in the middle of nowhere in western Ireland. I'd know it when I found it. The good news is I found the town. But the even better news is I found myself. I didn't know I was looking. But everywhere we went in Ireland taking in the architecture with my mind, it was a series of images – the green fields, the winding roads, the mountains, the fog rolling in, the ocean, always the ocean, the little villages and towns, the sheep, the ruins of history, stone walls, hedgerows – the whole bit. Yes, I took photographs of many of them (but not near enough), and they serve a purpose, but it was the moment spent in that image that held the key. I was only vaguely aware that I was storing these images as memories, but at tonight's show, all those images came streaming out, and I realized these were memories, not just Kodak moment pictures, but memories that seemed age-old.
So, it blew me away that among his many other talents, Van can, through his music, provide the key to unlock the doors in my mind. And even more blown away by what I found when I went through. [Aside: On the bus today, when "Rave On, John Donne" was playing just as we were leaving Ardglass, I jotted down the words "Tonight you will understand the oneness." I don't remember what prompted me to write that line down at the time, and it is only now, 11 days after the show, as I look at my notes from that day that I see them. But apparently, also among is his many talents, Van is good at giving cues, if you're listening and, I dare say, your heart is open.]
And as great as it is that great things happen to me during the show, I know I am not unique. When you're on Van's wavelength, he'll take you wherever you want to go. Belfast was one of those nights.
He opened with "Brown Eyed Girl" that had a bit of Cuban swing to it, a little mambo thrown in, giving the band something to warm up on. It was a good little jazzy number to start. "Higher Than The World" continued the jazz, this time soft jazz with a full orchestra sound. The first two numbers feature Van on saxophone, making for a four-man horn section. And then comes the first of many songs that "speak" to me and bring me home to Ireland – across the fields and streams, way out in the distance hear the church bells chime, high on the hill in the morning fog, take it by the ocean – talk about taking in the architecture with my mind! Into this he adds a new theme, or in my case, image – turn around, hand on my shoulder -of a woman standing in the wind and the rain, her hair blowing in the storm, and as he takes it down to a meditation – turn around, hand on my shoulder – we succumb to the voice that takes us into what could be called a trance. We are certainly spellbound.
So not only has "Fair Play" opened up this door of Ireland for me in yet another stunning version of this song, it has the added bonus of giving me an anorak attack. At the end of the song, where he plays the words in whispers – we were all just going in there with him into the silence, until someone in the audience can't take it anymore (or something) and hoots and Van stops the song on a dime. The anorak moment is this is a technique he's used before, where he has us deep in a meditation and the moment someone hollers he cuts the song short. He used to do the same thing with "Summertime In England" in the early '80s. To this audience's huge credit, they let him sing in whispers for a good long time. I'm not sure a New York or Boston audience would have done the same.
"Talk Is Cheap" – talk is cheap, Van, and yes, it comes with the territory. Not much good about it at all. But there is lots good about "It's All In The Game," which Van introduced as a workshop. The workshop is one of those Van-crafted moments of three-level meditation if you want to go with him, and is otherwise just a sheer thing of beauty: THIS IS IT! NO PLAN B, NO SAFETY NET mixed in with him growling "one more time again" and it was simply one wave crashing in after the next. Over and over "NO PLAN B," "NO SAFETY NET" and I'm sucking it all up just like I did that first night at the Hollywood Bowl when he kept imploring us to "GET ON THE TRAIN" during "Madame George." He's right. THIS IS IT! It would be hard not to be stirred.
More light jazz with "Precious Time" that shifts easily into "Moondance," before Shana joins Van on stage for "Sometimes We Cry." Van sang the fist verse and Shana came on to sing the second verse and then provide backup for the rest of the song. At one point he sings, "Sometimes Chris Farlowe is on the make," and in the next beat, "It's a joke." A high-energy song with lots of big brass, building to the big crescendo ending that gives the audience a shot of adrenalin. Van keeps the pace up with "Real, Real Gone," with a touch of Sam Cooke's "You Send Me" – a work in progress. From there he launches into "Crazy Love" that goes by in a blur, a rather straight-through version, but this was a favorite of mine for years, so I'm good for a sing-a-long.
And then comes the next thing that blows me away. I have been listening to "In The Garden" live for as long as anyone else, and I believe I'm in a minority as the only person who doesn't swoon every time Van performs it. Until tonight. The fields are always wet with rain after a summer shower and I'm back in Ireland, only this time it's the Ireland of Celtic mythology. I've often heard fiction authors say that while writing their book, they became so engrossed with their characters' lives that they become their characters. I got a lesson on that theory tonight during "In The Garden" as I became the young Irishwoman whose character I follow through the book. It was fun. I've not done that at a Van concert before tonight. Among his many talents, then, I'd have to include giving me character development ideas.
"Have I Told You Lately That I Love You" and "Young Lovers Do" go by in a flash, the latter a great workout for the band in big Big Band fashion. That leads to "Little Village," which completes the architecture I'm seeing in my mind that began with "Fair Play" little village up on the mountainside, across the ocean and always the reminder that there are two kinds of truth, what's in your head and in your heart. I was feeling the oneness.
It was a straight-through version of "Tupelo Honey/Why Must I Always Explain?" without any of the vitriol in the latter that makes it such a great song live. "Ballerina" has lost some of the edge he gave it in 2008, when he reinstated the song in the setlist after a long-time absence.That 2008 anthem has devolved into simply another one of the great songs from Van's catalog, tripping lightly. "Help Me" gave Van a chance to wail on harp, leading into a rough and tough "Keep on rocking in the same boat," followed by a litany of "It's too good to stop now! It's too late to stop now!" with the gusto necessary to get the audience up and ready to boogie for the closer "Gloria." Van sang a couple of verses and thanked Belfast for such a warm welcome and he was gone, leaving the band to rock it out in grand fashion – when the cat is away, the mice will play.
Maybe I was looking for the veedon fleece when I came to Ireland. Here I thought I was just looking for a setting for my book. Tonight Van created a landscape of beauty with a group of songs that shone a light on my time in Ireland and gave clarity to the idea that had been building inside me that Ireland was home, that I had come back home. It always amazes me what Van can do for his audience when he's up there on stage, singing words that sound like gospel, in a voice that continues to get better with age. He was in fine form tonight.