Lo and behold, we're in the right place on the right day. It's Monday, September 17, and we've made it to Seattle.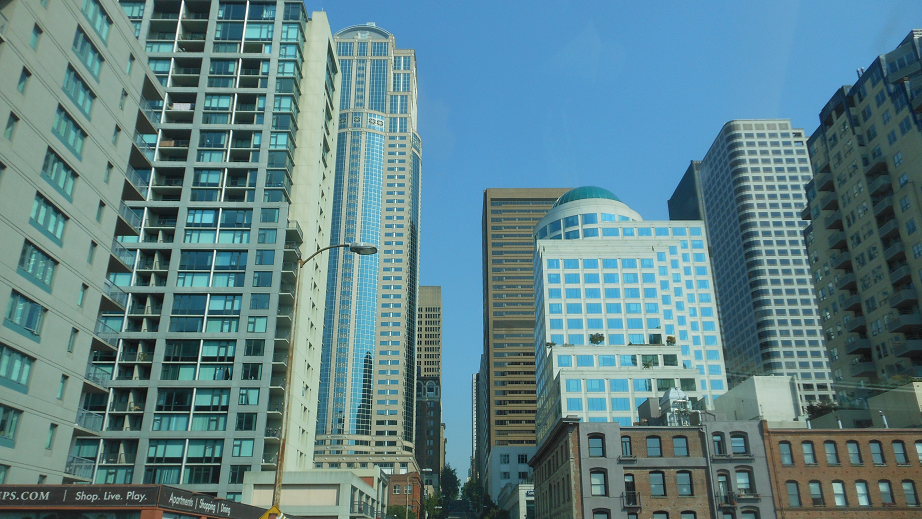 Despite heavy afternoon traffic on I-5 heading north from Olympia, we arrive in Seattle early evening and make our way over to West Seattle, where we've found ourselves a place to stay through airbnb. It's a great service: If you're coming to town and want a home-away-from-home experience, you can choose from all ranges of private accommodations, from spare room to in-law apartment to second home. All for a lot less than it would cost for a hotel. We took a liking to the listing for this fully equipped basement apartment in West Seattle, and here we are.
As usual after a day spent in the car, I'm ready to call it quits early, so after we stock up on groceries for our five-day stay in Seattle, I opt to stay in for the night, to do some work and catch up on emails. Bridget, on the other hand, is keen to get a taste of the town and goes off to cruise the city in Dexy, scouting it out. She ended up in the Capitol Hill district and came back with a favorable report, so we made that our first destination the following day. It's an eclectic neighborhood that borders downtown on the northeast, and while we got to explore some, we didn't get to see the half of it, mostly spending our time wandering up and down Broadway, stopping in for a bite to eat (but not at local favorite, Dick's Drive-In), then checking out some consignment shops, and wasting away a significant amount of time at Spin Cycle, a used vinyl store, coming out with a couple of great finds. From there, we spent the better part of the evening in Belltown, a conclave of nightclubs and eateries, checking out the scene. The one club we'd had recommended to us in Belltown as the place to go turned out to be hosting a drunken brawl of sorts outside its front door, and rather than making our way through that we opted for something quieter a little further on and around the corner. Just one drink – Bridget was feeling under the weather, so we called it an early night and pointed Dexy direction home.
Which didn't turn out to be as easy a task as all that. There's nothing like a bunch of construction to make a mess of a graceful exit from the city center. Our GPS lady is good at a lot of things – among her many talents, she knows key shortcuts and she's brilliant at seeing traffic congestion miles up ahead – but the one thing she's no good at is spotting new construction. When we're caught up in road construction, we're pretty much on our own. Left to our own devices, with me at the wheel, we embark on a comedy of errors trying to find the southbound entrance to the highway out to West Seattle. If there were any detour signs to guide us, we never saw them. However, we do see the highway almost overhead and figure if we keep it in our sights, sooner or later we'll hit a sign for an entrance. A series of dimly lit streets weave around beneath the highway, and just as we're about to give up on this maze, up ahead we spot a sign. We make a beeline for it, and then out of nowhere, a freight train pulls across the road, stopping us in our path. It inches across the road and then comes to a complete stop. It's parked for the night, in the middle of the road. We either wait for who knows when or we figure out something else. We opt for the latter, turn around and try again. This time we inadvertently end up down at the docks among the warehouses, secure behind their high wire fences and security gates. I've watched enough "24" to know we don't want to be here. Fortunately, a truck was just pulling out, and in a leap of faith, we trusted he was heading for the highway and we'd simply follow him there. It was a great plan – he was heading for the highway, only thing was he was heading north. Better than nothing, and certainly better than hanging out at the docks or being stuck at the crossroads. We headed north and took the first exit in order to turn around and go south. And that put us right where we were an hour ago, driving south out of Belltown looking for the way out of town. Yay, we get to do it all over again. Theoretically, at least this time we'd know what not to do, and somehow, one right turn turned into another and we made it out of there. It was the last time we took Dexy downtown. Time to use the free bus passes our hostess had given us.
By the next morning, Bridget's "under the weather" had turned into a full-blown cold and her sick day became a work day for me, and it also marked the beginning of our marathon of "Mad Men" starting with Season 1. It seems that every other person we've met on our travels around the country is a huge fan of the show, and after watching a couple of episodes today, I can see why. The series begins in 1961, and the daughter, Sally, is the same age as I was that year, and it's a bit uncanny to be taken back to scenes of my childhood played out on the screen. But as riveting as that all was, I did rouse myself briefly to head down to the beach for sunset on a gorgeous night.
Thursday was much like Wednesday – more work, more episodes of "Mad Men," and this time a different beach in West Seattle – Aiki Beach – a long stretch of sand at the westernmost tip of West Seattle, with views out across Puget Sound. People out jogging, walking their dogs or catching a few ZZZs in the park.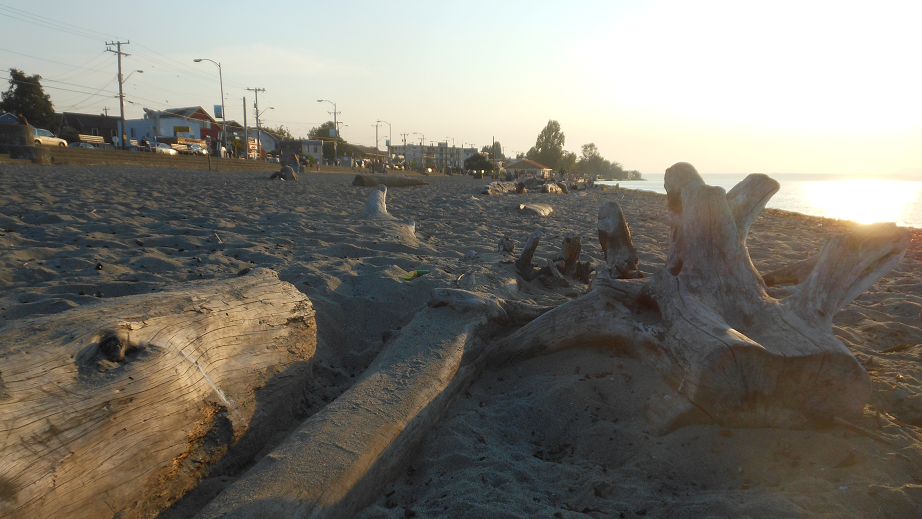 Come Friday, Bridget wasn't feeling any better, so I headed out on my own to the Seattle Center, just north of Belltown and at the end of the line for the bus coming from West Seattle. Originally built for the 1962 World's Fair, the Seattle Center covers 74 prime acres of real estate in the city, and these many years later, its main attraction remains the Space Needle, which reaches up a towering 605 feet.
Among the many attractions at the Center is the EMP Museum, self-described as home "to the most significant moments in rock music, science fiction, and popular culture." If you were a Nirvana fan, of which there were many on hand this day, you'd think you'd died and reached nirvana at the "Nirvana: Taking Punk to the Masses" exhibit. Me, I was more interested in the Jimi Hendrix exhibit and guitar gallery. I came across this picture of a young John Lee Hooker …
Around the corner from the EMP is the Chihuly Garden and Glass museum. A fellow traveler had highly recommended this museum to me, after hearing of my interest in light and color. She knew it would be right up my alley. A native of Tacoma, Washington, Dale Chihuly is a glass sculptor, or at least he was a glass sculptor until his late 30s, when an accident-causing dislocated shoulder meant he couldn't hold a glassblower anymore. Now he hires people to create his creations. And are they ever beautiful. Apparently as a young boy, the many happy hours he spent in his mother's (or was it his grandmother's?) gardens were a great inspiration – the sunlight playing on a bounty of color, texture and shapes in those gardens fairly explode under Chihuly's direction.
The halls and rooms throughout the exhibition each take on a different theme. Here's one called Ikebana and Float Boat …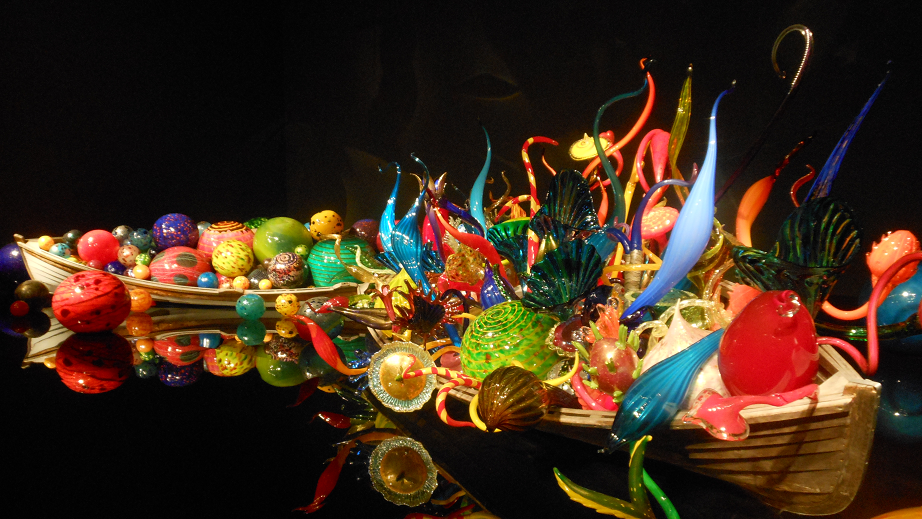 … and the Persian Ceiling …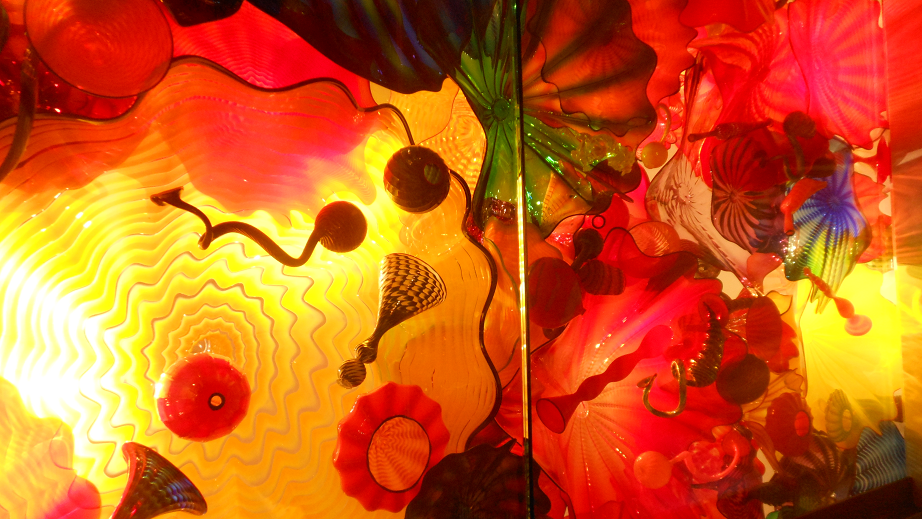 .
Leaving the exhibition halls through the Chandelier Walkway (with a gi-normous chandelier spanning the length of the walkway), we come out to the garden, and it's then I realize why they offer both day and night tickets. The gardens are filled with glass sculptures that would most certainly take your breath away when lit up at night. Instead I am here on an overcast afternoon and left only to imagine.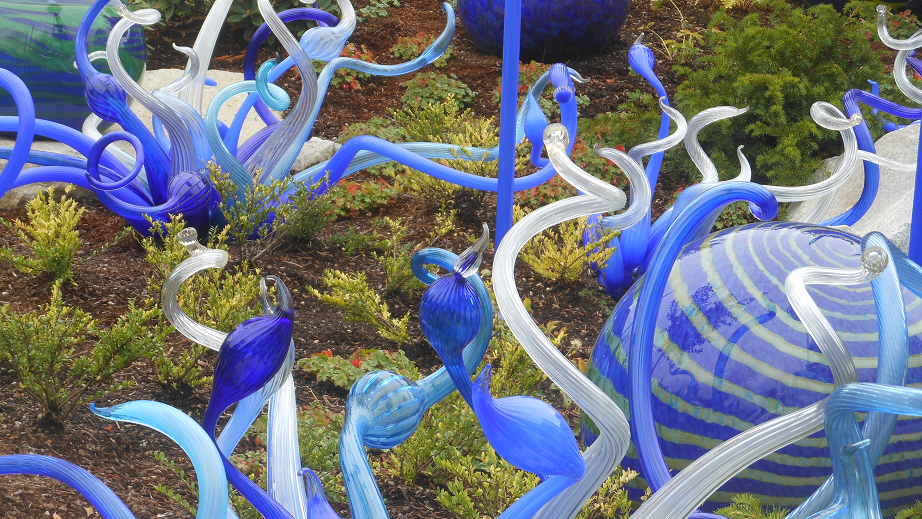 The tendrils in the picture are signature Chihuly, as I came to learn. The chandeliers on display inside the museum range in size from respectable to gargantuan, each a Medusa-like arrangement of tendriled glass.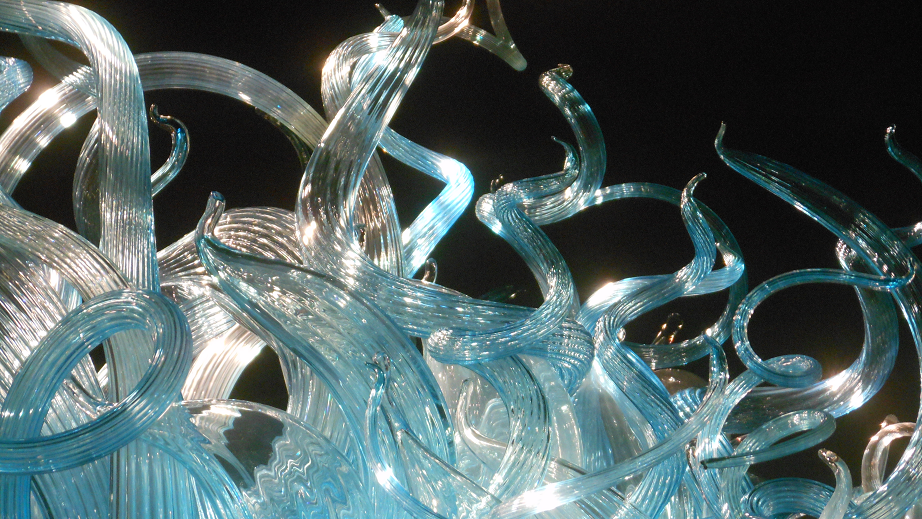 Balls are another feature of his work and they are abundant out in the garden. I'm not sure what caused me to stop for a closer look at this one grouping of them. There might have been a dozen of these balls placed along one of the pathways – no other glassware, just the balls among some end-of-the-season shrubbery on a cloudy day. In fact the balls all looked dull and gray, almost encouraging passersby to walk on by without much of a glance. Something must have caught my eye, though, somewhere around the third ball. When I stopped to investigate, I laughed, remembering my high school art teacher giving me my first lesson in looking at color; she was looking at the red apple I had just painted, then pointed to the actual apple on display and told me that if I looked at the apple, I would see that it wasn't really red at all – look at the yellow! look at the blue! she cried as she added those colors to my apple. She would have loved Chihuly's work, and she would have caught on to the balls long before I did. What you can see when you really look!
I couldn't get enough of it. I retraced my steps back into the museum, stopping in each of the rooms once again, going camera crazy. And then I hit the little theater where they showed a behind the scenes film of Chihuly assembling various pieces, including those for a showcase garden of glass, choreographed beautifully in the daylight and radiant at night, no two pieces the same, reflections of light playing in the water. Truly awesome. Van Morrison once extemporized on a feeling that comes over you as you listen to the music: the music hits you, the music becomes you and you are the music. I had that feeling today getting up close to Chihuly's creations – his creations of light and color hit me, they become me and I become them. They fill the space. His gift is truly remarkable.
But enough of museums for one day; it was back on the bus to West Seattle, to see how Bridget was doing after a day of rest. It turns out a bit better and by the following morning well enough to head into town for a half-day at Pike Place Market on the waterfront, joining the throngs of others who head down to the market on Saturday, including the bride …
After getting our fill of the shops inside and meandering among the stalls and street musicians outside, we came across an alley outside the market with an arrow pointing us down to the Gum Wall. Street art of a different sort.
Up close is even better. Definitely not Chihuly, but still, an interesting mix of color and texture …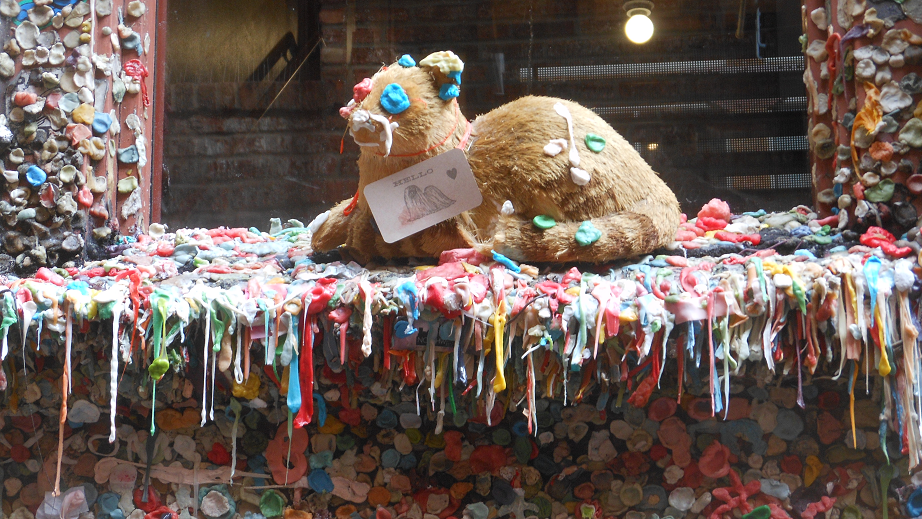 Our time in Seattle was quickly coming to a close. Pack everything up and get on the road once again. In deference to Bridget's lingering cold, we've nixed our plans to head over to Mt Ranier for a few days of hiking and sleeping with the bears and instead are heading back up the coast to Birch Bay to stay with Linda and Ron for some R&R where she can beat this thing. She's looking forward to crawling into bed and holing up for the next three days and I'm delighted for the chance to sit a spell with friends. One last stop before we leave Seattle …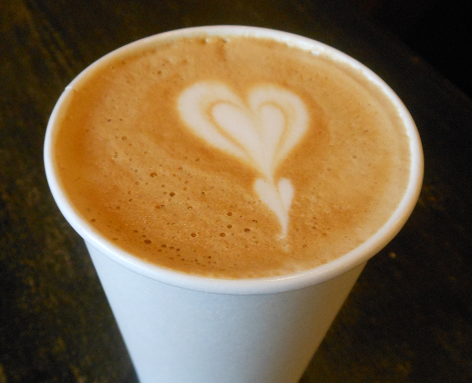 … and we're on our way.