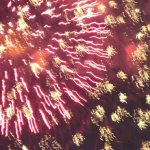 Hands down, New Orleans has to be the best city ever. The last (and first) time I came to visit, it was for two weeks, with Bridget, and we couldn't have had a better time. A week of Mardi Gras followed by a week of Lent, and we were drawn by her charms, taking the bait hook, line and sinker. We knew we were coming back the first chance we got.
And this is it! Finally. It took us three years to get back, but we made it, and this time we've got Adam with us. We've booked ourselves into what turned out to be
a fabulous place through Airbnb – a downstairs apartment in a nice Mid-City neighborhood two blocks from Canal Street and S. Carrollton. It couldn't be a better location. And this time we're here for a month. There are plenty of good months to come to New Orleans, and April is one of them. Especially if you're here for the music. French Quarter Festival from the 9th to the 12th and then the first weekend of Jazz Festival from the 24th to the 26th. And then there's everything else.
The music simply never sleeps here. Every day is musical education day. Not least, the radio. Turn it on, and set the dial to WWOZ. These guys are absolutely the best. I can listen for hours on end and never hear a song I've heard before, and my ears are popping. But we don't come to New Orleans to listen to the radio, we come for the live music.
Top of my list of who I've got to see is Tab Benoit. What a treasure – an incredible guitarist, a great voice, and good stage presence – I can't get enough of this guy. Good Cajun blues – evocative, powerful stuff. Lucky me, Tab's got a gig in Baton Rouge the Friday after we get to town. Good – an excuse to go up to Baton Rouge and check it out. The drive up the Mississippi is luscious green – and I realize I am in what in 1850, at least, is plantation country.
Baton Rouge couldn't be more different from NOLA. You forget when you're in New Orleans what the world is like outside New Orleans – it is a city unto itself – it makes you want to scurry back. Baton Rouge reminded me of Asheville – and there are many cities like this around the country – conclaves of white liberals in a vast wasteland of conservatism. It's not my cup of tea – white liberals generally don't like libertarians, and I am no exception within that rule. It reminds me of Stepford Wives; very scary.
We're there on a Friday, and that's good, because they have a free concert in the town square on Friday evenings. We're able to catch the opener, Elvin Killerbee, but have to scoot before the the main event; I think it was Cowboy Mouth, but don't quote me on that. We're off to see Tab across town. Who puts on an incredible show for us. Oh, so good. This could become habit forming – just at the right time it turns out. He's got two gigs in New Orleans later in the month, so I should get by.
It was my friend Robbie who put me on to Tab, and he also turned me on to Jon Cleary – a phenomenal piano player. When he's in town he's got a standing gig at Chickie Wah Wah's, but unfortunately for us, not for him, he was out on tour for most of April. He got back just before Jazz Fest, with an early slot at JF on the first Sunday, and one gig at Chickie Wah Wah's the Thursday before, with his band, The Absolute Monster Gentlemen, which is where we caught him. It's his work on the keys that leaves me jaw-dropped; with the band there's a lot less of the frills and thrills from the piano, and taking into account the "I just got back from Australia and are my arms tired" situation, it was a four-star night, not the usual five.
Free concerts on Wednesdays at Lafayette Square are a must-see – highlights in April were Kermit Ruffins, The Revivalists and Sweet Crude, the latter a young group of musicians, modern Cajun, heavy on percussion, and some serious fiddling. Great stuff!
And of course, lots of time spent down at the clubs on Frenchmen Street and around the corner at the BMC on Decatur, where we were delighted to see Ed Wills still charming the ladies with his 12-bar blues. Three years ago, on Bridget's birthday, Ed had invited Bridget up to share the stage with him for a number. He worked it out to get her up on stage this time too. The video evidence …
French Quarter Fest was a blast, mired only by the downpours that cut a number of the performances short (most disappointing, Irma Thomas' set cut after three songs). They had stages set up throughout the French Quarter and down to the riverfront, so there was no shortage of music over the four days – and no shortage of attendees. Thursday featured Allen Toussaint at the Abita stage. I arrived too late for a good sight line, but the music was superb nonetheless. A real gentleman, and I was fortunate to get a chance to talk to him in person a few days later, at the screening of "A Tribute to Toussaint" put on by Timecode:NOLA at Le Petit Theatre on Peter Street. The same folks aired "Fats Domino: Walkin' Back to New Orleans" during the festival – an excellent way to get out of the rain and learn something about a few slices of music NOLA style.
And then it was on to Jazz Fest – so much music, too little time. I'm not sure what it's been like in the past, but this year at least, only day tickets were issued, no weekend passes. Counting the dollars in our pockets, we decided to go on Friday only, on the strength of Tedeschi Trucks Band, who are simply not to be missed if possible. From the opener, "Made Up Mind," to their final song, aptly "The Storm," Susan belted it out while Derek took us every which way with his slide guitar. So good, and fortunately they got in their entire set before the sky exploded in a torrential downpour.
I wandered about during the day from one tent to another and one stage to the next – mostly bands I'd not heard of before; save for Wilco and Jimmy Cliff, it was all blues, jazz and funk new to my ears.
It's not always about the music, although sometimes it seems that way. There's always the food you can talk about, and we did our fair share of that, enjoying some sumptuous repasts around town, including lunch one afternoon at the Audubon Club House Cafe on Magazine Street with cousins Kathy and Paul Cedro.
And when I wasn't eating and listening to music, I was busy with research for my book, and I have to thank especially the folks at the Louisiana Research Collection at Tulane University, New Orleans Public Library, and the Historic New Orleans Collection in the French Quarter for helping me get the information I needed. The more I study the history of New Orleans, the more I relish the thought of recreating a slice of it in book 2 of the anticipated trilogy. But first I have to write book 1, and that means returning to Ireland. I don't suppose I'll be back in New Orleans until it's time to begin book 2. Who knows? It might be another three years before I get back here again. Now that's a sad state of affairs, indeed.