We arrived in Austin smack-dab in the middle of SXSW (South by Southwest), along with 50,000 other people who'd come to Austin to take part in the festival. SXSW is divided into three parts, which sort of overlap each other – the first week is all about hands-on interactive stuff (we missed all that – it was long over by the time we got to town); the second week was the film festival, which extended into the third week – live music. When we got to Austin the third week, movies were still going on, but impossible to get into because of the long line-ups to get into any of the myriad theaters showing the films.
It was the same thing for the music – long line-ups to get into the bars and clubs. From what I could tell, there were two lines to each event: the badge-holder line (if you purchased a badge (for big money) for the week of music, that entitled you to stand in the line that got into the venue first; if you got a pass to get into the show, you got into the long line and hoped you made the cutoff. There were no guarantees in either line. Or you could go about it a third way – don't buy a badge or a pass and instead wander around the city, listening to the music being played on the street or blasting from makeshift tents, or popping into places where the music was for free. We opted for the third way, not just because it was the cheapest way to go, but also because 99% of the bands in town I'd never heard of and therefore had no idea if they'd be worth the price of admission. It was a wise choice.
Austin is a very hip town – a hip town in an otherwise not very hip state – and SXSW attracts the very hippest of music geared toward a younger generation that includes Bridget but does not include me. I have no idea whether I'm right or not, but as I wandered around the city, it was my guess that Austin has more bars and clubs per population than any other city. Even without SXSW in town, there is still more music than you can ever hope to listen to. People call Austin the live music capital of the world, and I'd be hard pressed to think they're wrong. SXSW makes it just that much more. Much, much more.
The biggest name in town for the week was Bruce Springsteen. It seems he was all over the place, performing and giving interviews – all of which I missed. I missed an awful lot – following rumors of shows that didn't pan out, arriving at a venue at the scheduled time to find out the band had played an hour earlier, or showing up at a club and being told the band had played last night. Oh well, it's not like there isn't a couple of hundred other bands to listen to instead.
So I didn't see Bruce, and I didn't see Dr. John or Jimmy Cliff or Glen Hansard, but I did see Counting Crows. Thanks to a tip from Jack Zelensky, a fellow Van fan who lives near Austin, I made it to Town Lake on the right date at the right time and enjoyed a good set from Adam Duritz and the boys, who put on a free open-air concert on the riverfront with the nighttime Austin skyline as their backdrop. I imagine they played a paying gig some other day in some other venue, just like most of the other bands I saw for free. It's just a matter of being there, like we were for Whiskey Shivers, a local bluegrass band that puts a whole new spin on the genre. They play their instruments – upright bass, washboard, guitar, banjo and fiddle – at breakneck speed, like a hoedown on bennies. And talented too. And for entertainment, you can't beat the venue. Actually, I don't think it was a venue – it was just a corner lot on East 6th Street hosted by something called Throw Tomahawks and Knives, where folks could throw, you guessed it, tomahawks and knives in a pen and listen to the music and drink beer at a pop-up in the lot. It was just one of those things, of which there are many, in Austin during SXSW.
… not throwing tomahawks or knives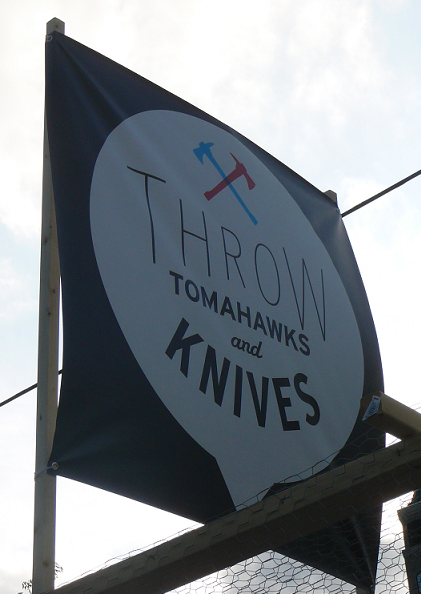 Food, people and, of course, music everywhere …
And speaking of music, Bridget and I stopped in for lunch at Threadgill's on Barton Springs Road (thanks for the tip, Jack). I can't tell you the exact geography, but Threadgill's is on or very near the former site of Armadillo World Headquarters, the No. 1 music venue in Austin during the '70s, attracting all the big names in rock, country, etc., etc., etc., including Van, who played here January 16, 1974. The walls in Threadgill's are plastered with event posters as well as photos taken of the artists at their performances. Jack told me that Van's picture was up on the wall, and I was prepared to hunt it down, but in one of those serendipitous moments in time, our waitress (who had no idea why we were there) directed us to "Van's table" in the back corner of the back room. So Van got to watch us eating burgers and drinking sweet tea …
Threadgill's wasn't our only Van spotting. The day before we stopped in at Waterloo Records – another tip from Jack – and spotted this magazine cover …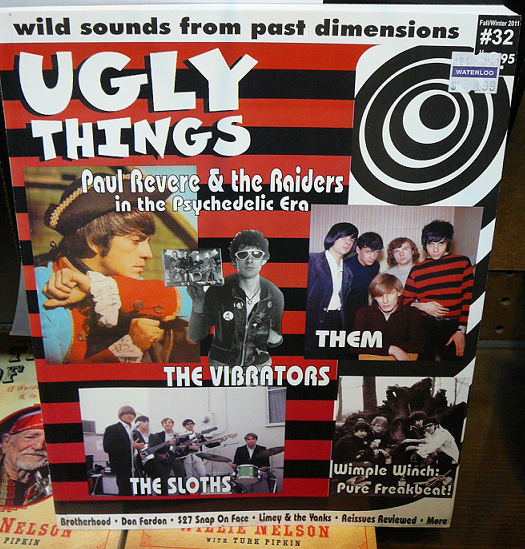 We were lucky enough to be staying with friends of Bridget, Sarah and Alice Fowler, while we were in town, and I was doubly lucky that their mom, Judy, had the week off work and loves to take people like me on tours. We spent a full day, with Judy at the wheel, checking out the sights in town, including gawking at the homes of the rich (of which there are many) and their neighborhood castle …
Laguna Gloria, former villa, now an art gallery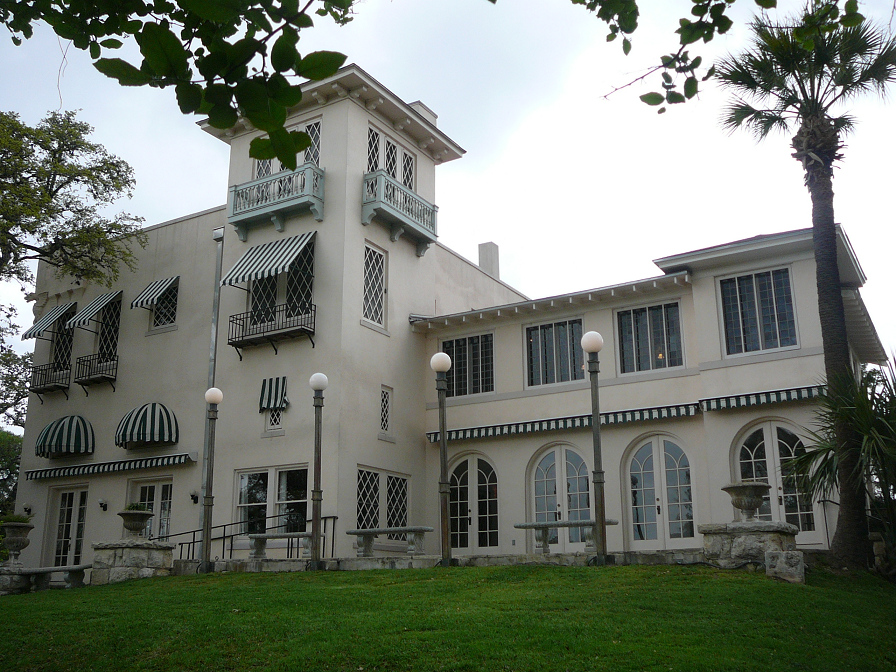 While we were strolling around the grounds, we happened upon their current art exhibit, a nine-hole miniature golf course set up along a meandering path. Here was hole 9 …
Art everywhere …
… and this one above Lucy in Disguise, on S. Congress, a vintage clothes store that sells everything from costumes to funky clothes and jewelry …

Check out what I Love Video has done …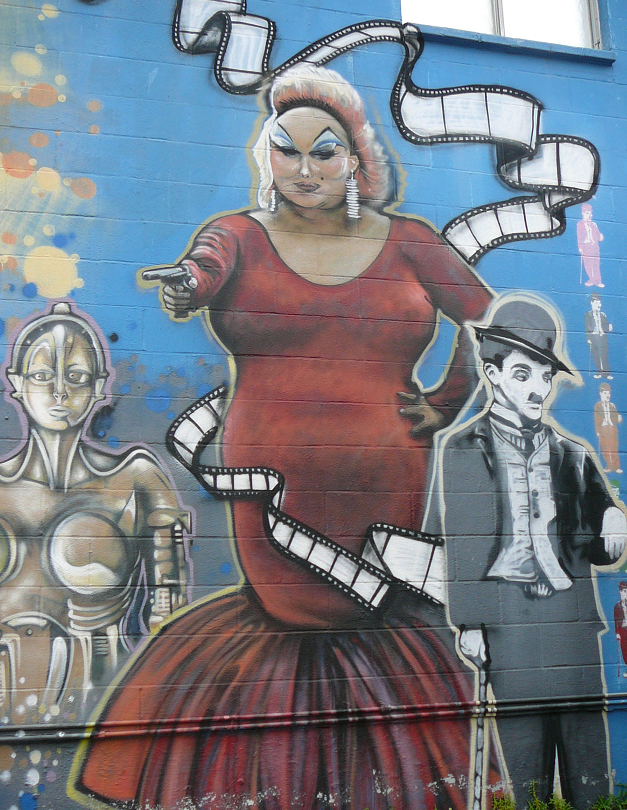 … and a few photos taken of Judy's gardens
Austin – definitely a great city for all your senses!