Baños
Unos, dos, tres, quatros. Si. Non. Por favor. Graçias. ¿Cómo estás? Buenos días. Cafe con leche. ¿Dónde está el baño? That's pretty much it; after that, my Spanish drops right off. So I get a lot of practice saying, "Lo siento. No entiendo. No hablo español. ¿Habla inglés?" ("I'm sorry, I don't understand. I don't speak Spanish. Do you speak English?")
Everyone who visits Ecuador returns home with the admonition that you really do want to learn Spanish if you're going to live here. Sure, you can get by without being able to speak the language (I am living proof!), but it does limit your opportunities. And create some funny situations sometimes.
Thanks to a major snowstorm up in New England, Celeste's flight on January 28 out of Boston was delayed a day. We were meant to meet up at the airport in Quito and then take the bus to Baños, but quick change of plans … I would go on to Baños and she'd join me a day later. So there was Celeste arriving alone at the airport, just after midnight, with the prospect of having to wait until morning to get a bus for the four-hour ride to Baños; and she decides to take a taxi there instead. She heads out to the taxi stand and in her best Spanish quizzes the cab driver, "¿Baños???" The natives are bend-over backwards helpful to gringos, and the taxi driver takes Celeste back through the airport doors and points to the bathrooms sign.
An easy mistake to make. Baños does indeed mean "bathrooms," but it also means "baths," from which the town derives its name. Situated near the active Tungurahua volcano, the town's thermal baths are just one of many natural attractions that attracts throngs of furriners and nationals. The center of town is dominated by the Basilica and park, and otherwise consists of hostels, restaurants and nightclubs that cater to the crowds, who are otherwise here to enjoy the hiking, biking, rafting and horseback riding in the nearby hills.
We stayed at Hostal Chimenea, at the eastern end of town – an easy walk into the center of town, and just a block from Piscinas de la Virgen, where we took in the volcanic water in one of their three pools located at the foot of a waterfall. The falls are lit up at night, and if the pools weren't filled to the brim with people, it might make for a romantic setting.
By day we took in the town, meandering from shop to shop, picking up some fresh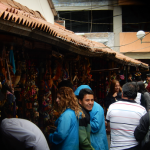 produce at the mercado to make dinner at the hostel. Big recommend for Hostal Chimenea – the rooms are a good size and each has its own balcony. The water was far too cold in the pool to swim in, so we had massages instead, offered right there at the hostel. This is definitely where I'll stay when I come back.
And when I do come back, the first place I'll head to is Casa Hood. Absolutely the best food in town, with natural ingredients, I can recommend their salads and burritos and excellent lattes; if we'd only had another 14 days in town, I would have sampled everything else and recommended that too. At 4:30 every afternoon they show a different movie, so guess where we were each day? It's got an eclectic library, and between the books, the excellent lattes, great mix of people and movies, Casa Hood is the place in town to chill.
From Baños, we took the bus to Ambato and then transferred to another bus to Cuenca, an eight-hour ride through the mountains that would take us through some seriously good scenery, although some of the most breathtaking was hidden in the mountain fog. With no baños on the bus, we took advantage of a roadside stop in Alausi for a baños break, where I was also able to pick up a California navel orange and a delicious apple, purchased from a stall just outside the restaurant. Ecuador oranges are like Florida oranges and their apples are a gala variety, so to see these American fruits at a roadside stall had "gringo tourists" written all over them.
We got to Cuenca after dark, and once we'd dropped our bags at the hostel in the historic district, Celeste and I made a beeline to Goza, a restaurant that caters to gringos, and because of its excellent selection of coffees, it sees me as a frequent guest whenever I am in town. When Bridget and I had been at Goza the Sunday before, I'd seen an ad for the Super Bowl on their big screen TV, so I knew where I was headed Super Bowl Sunday, and this was the day. We got there to see the end of the halftime show and went on to watch the Patriots' come-from-behind victory.
Chordeleg
Less than an hour east of Cuenca, Chordeleg is a pretty little town whose indigenous people are known for their ceramics as well as their filigree jewelry, crafted from silver and gold. The streets leading to the central square are chock-a-block with ceramic stores and jewelry stores, and hanging from each lamp post are exquisitely crafted works of silver that are replicated in the jewelry for sale in the stores.
Vilcabamba
Four hours south of Cuenca, not far from the Peruvian border, the mountains open up to a valley that holds the farming village of Vilcabamba. The hills and valleys all along the mountain range through the interior of Ecuador are lush and green, but here in Vilcabamba, it seems lusher and greener still. Guava, mango, lemons, oranges and avocado are all hanging from the trees, and those are just what was in season and I could identify in our hostel's courtyard. Vilcabamba got a reputation in the global media years ago as the "valley of longevity," after someone discovered that Vilcabambians were living well into the 120s and 130s. It turns out that was stretching the truth by about 40 years, but nonetheless, the town continues to attract a lot of visitors in search of a healthy and stress-free lifestyle.
Oddly enough, in our three days in Vilcabamba, we saw only one old person, a woman walking slowly through the square with the aid of a cane. Truly, she easily could have passed for 120. What we mostly saw were the resident gringos – who seem to own the vast majority of shops, restaurants, bars and hostels in town – and the visiting gringos, who frequent the shops, restaurants, bars and hostels in town. There's a lot of sitting around at the outdoor tables around the square, talking about the good life. And it does seem good, with plenty to explore – both physically and spiritually. It's going to take a lot longer than the three days we allotted for Vilcabamba to get a much deeper sense of what the area has to offer. It's on the short list for next year.
Unfortunately, my camera was still on the fritz during my entire trip through the mountains, so not much in the way of photos. But here is just a tiny representation of the beautiful gardens up at Izhcayluma, a hosteria 2 km south of town, heading up into the hills.
From Vilcabamba it was back up to Cuenca for the final five days of Celeste's vacation. We explored the city by foot and Celeste took a lot of photos – so when I gather together a choice few, I'll be back with a short photojourney of our days in one of the great cities in South America.