Everything about New Orleans was saying "Stay! Stay!" and we were sorely tempted, but we knew the longer we stayed the less we'd be able to tear ourselves away. Thursday afternoon, March 1, was our absolute deadline to make our getaway if we were going to get to Nashville and Memphis and still make it to Austin in time for SXSW. We did it! By 4:30 we were on the road, Bridget at the wheel, heading north out of town on I-55 via I-10, passing over Lake Pontchartrain as the afternoon sun was setting behind the bridge.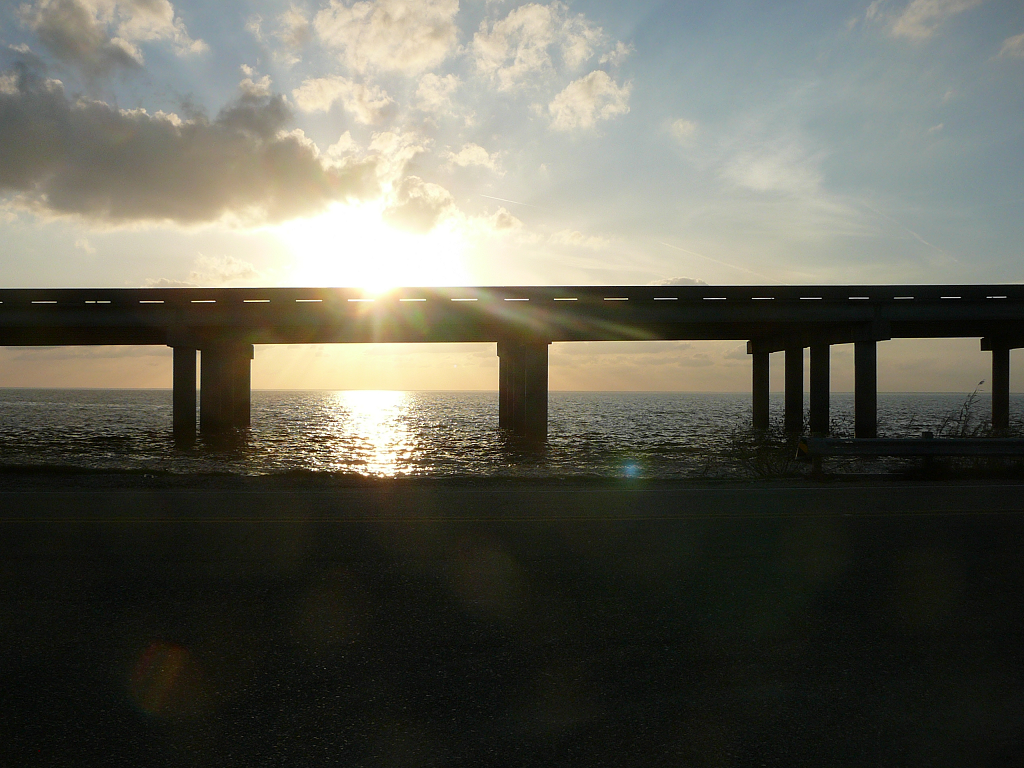 I-55 cuts along a narrow stretch of land that intersects Lake Pontchartrain to the east and Lake Maurepas to the west, land that is home to swamp creatures and wildlife and not much more, until we hit the little fishing community of Manchac on the Pass Manchac Waterway, which connects the two lakes. Not a lot in town, but there is a bar (which we saw) and the ruins of a lighthouse (which we did not). We pulled in for a few minutes, just long enough to pick up some water for the drive ahead.
It was a straight drive north on the highway to Jackson, Mississippi, to stay with fellow traveler and couchsurfer Lisa, who cooked us up a whopping big and delicious spaghetti dinner, which we savored over shared stories of places been and destinations on our respective horizons. Lisa's prospective trip that's taking her to Europe and Asia sounds glorious, and I know next time we meet, we'll have many more stories to share with each other. Bon voyage, Lisa!
Thanks to a tip from Lisa, in the morning we headed northeast out of town on the Natchez Trace Parkway, which would take us pretty much the whole way to Nashville. But first, a stop at the nearby coffee shop for fuel. It must be something of a local spot, because when we walked through the door, we could see every eye in the place turn to stare at the furiners who just walked in. The same kind of curious stare we'd get in Ireland that made us feel like a neon sign flashing TOURIST ALERT. But once the shock of us being there passed, two gentlemen sitting at the counter were glad to chat about all things including a local beauty who'd just made it to the next round on "American Idol" and weren't we the foolish ones to be taking the road to Nashville today given the tornado that was expected to hit there right about the time we were going to show up.
We figured we'd give it a shot. We didn't have much of an alternative. Nashville tonight was Plan A. There was no Plan B. So we jumped in the car and picked up the Natchez Trace Parkway that took us on the scenic route up through Mississippi. We'd been on the road for a couple of hours and I'd forgotten all about the impending tornado when all of a sudden we hit a wasteland, miles and miles of it, with a sign that read "Tornado, April 2011." Trees uprooted, dead trees still standing, grayness all around. Complete devastation.
There were also a number of historical markers dotted both sides of the road, and we would have stopped to read each one I'm sure, if it weren't for the fact that we figured we ought to be getting a move on. But when we saw the sign for Tupelo, Mississippi, we couldn't not take the exit – I mean, this is the the birthplace of Elvis and we weren't about to miss out just because of some tornado warning.
They love their Elvis in Tupelo. Guitar cut-outs dotted the sidewalks through the center of town …
… leading to Elvis Presley Blvd and up to the Elvis museum …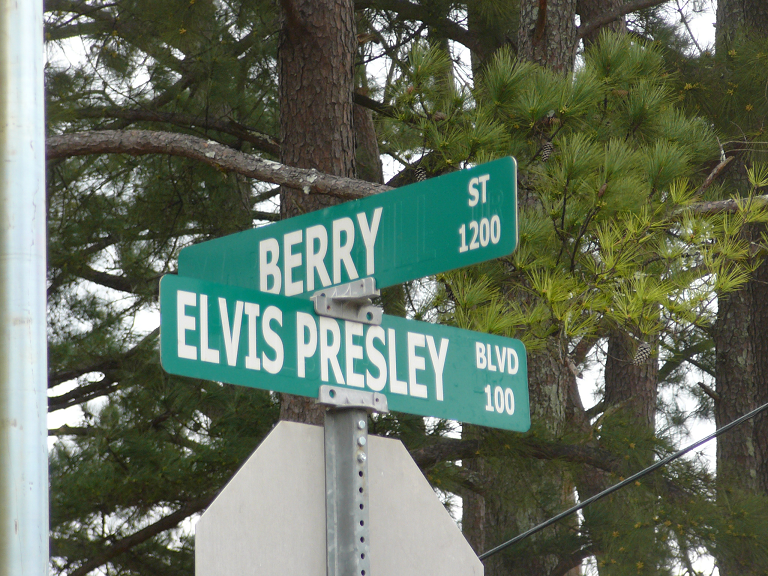 The main attraction is the house Elvis lived in as a child. We just happened to have our guitars with us. Ain't nothing like a hound dog …
The church that Elvis and his family attended has been moved to the grounds. I don't think the church was much bigger than his house. It must have been a small congregation.
It's a pleasant stroll around the grounds, with plaques, stones engraved with Elvis's timeline while he lived in Tupelo, and a pathway to walk down and read various descriptions of Elvis recounted by family and friends from his youth.
Sitting on Elvis's porch, reading the plaque near the bottom of the steps, put me in a right good mood, thinking of our upcoming visit to Graceland in Memphis next week.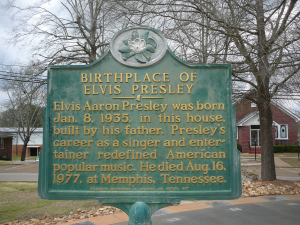 But first we've got to get to Nashville before today's tornado blows us off the road. We've been told that if we see the tornado coming, we need to abandon the car and head for the ditch. I'm not liking the sound of that at all. Let's get to Nashville while the sun still shines.