Even without the music, New Orleans is a fascinating city, one that is easy to be in – restaurants, shops, a riverwalk along the Mississippi, art galleries, parks – all within walking distance, all filled with friendly folks who are genuinely pleased with life and glad to be spending a part of their day with you. Its narrow one-way streets demand you get out on foot to explore. It's the only way to see New Orleans, and while you're out there gawking at all there is on offer, your senses come alive … especially your auditory sense. New Orleans is many things, but paramount is the music. Live music. I daresay there isn't a city anywhere else that keeps on giving music the way NOLA does.
Put your feet in motion past Jackson Square, around the corner on Chartres, up to Royal and along Bourbon, down Pirate's Alley, over to the river, past the French Market and on to Frenchmen – everywhere, and I mean everywhere, there is music. Daytime is filled with buskers plying their trade, open guitar cases and upturned hats collecting money from passersby as they too become entranced by the excellent sounds in the air. From violins and guitars to washboards, accordions, banjos and the saw and everything in between, musicians are out in force on street corners around town. And each of them has a story to tell, often going something like this: "I came to town for a one-week visit 12 years ago and never left." New Orleans has that kind of power. We felt it too. Bridget and I came for two weeks, with no time to add on more, but somehow we squeezed in two more days, and it was all on account of the music. It keeps pouring out at you, and you can't get enough.
New Orleans is the birthplace of jazz – all kinds of jazz. And lots of it involves brass, big brass. Trumpet, trombone, sax and every so often, the tuba bellowing out. During Mardi Gras, you are never too far from a street marching band and if the band has a tuba, you can hear it from blocks away and it draws you like a bee to honey.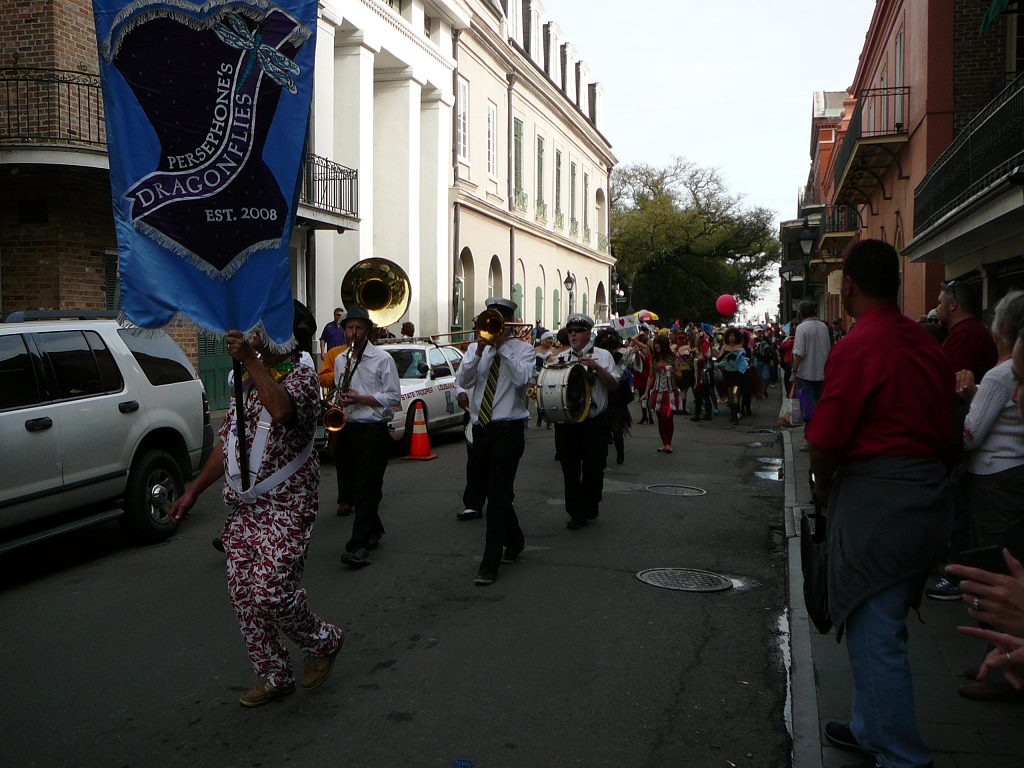 And when the party was over, those same streets in the quarter were filled with street musicians, and my oh my, didn't they sound good.
New Orleans is home to two excellent record stores, and while I would have liked to get to both, it's always a question of "Where does the time go?" I made it to just one – the Louisiana Music Factory, on Saturday, February 25, to join in a celebration of their 20th anniversary. What a blast! The store often has live performances of local musicians who have a new CD to promote or they just happen to be in town and are glad to come in and play for a spell. This particular Saturday featured a different musician or band, each playing for an hour, all afternoon. Jazz trumpeter Kermit Ruffins led off at noon …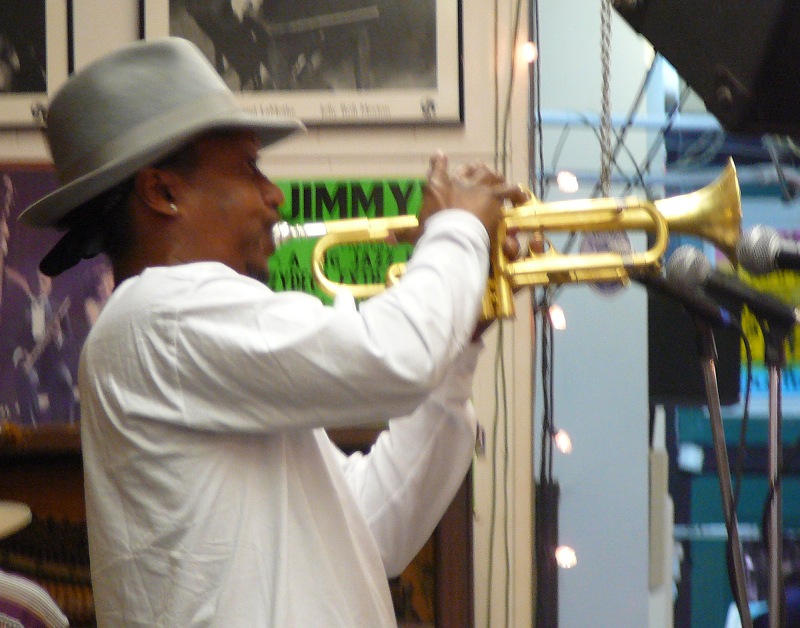 … followed by an hour of of the sweet sounds of John Boutte, whose voice flows like a river of molasses …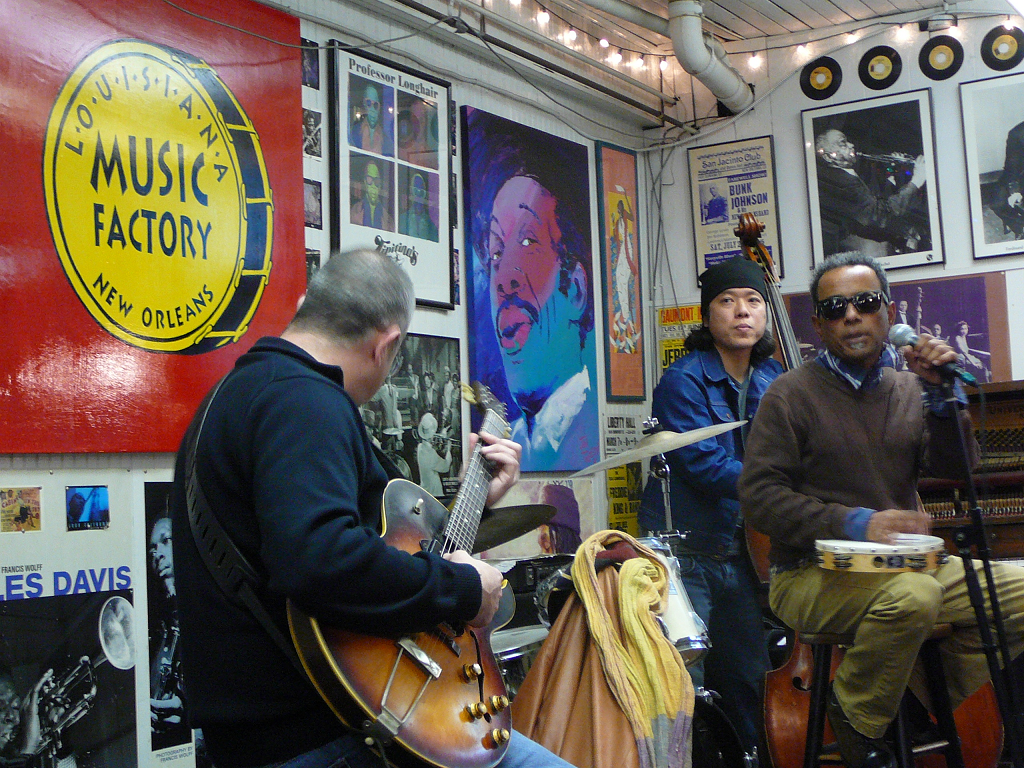 After John's set, Bridget and I scurried across the street for a bite of lunch; from there, she headed down the street to find a place to busk while I headed back to the store to catch the end of Little Freddie King's set, and then I too had to be off on the bookstore trail, trying to hunt down an out-of-print book on the Irish in New Orleans. Later, with our work done, we packed up our stuff and headed over to Faubourg Marigny for what had become our usual – a night meandering from club to club, listening to music up on stage.
Bridget and I are here for the blues. And there's plenty of it in town. There's plenty of everything, from jazz to funk to electronic and DJs. One of the finest things about NOLA is that the music comes both to your taste and to your pocketbook. Club doors in Faubourg Marigny are always open, and you can sit yourself down at a table outside and let the music drift out the doors and into your ears. Clubs like the BMC and the Apple Barrel don't charge admission (true of a number of clubs in the area), and these two became my favorite haunts – I was in and out of those two almost on a daily basis, checking out the blues. It's fun to sit outside, because that's where the people are, and there is always a conversation to be had. When you go inside, it's time to pay attention. At the BMC, I stopped in for sets by the Hubcap Kings and Soulabillyswampboogie Band and El deOrazio, among others, but indeed, both Bridget and I had our favorite: Ed Wills and Blues 4 Sale. After we discovered them on Mardi Gras night, taking the party at the BMC into the wee hours of the morning, we made a point of catching their set whenever they were on the docket at the BMC. A purveyor of the blues and RnB, they'll get your feet tapping, hands clapping, and your body up on the dance floor. It's no wonder that Ed won the New Orleans Voodoo Blues Society Challenge last year. He mentioned that he'd played at the BB King Club in Memphis, but I get the feeling that if you're in town for any length of time, you'll likely find him up on stage at the BMC a couple of times a week.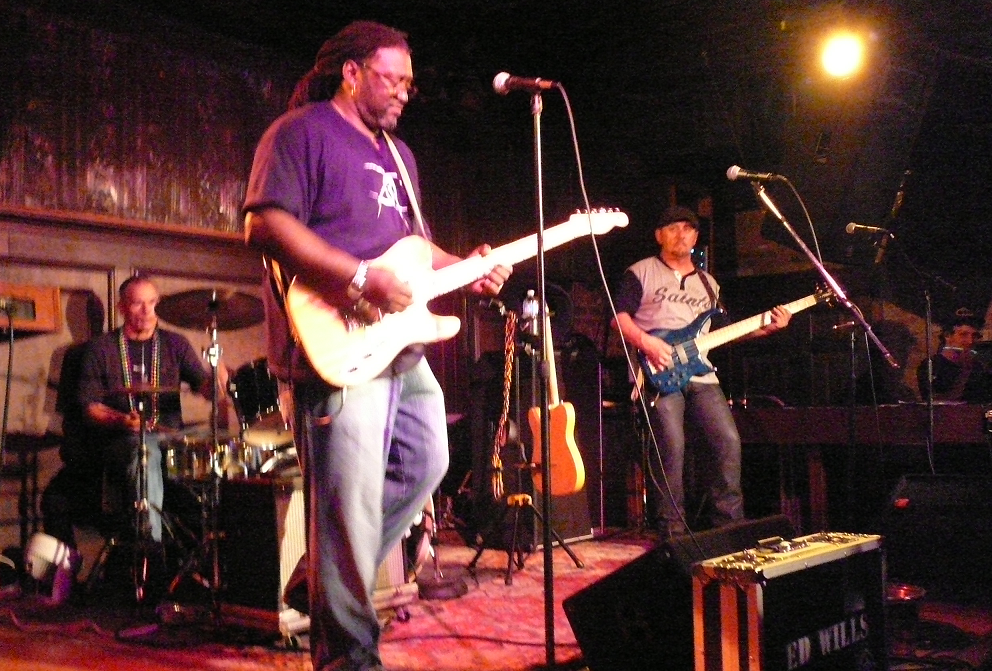 If you don't play an instrument but just like to listen to good music, life in New Orleans is good. But if you play an instrument, New Orleans is the place to be to strut your stuff. Bridget fit like a silk glove. Most days she'd be out on the street busking, sometimes solo, sometimes with Chief and his guitar. Then one night, she got to go up on stage … Matt deOrazio, of El deOrazio fame, is a working man in his prime, and we caught him a couple of times around town – at the BMC with his band and another night at the Apple Barrel, with another band. He's got a third band, Sweet Jones, in which his wife plays, but unfortunately they had no gigs scheduled while we were in town. Next time. One night, between sets at the Apple Barrel, Matt and I got to talking and he subsequently invited Bridget to sit in with his band later on in the week at the BMC, but Bridget was a bit reluctant, because as she said at the time, "I don't know how to play the blues." After a week of busking with Chief, who gave her a lesson or two, she had the blues; so when Ed Wills invited her to sit in for a few songs on our last night in town, she got up there and showed them what she's got. She's got the blues alright. And when we hunt down a video one of the BMC patrons took of her moment on stage, we'll upload it so you too can see. Bridget is definitely coming back to New Orleans … I think she feels it in her blood even more than I do.
It doesn't matter when you come to New Orleans – someone you simply MUST see is in town, playing at some club somewhere. There's a great spot on Frenchmen St called the d.b.a., which has performances every night of the week. Thanks to our musical secretary, Robbie, who's in New York but is in a constant New Orleans state of mind, he made sure we got to see who we needed to see while we were here: George Porter Jr, who is all funk, was playing at the d.b.a. one night during Mardi Gras, and a few nights later we caught Walter "Wolfman" Washington. And to our good fortune, John Boutte played there on our final Saturday night in town. I'd seen him earlier in the day for his short set at the Louisiana Music Factory, and he was a MUST must not to miss. Boy, can this guy sing. He's got this voice that warms your blood – a real torch singer (not a tag I'd normally put on a male singer, but when the shoe fits…) and his version of "Hallelujah" had us spellbound, simply gorgeous. I happened to be standing next to Carol and Jeff Sammons, here in New Orleans all the way from North Allerton, England, who had ventured down to this part of town for the first time, and they were enthralled with John and his New Orleans style. It's important to get off Bourbon St if you want to listen to what New Orleans really has to offer.
And sometimes you have to leave the Faubourg Marigny to get what you want.
There are many local artists who weren't in town while we were, but among those who were here, we hit the jackpot when Robbie instructed us to haul ourselves up to Chickie Wah Wah's in mid-city. Jon Cleary had the stool there Monday nights during February, and that meant we got to see this piano maestro twice while we were here.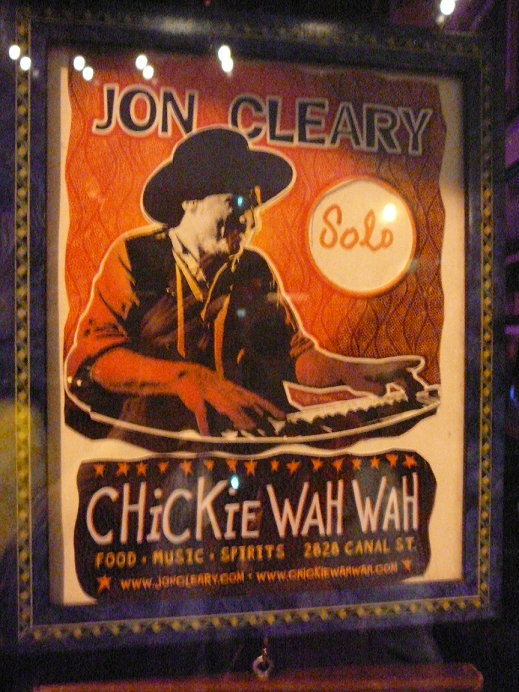 As Robbie will tell you, I was blown away by this guy our first time, and there was never any doubt we'd catch him again. I list toward guitar so don't take the opportunity to explore pianists (except Dr John) much. So I have to qualify my unadulterated joy at listening to Cleary play and thinking he must be the best piano player going this side of the Mississippi, but I have never heard anyone play like he does. He boogies from the moment he sits down and doesn't stop until the final note, his feet in constant motion while his fingers trip up and down the keys. And what a trip. Just to give you an idea: He sat down at the piano a few minutes before 8 and regaled us with an astonishing 25-minute instrumental to open his first set, and he just went on from there. He's escaped my attention till now, but not anymore.
He broke up his two sets on the piano with a short set on guitar, including a singular version of "Dark End of the Street." I couldn't have begun to keep a setlist, but on the night, we heard "Moonburn," "When You Get Back," "New Delhi Freight Train," "So Damn Good," the Doc Pomus/Phil Spector song "Young Boy Blues" and James Hooker's "Until the Real Thing Comes Along" on piano, and those are just the songs I know; the rest were all new to me, and all I could do was sit back and take in the moment.
Bridget and I got a chance to chat with Jon after the gig and he was telling us that he was born in England, and when he was 17 years old, he came to New Orleans for a two-week visit, and like so many who are lured by the city's charms, he never left. I think it's something in the water. When we brought up how much time we were spending in Faubourg Marigny listening to all this great music, he gave us a little factoid: Jelly Roll Morton was born on Frenchmen St. You see, it must be something in the water.
So be careful when you come to New Orleans. You may never leave.