My affair with Elvis was short and very sweet, and thankfully for all concerned, it ended without rancor. Although to be fair, I'm not sure Elvis was ever invested in it the way I was.
Our formal introduction came one Saturday afternoon during my prepubescent years, plunked down as I was in front of the TV set for the Saturday movie matinee. The movie that afternoon was one of those beach blanket bingo/race car Elvis movies that they churned out ad nauseum in the mid-60s. I wasn't even a teenager at that point, so his arrival on the world stage years earlier as the swiveling-hipped heart-throb had passed me by. And that slew of plotless films he starred in did nothing to capture my interest. But at least I now knew who he was. And although our little fling was years in the future, at least in the mid-60s we were both alive, which is saying something.
The years passed, and while his career was ebbing and flowing, it was all rather beside the point to me. Until that fateful day in 2012, when my daughter and I, fresh from our first visit to New Orleans, arrived on the doorstep of a fellow couchsurfer in Jackson, Mississippi. She insisted that the following day we absolutely must drive the Natchez Trace Parkway – for its beauty – en route to our next stop, Nashville, Tennessee. The bonus, she assured us, was if we took that scenic route, we'd go right by Tupelo, Mississippi, the birthplace of Elvis Presley.
Why not, right?
I can't say what it was that triggered it, but it was love at first sight, the moment I sat down on the front porch of Elvis's house, strumming a guitar, and thinking, Elvis must have sat right here. All I know is I was smitten.
So, of course, when we got to Memphis, we were all over Elvis – the pink Cadillacs, Graceland, Sun Studios. Sure, we did the ducks at the Peabody Hotel and walked Beale Street, but we were there for Elvis.
From then on, we watched for him everywhere the road took us …
Austin, Texas …

At one point we caught up with Route 66, and that was an Elvis goldmine. First, Albuquerque, New Mexico …
An on to Flagstaff, Arizona …
And of course Vegas …
He's everywhere …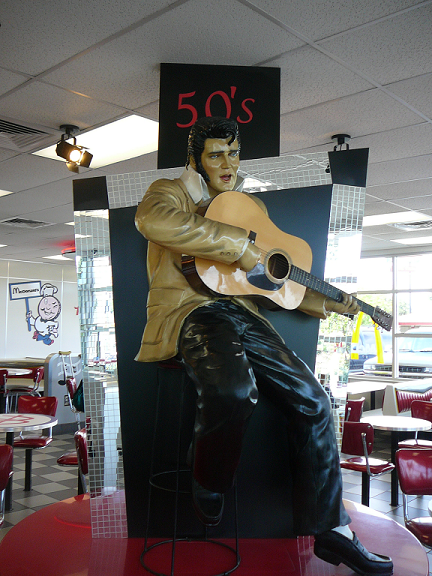 And the Rock and Roll Museum in Cleveland … Look at that lip!
Bridget and I, international travelers that we were, turned the car north to Canada, and wouldn't you know, the worldly bon vivant Elvis was right there waiting the moment we crossed the border into British Columbia …
And he was there as we travelled east …
Our year with Elvis on the road was something else, but when it was over, it was over. All I have left are the memories … and the movies, and the documentaries, and the Elvis calendar, and the Elvis playing cards.
We're caught in a trap, I can't walk out, because I love you too much baby.