We've got a four-night stay in Portland – again at another airbnb – this time a fully equipped basement apartment up in the northeast area of town. It's an "in" night, one for watching of few episodes of "Mad Men," and while I caught up on some work, Bridget figured out our plan of attack on Portland in the upcoming days. All I need to do is check out Powell's Bookstore sometime and go see Willy Porter on Friday night; other than that, my schedule is free.
Thursday morning comes brightly lit. It's a lovely fall day in Portland – the City of Roses.
Bridget takes me exploring on Alberta Street NE, a 20-block area of artist galleries, shops and places to eat. We find a place to park Dexy, and we're off on foot.
The third Thursday of the month is traditionally (although I don't know how long this tradition has existed) street vendor day. We've arrived before the 2 p.m. start time, but from the looks of things, things will probably really be hopping, with a real party going on by the twilight hours.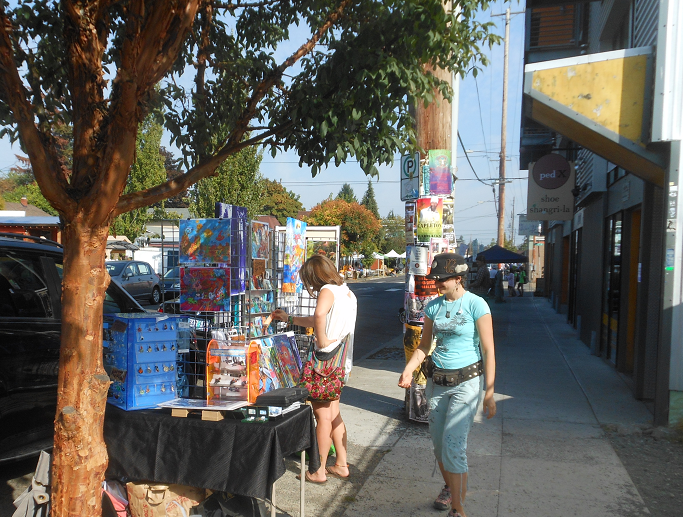 Maybe not hopping just yet, but it is skipping for some …
We stopped in at Halibut's, where the sign says "Cocktails/Blues." The place is empty, save for these three guys …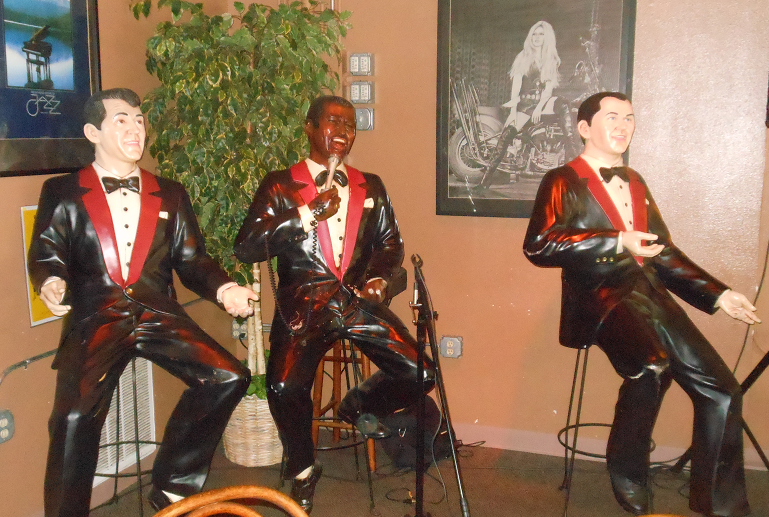 From the Northeast quadrant to the Southeast, scoping out the Aladdin Theater and getting two tickets for Willy Porter tomorrow night, then it was on to downtown to check out Powell's Books. This place is huge – taking up a full city block on West Burnside. New, used and rare books, over a million of them within its 68,000 square feet, and not one on the Irish in America, let alone Oregon. I do pick up a Civil War diary of a young woman from Louisiana and consider it a find, but it looks like I am going to have to do some serious digging if I'm going to find tales of the Irish in this neck of the woods. Another thing for the back burner. The sun is going down as we head up to the Northwest District, home to chic boutiques and restaurants, and we drive right on through and home back in the Northeast in time for a late dinner and a couple more episodes of "Mad Men." It's addictive, no doubt about it.
Friday we head downtown for the day, and among other things, we're looking for a good place for Bridget to do some busking. Pioneer Courthouse Square in the heart of downtown looks like a good place to start. The sign tells us everything and nothing …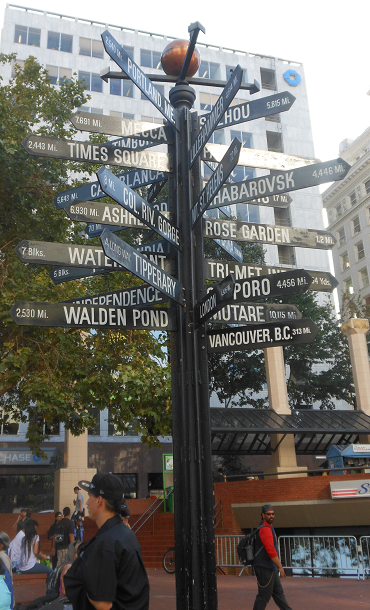 … but the Visitor Center is nearby, and maybe someone there knows where the buskers busk. The woman there has no good ideas, but directs us to a couple of parks; one, Director's Park, is only a few blocks over, and off we head on foot. No, Director's Park is not for busking, so we continue our stroll through downtown as far north as Burnside, and there at the corner of 5th Avenue, empty save for the homeless on the sidewalks, stands the entrance to Chinatown.
With no time to explore the Chinese District, it was back downtown along 4th, and a few blocks east of Pioneer Courthouse Square, Bridget found herself an empty corner to set up her violin, while I went off in search of toothbrushes and toothpaste to buy, made necessary by the forgotten toiletries bag, discovered missing last night. The first pharmacy I wander into has a scant supply of merchandise, which seems odd in the middle of downtown, but it's not until I step into the checkout line at the pharmacy counter that it occurs to me why. In front of me is a fellow down on his luck, getting the government-approved drug for his drug addiction. The pharmacist also offers him a bag of popcorn, probably also government-approved. How to help the afflicted: corn and drugs. Wow.
There seem to be a fair number of homeless and near homeless on the downtown streets. It occurs to me that if the city offers a lot of free stuff to the down and out, it's going to attract those very same people. And slowly the downtown loses its luster and the vibrancy moves into neighborhood pockets out in the burbs. I find out when I get back to Bridget's corner there's not much in the way of tourist money in her violin case – she's mostly been playing for folks who don't have spare change to give. Lesson learned, we pack up shop for the day, find the car and head over to the Southeast side across the Ross Island Bridge over the Willamette River, getting a good view of the aerial tram up above that offers an alternative way to get into and out of town on the south side.
The Aladdin's neighborhood doesn't appear all that inviting, so we stick close to the theater and get a couple of beers and a bite to eat at The Lamp next door. The place is doing a brisk business with the before-show crowd. Our tickets are general admission, so we get in line before the doors open, and soon enough we're inside and ready for the music.
David Jacobs-Strain, from Eugene, Oregon, is the show opener. Very personable and strong on slide, I thoroughly enjoy his set. Willy Porter puts on a good show too, with a young woman called Carmen joining him on vocals. Later in Willy's set, David returns to the stage for a couple of tunes, joining Willy and Carmen on a cover of Peter Gabriel's "Digging in the Dirt" and Willy's song "Jesus on the Grill." The highlight of the night had to be "Digging in the Dirt" – it was for me at least and it sure looked like it for the two boys on their guitars jamming and having fun.
We were back downtown the next day for the Portland Saturday Market on the waterfront, Bridget hoping that this might be just the kind of place where the tourists would drop some change into her violin case. By this point I'd seen enough of Portland, so leaving her to her own devices, I headed back to our place and rested up for our big hike up Saddle Mountain the following day.
About an hour outside of Portland, Route 26 cuts a swath between Tillamook State Forest on the south and Clatsop State Forest to the north, and a half an hour later we've weaved our way up through forest to the parking lot. The sign at the bottom of the trail doesn't even begin to tell me how grueling this hike is going to be. Not so much for Bridget … but big time for me.
The ascent would undoubtedly be a treat during the summer, with the alders making way for the Spruce and Douglas fir through a series of switchbacks that open up into mountainside meadows full of flowers, but on this fall day, all I can see is rubble and rocks underfoot and steep grades were the order of the day for 2 1/2 miles …
On a clear day, the panoramic view at the summit is what the Saddle Mountain Trail is all about. At 3,283 feet, this is not even close to being considered a tall mountain, but from the vantage at the summit, it has within its sights a view that you're not likely to experience in many other places. The view to the east brings into sight, from left to right, Mt Rainier, Mt St Helens, Mt Adams, Mt Hood and Mt Jefferson. I can tell which one is Mt St Helen's – it's the one with a slice off the top, but other than that, I just believe what I'm told. Unfortunately, the eyes can make out the peaks for the cloud cover but the camera lens can't; so a view to the west will have to suffice.

A self-professed live music junkie, Shannon is the author of Astral Weeks Live: A Fan's Notes, a book about her year on the road attending singer Van Morrison's epic live performances of his widely acclaimed album Astral Weeks. To find out more about the book or to order a copy signed by the author, click here.