day 1 – sunday, october 7
Bridget and I are driving south out of Sonoma wine country, out on Hwy 101. As we get closer to San Francisco, we see a sign for the San Anselmo exit. I've got Van's Hard Nose The Highway in Dexy's CD player and on comes "Snow In San Anselmo." I look longingly to the west, past San Anselmo, thinking another time I'd like to do that Hwy 1 drive north out of San Francisco, through Sausalito and Marin City and up along the Coast Highway, as far north as that little town of Westport – which we'd passed through three days ago – that looked like a picture postcard from Ireland. Ah, but that's for another day. Today is all about San Francisco and the Hardly Strictly Bluegrass Festival.
Golden Gate Bridge, this foggy morning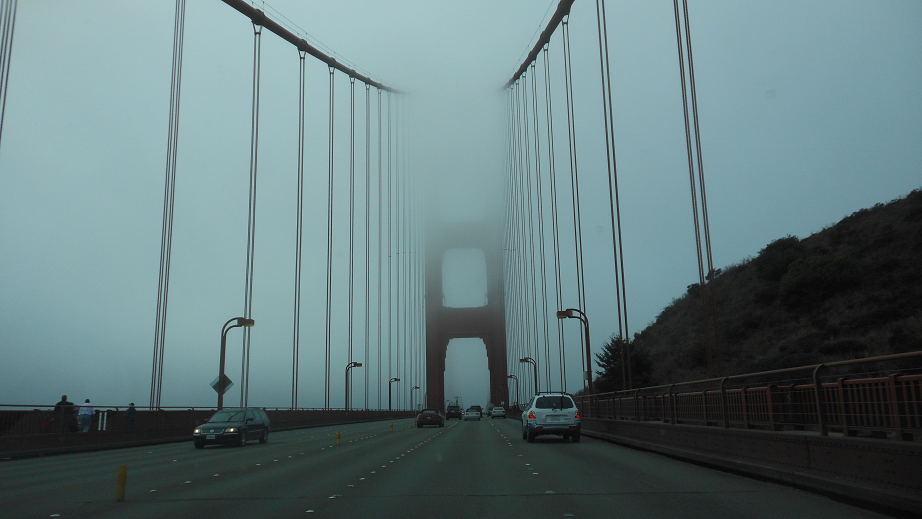 We're meeting up with Tina and Maurice at Carol Gould and Art Siegel's place, with its neighborhood parking. We don't think we've done too bad, in terms of distance from our parking spot to Art's house. And it wasn't; everything was great, all except for the hill that covered the distance. But we better get used to it – we're going to be here four days in all, and we plan to do a lot of walking.
Factoring in the rather limbering walk, we were the last to arrive. Just enough time for a quick tour of the place, freshen up a bit, get the photo taken, and we're off to catch the bus that will take us down to Golden Gate Park.
It's the last day of this three-day free festival – and lots of good music still left. We parked our blankets and seat cushions at the Rooster Stage, then Bridget and I wandered off in search of food and drink and to see what was up at the other five stages. Near the Banjo Stage there's a tribute to Warren Hellman, the founder of the festival, who passed away in 2011. His picture is also front and center of the backdrop at the Porch Stage, pictured here backing Emmylou Harris and her band…
I wish Emmylou had been my big sister and had sung me to sleep when I was a little girl. She sings like an angel. It's funny – my two favorite female voices are Emmylou Harris and Janis Joplin, yet the two couldn't be more different … I guess it's all part of my yin-yang.
She sang such a beautiful version of Kate McGarrigle's "Talk To Me Of Mendocino." Just lovely. And "Evangeline" and "Michelangelo" are forever gorgeous when Emmy sings them. Her set topped off a splendid afternoon.
Over at the Rooster Stage, earlier in the afternoon, we'd seen an absolute killer set from Glen Hansard. He was buzzing from the time he hit the stage. I'd heard that he often sings Van's "Astral Weeks," and this turned out to be one of those times. Here's my fuzzy video of it on YouTube. Smashing version – literally, Glen just bashes away at it at the end, which is not unusual in and of itself – when you look at his guitar, you can see he puts it to work …
The Van fans in the audience are loving it …
He had a nine-piece band behind him, including a violin and a cello and three horns. They whipped up a fine version of "Life Is A Carnival" that worked well for the festival crowd. His whole set did. Jam-packed, we were cheek to jowl, enjoying Glen's good time. A very engaging performer.
Followed by a solo Nick Lowe. I liked his 2001 album The Convincer and, other than vaguely remembering the band Brinsley Schwarz doing "Cruel To Be Kind," that 2001 album became my introduction to Nick Lowe. Not longer after, I saw him playing at the Paradise in Boston, with Geraint Watkins on keyboards, and it was a good show. But then he slipped into the backroom of my listening library, gone but not forgotten. A year or so ago, I got word that Johnny Scott was on tour with him, but regrettably, I never got to see any of those shows. I was hoping (against hope) Lowe would have his band with him today. But it wasn't to be. Instead, Lowe played his guitar and sang popular old-timers, chit-chatting about modifying his set today to factor in the youngsters in the crowd, before launching in to another lusty number.
Then it was off to see Emmylou, who not surprisingly drew a big crowd. Here's what I think about Emmy's shows: You would never go to an Emmy show unless you liked the sound of her voice – it takes over everything in the room. So, given that, everyone there is taking it in, just this simple, beautiful voice. And if that's not healing, it would be hard to come up with something better.
Bridget had prearranged to meet up with her friend Justin at the festival and give him a ride to Santa Cruz. Justin is from Ithaca College days and is now at University of Santa Cruz, doing his master's work in something very creative and cutting-edge. It was thanks to Justin that we got up to the campus as much as we did.
The three of us catch the bus back to Art and Carol's neighborhood (they had left the festival early to head over to Game 1 of the National League Championship Series, with St Louis Cardinals vs the San Francisco Giants. Winner goes to the World Series. Art and Carol were not likely to miss that game).
We, on the other hand, pile into Dexy and head out of the city south on 101 to Santa Cruz, a reasonably short hour and a half drive. After our week in Santa Cruz, we are heading back to San Francisco for our last three days on the West Coast before it's time to head home.

A self-professed live music junkie, Shannon is the author of Astral Weeks Live: A Fan's Notes, a book about her year on the road attending singer Van Morrison's epic live performances of his widely acclaimed album Astral Weeks. To find out more about the book or to order a copy signed by the author, click here.