Sunday morning, we wake up to a sunny day in Sonoma wine country and begin it with a hearty breakfast in Tina's kitchen. Bridget and I are packing up and getting ready to go, on our way to Santa Cruz. With a pit stop on the way – we just found out yesterday that the Hardly Strictly Bluegrass festival is on this afternoon at Golden Gate Park in San Francisco, and it's right on the way – we've simply got to go; Santa Cruz will just have to wait for a few hours. Tina and Maurice and we two are going to meet up at Carol and Art's and head to the festival from there.
What a splendid afternoon it was. Just another great day in San Francisco. I'll tell you all about it later, but first, on to Santa Cruz and our big holiday. Now, some might say that what Bridget and I have been doing for the past 10 months has been one big, glorified holiday. And they'd have a point. Santa Cruz was something different, though. Back in June, when we were sketching out our plans for the second leg of our road trip, we both liked the idea of a week's vacation – away from the madding crowd, on our own, park the car for a week and just kick back, preferably at the beach. Santa Cruz, here we come!
We'd booked ourselves a little cottage a few blocks from the beach, again through airbnb, and it couldn't have been better. We have the place to ourselves – the owner is off getting married and going on her honeymoon and all we have to do is bring in all the wedding gifts that arrive daily on her doorstep. It's a small place, perfect for one, cozy for two. The only downside is there's no Internet. But maybe it's a blessing in disguise, forcing us to take a real vacation – no work, all play.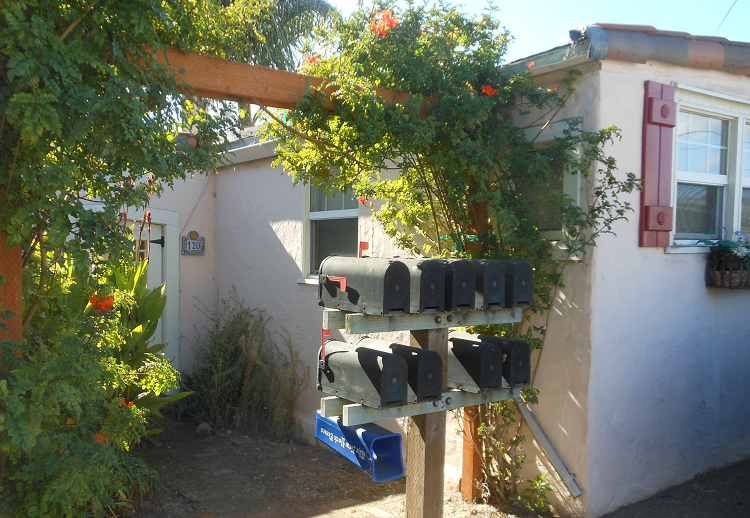 The dining room is outside, perfect for the morning cup of coffee. Our own little hacienda.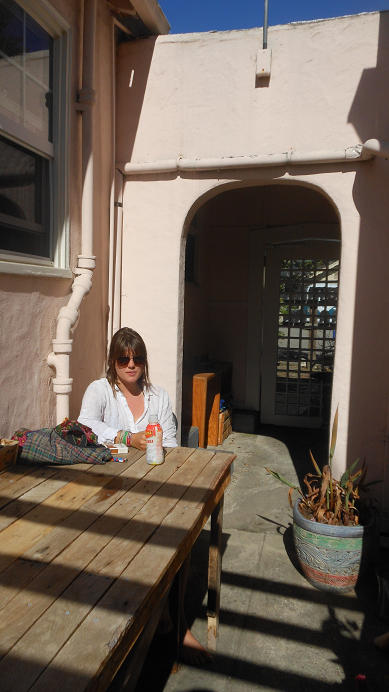 And at the end of the complex's parking lot, our view of the water …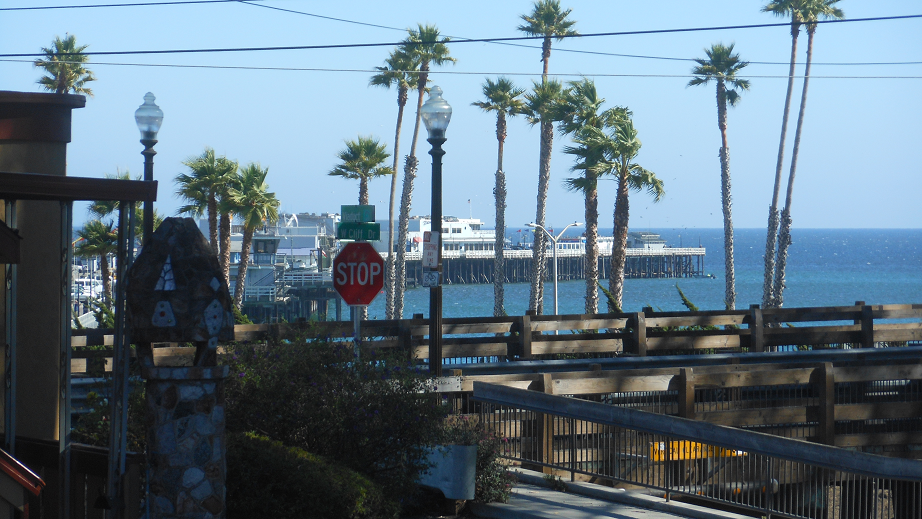 And that's right where our exploration of Santa Cruz begins. The short walk down to the beach lands us at the Municipal Wharf, and up a ways is the boardwalk and the carnival. Famous, or at least known, for being the backdrop in the teen horror flick "The Lost Boys." With Kiefer Sutherland as the head tough guy.
Speaking of movies … Santa Cruz has three downtown movie theaters. I am bowled over – three theaters! It's a moviegoer's dream come true. I manage to take in three films in the course of the week, one of them the midnight showing of "The Lost Boys" (but of course) at the Del Mar Theater on Pacific Avenue, in the heart of downtown.
.
In the October 1989 earthquake, Santa Cruz was particularly hard hit – losing a lot of its downtown in the process. But as we wander around town, we see a mix of old and new – the three movie theaters, a new bookstore and a used one, an independent record store, a library, cafes, pubs and shops to cater to every need. The restoration committee has done it up nicely, and I am enchanted.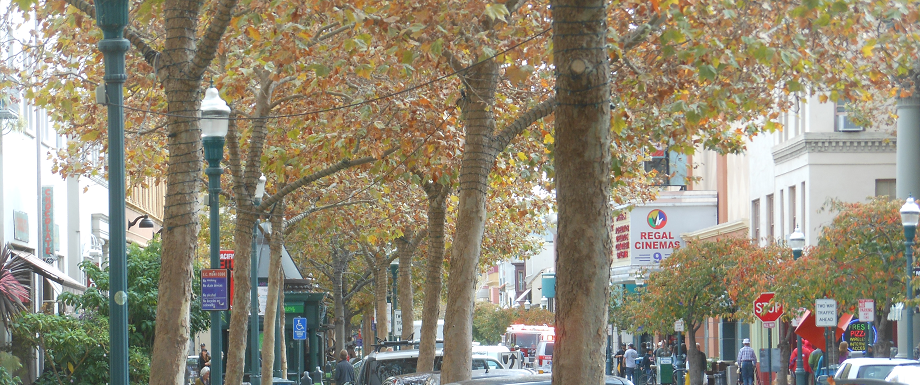 I don't know what the downtown was like before it got torn up in the earthquake, but what it is now is decidedly upscale. During the day, you wouldn't guess it was a college town; college kids can't afford this, can they? Maybe nights, downtown is turned over to the kids and the beer is cheap. And at least once a week you can see Kiefer in "Lost Boys."
The University of California, Santa Cruz has this extraordinarily beautiful tract of land on the outskirts of town. It goes down to the ocean and up into the meadows, surrounded by redwoods. Those trees would inspire anyone. Only a couple of days in town and already I was starting to think that Santa Cruz could easily be added to the lengthening short list of places I'd like to revisit, maybe live there for awhile. I thought that if I did come back, I'd take a course at the university, just to hang out with the redwoods.
The McHenry Library on campus has the Grateful Dead Archive, or at least a minute portion of it, on display. I would love to take a Grateful Dead course here, just so I could see what all's in the back room. (Seriously, I should check into that.) Lots of good memorabilia on display – a slice of the Dead I knew nothing about. I'm not a big Dead fan, but if I was, I'd definitely put this on my list of things to do.
It was the public library downtown, though, that gave me my biggest find. Sitting on their shelves is a treasure trove – books about the Irish in San Francisco of the 1850s, historical books about New Orleans; and there within the pages I have a eureka moment – about The Irish Book – and I haven't had one of these epiphanies since we were in Virginia City, Montana. This whole road trip has been about discoveries and discovering – the people we meet, the sights we see with our cameras. And in my case, the historical discovery of places, events and people that provide such color to the story I want to tell. For me, I hoped that as we meandered about on our year on the road, if I just kept my heart open to it, the pieces of the puzzle that when put together cobble up a grand story would come to me. So when I get one of these eureka moments. I am hugely delighted. And it's enough to settle it: Santa Cruz is definitely on the short list.
The bonus is that Santa Cruz has Moe's Alley, a small club on the outskirts of town, which as it says on its logo is "Home of Great Live Music." Charlie Musselwhite is in town with his suitcase full of harmonicas. Terrific. Somebody I've always wanted to see but it never happened. A nice little blues show, wailing away on the harp, and we're all shaking it out on the floor (to one degree or another).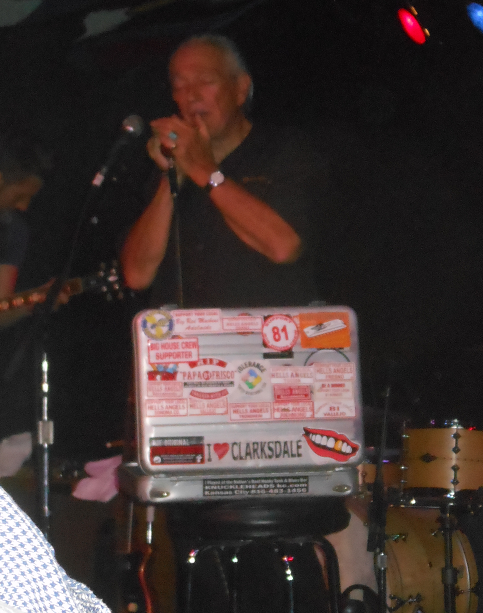 monterey and carmel
We took a day to check out Monterey and Carmel to the south along Hwy 1. With not a lot of time to explore, we stopped in at the Visitors Center in Monterey to find out about the highlights of the town. Right across from the center is the Dennis the Menace Park, created by Hank Ketchum, while he was living in nearby Pebble Beach. But we haven't left ourselves enough time to check out the park; we want to get downtown and see what that's all about.
We had a late lunch at a great little Mexican place in town and then we were off to Carmel. It was important that we get to Carmel. It was the furthest north we'd made it when we made our drive up the California coast back in April, and today we're just going to close the gap coming at it from the north. Also, I want to go down to the beach in Carmel, where we'd gone with the kids in 1994 and compare then and now.
If there were more hours in a day, we would have stayed longer, but the afternoon was fading and a storm was coming up. Time to go.
all along the waterfront
If you're going to take a vacation at the beach, the idea is to go to the beach. This is our last beach in California, it's our last beach of the road trip. I'm all about beach at this point. We had a great week in Santa Cruz, outside a lot, walking through the trees, down the streets, into the alleyways, and along the water. A girl could live here. Why are all the best places to live in California? Or does it just seem that way?
Seabright Beach, where the boats come sailing in