We wave goodbye to the Miniatos in Tsawwassen and drive to the Canada/US border, about a 40-minute drive. We pass by White Rock, where we had lunch on August 31 with Hilda. From our vantage point on the shore, Hilda pointed out Blaine, Washington, to me just across the water. That is our destination tonight: Blaine. Actually, Birch Bay, an outpost of Blaine.
They seem glad to see us at the border and we're down to Birch Bay in no time, sitting on Agnes and Chris Doutre's couch, enjoying a glass of wine. It's like pennies from heaven here in Birch Bay. When the Doutres tire of us, we can slip across town to Agnes' sister and brother-in-law's, Linda and Ron. And what a delightful five days we spent in Birch Bay, a party of six enjoying good food, lovely wines and many hours of conversation. And that's just when we're sitting down.
Glorious weather all week. Chris took Bridget and me and his friend Jerry out for a sail on a beautiful day to be on the water. I received my first sailing lessons and even got to hold the wheel and steer the course for a short while, and as we cruised across the bay it occurred to me that this is the life: setting sail one day, heading up to the mountains the next. That is the way of the Pacific Northwest and it's good to be discovering it all.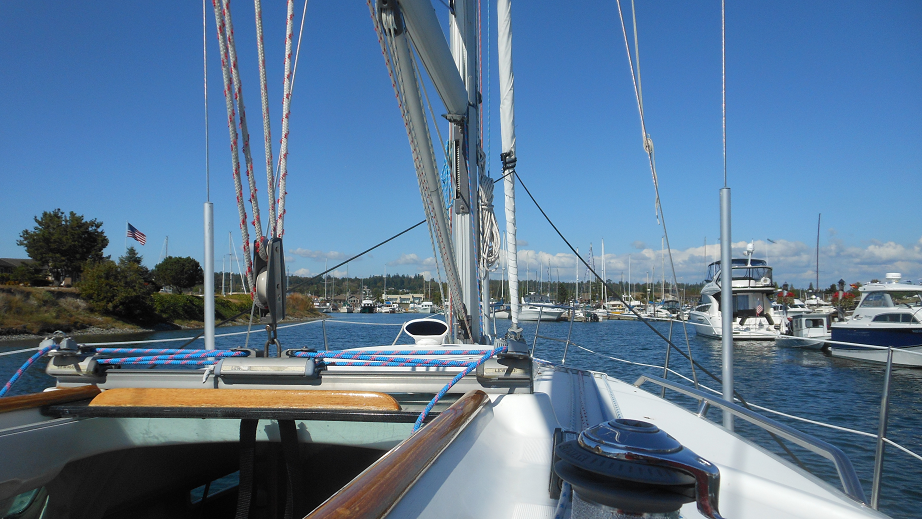 Alcoa has a refinery on the south shore of the bay, and Linda's got a job with them. She's on the people end of things, and while I'm not sure what her job title is, her job description is the person who gets things done. She was able to take me for a tour of the plant, driving up and down the roads between the buildings, each building responsible for one step along the way that turns bauxite into aluminum. It was all a little bit beyond me, as science often is: just another example of me thinking it's a good thing the world wasn't ever counting on me to make discoveries. I just get to reap the rewards.
From the Doutre's back deck, which encompasses a great view of the golf course, when the mountain is out, you can see Mt. Baker straight on. It's a wonderful sight. We'd caught our first glances of Mt. Baker in Victoria, and here in Birch Bay, we're that much closer.
Ron, Bridget and I headed over to Mt. Baker one day. Our first of the "Mounts," all of which we expect to see as we head south through Washington and Oregon. Ron's been to Mt. Baker, many times I'm sure, and he leads the way up Mt Baker Byway, a winding road that offers vistas at every switchback. We stop at one of the lower lakes on the mountain – Picture Lake – and you know it didn't take them long to name this one …
A bit further up the road is the entrance to the Mt Baker ski area, and fortunately for us, September is still considered the "summer" season, at least in terms of open roads. Beyond the ski area, the three-mile road leading up to Heather Meadows Visitor Center is closed during winter, which comes early here. But we've picked a perfect day – the road is open and the crowds are thin on a midweek day. From the Visitor Center there are a multitude of trails to choose from. Ron and I leave Bridget to hike the six-mile Chain Lakes trail, while the two of us tackle the one-mile Artist Ridge trail – the kind with no huffing and puffing involved – just my kind of trail, when all I want to do is take in everything my eyes can see around me …
We have good views of Mt Baker and Mt Shuksan, the former being an active volcano that could blow anytime. But not today. Shuksan stands out in the distance, a sight to see …
And Mt Baker, covered in snow …
Back down in the parking area, rooting around for lunch in the cooler and waiting for Bridget's return, one last shot of Mt Shuksan, looming over the snow piled high around the edges of the lot …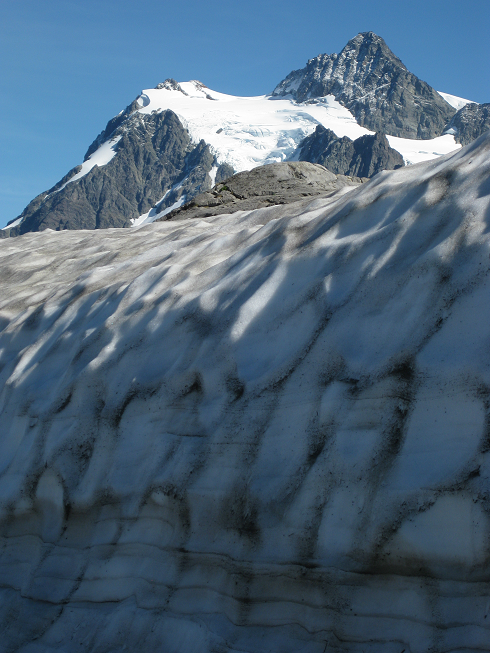 From Mt Baker, we're off to Bellingham, which is perhaps best known as the first city south of the US border and where lower mainland British Columbians come to shop and stock up while the price is right. No shopping for us tonight, though; Ron's treating us to a car wash (which Bridget and I thoroughly enjoy like two 8-year-olds shouting with glee at the big rollers and spray of water) before we head over to dinner and a meeting with the local Libertarians. Linda, Agnes and Chris are already there, ready to hear of our mountain-climbing exploits of the day.
It's more than nice to have friends in lovely places and it's way more than nice when they're glad to see us. Our five days in Birch Bay come to an end much too quickly, but we have to get a move on – the rest of Washington beckons. We leave with promises to return. Little did I know that we'd get to keep our promise much sooner than expected.