Here it is – a map of our travels throughout Ireland and Northern Ireland.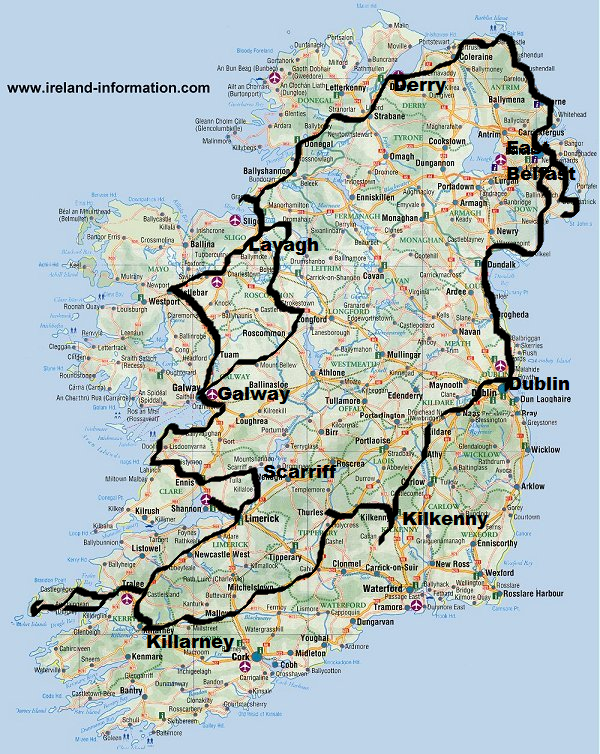 We landed in Dublin on February 12 and took five days at the beginning of our stay to explore Dublin on foot – in and out of pubs and coffee shops, walking through St Stephen's Green and the Trinity College campus, through Temple Bar and over to the Guinness Museum, along O'Connell and the River Liffey, and for Bridget, many hours spent busking on Grafton. A great city to explore with all its nooks and crannies.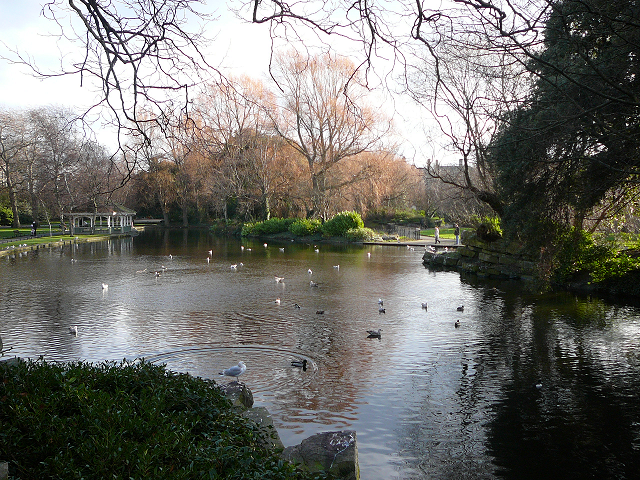 On the 17th, we headed over to the airport to pick up our rental car, and from there we headed north, passing through seaside towns and inland through sheep country on to Belfast, staying with couchsurfer and Van fan extraordinaire Maurice Kinkead. We were to return to Belfast along with all the Van fans coming over for the Van shows in a few weeks' time, but we wanted to see Belfast unencumbered by a Van lens, and that we did.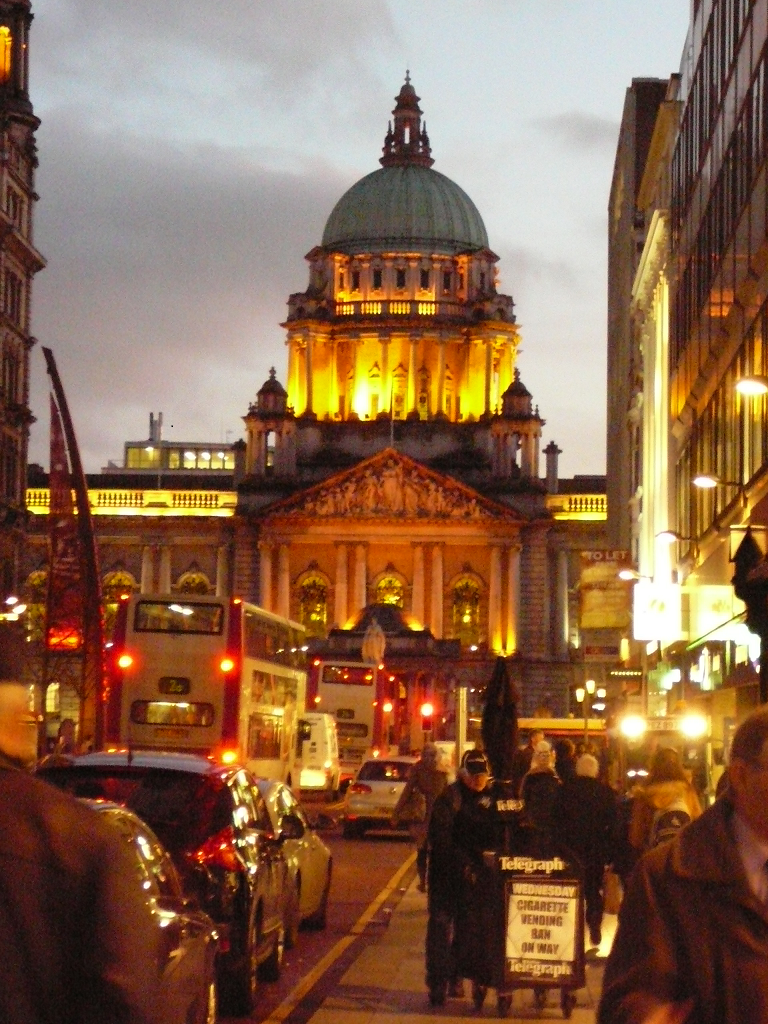 From Belfast, we headed further north, to Giant's Causeway, surely one of the natural wonders of the world. It was a miserable day weatherwise, so it was slip sliding away on the rocks, but oh, what beauty. This is Bushmills country too, but no time to stop for whiskey, as we made our way southwest to Derry, NI. An incredible sense of history, and perhaps it was just me projecting, but I felt a pall hanging over us as we walked the city walls that Saturday.
No time to dawdle – back in the car and pointing the car southwest, we stopped in lovely Donegal for a late lunch and then on to Sligo for a liquid dinner before arriving in Lavagh for a two-night stay with the Mekitarians, our couchsurfing hosts. We couldn't have timed it better, arriving on a Saturday night. We found ourselves at a local pub, the Border Collie, with a session in progress, giving Bridget her first taste of sitting in with a group of musicians, playing fiddle. Everyone was so friendly, so welcoming, and I think it was somewhere around my second Guinness that a sense of belonging here started to form deep inside.
As much as we would have liked to stay, we needed to head onward, and so we did. Monday the 23rd, it was off to Galway for three nights. Described by everyone we met in Dublin as the place to be if you're into music and playing music, we'd carved out a three-day stay here in the biggest city on Ireland's west coast. Ireland's wet coast. It rained for three days, making it hard for Bridget to busk, but she valiantly forged ahead, in and out of the rain drops. With all the rain, it was a good time to start with my research, indoors at the town library. But always enough time to check out the local scene – and everyone was right – a happening party town. The sun finally came out on Friday, the day we left, but if ever there was a day for sunshine, this was it. We were headed for the Cliffs of Mohr, and their stunning beauty can only be appreciated when the sun shines. The Cliffs of Moher at sunset are a sight not soon forgotten.
Heading south from the cliffs, we arrived in Ennis for dinner and on to Scarriff for the night to stay with our couchsurfing host, Veronica ni Chuilleagain. A caledonia night of music and laughter, stories and joy. We discovered the Celtic goddess Brigid, and from that point on, Brigid became our guiding light, and what had been a mere road trip became a pilgrimage.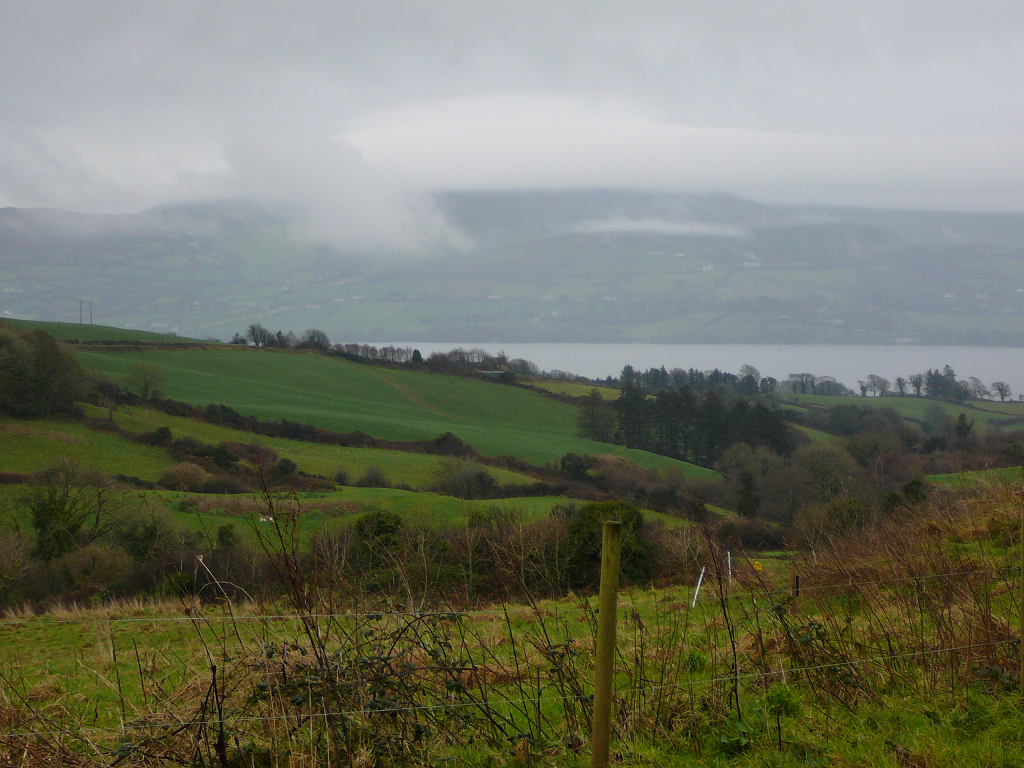 From Scarriff, co. Clare, it was on to Killarney, co. Kerry on Saturday, the 28th for two nights. Just long enough to meet up with Hilary Scanlon, Van fan, yes, but Christy Moore fan, yes yes, whom we spent the day driving around Dingle Peninsula. With the sun shining through and the beauty all around, it was a love affair with nature – the pounding waves, the green fields, the fog rolling in on over the mountaintops. Magnificent!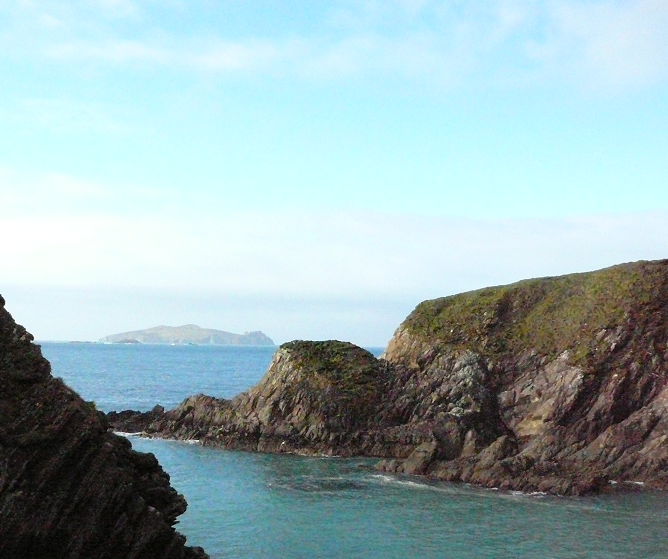 From Derry on the west coast back to Dublin on the east, it was hustle time. Leaving us just one day, midway across country in Kilkenny, for me to do some research. We arrived in Dublin on the morning of February 1, dropped the rental car, and headed over to the train station to begin the four-day Roots of Van tour that took us up to Belfast and around co. Down and back to Dublin on the 4th. All-Van all the time – how great is that! The shows were wonderful, the icing on the Ireland cake for us. This was the first time Bridget had seen Van in concert, and lo and behold, she was blown away (how could it be otherwise, right?).
That left us just five days – spent between Dublin and Kilkenny – before we headed home on February 9. We knew before we headed over to Ireland that the month here would be a little slice of heaven. That it turned out to be such a huge slice made it just that much better. We know we're coming back – it's just a matter of when.