I have to admit, a bit of a pall came over Bridget and me as we strolled through the Mission District to get to our car and point 'er east. It felt like we had come to the end of the road, the road that for the past 10 months had taken us all over Ireland, America and Canada, ending here in San Francisco.
The road ahead of us was the road home. And that suddenly sounded sad to us; Bridget and I have quite decided that we like it a lot, this being on the road (surprise, surprise), so much so that the idea of going home and relaxing for a spell is like some sort of bitter pill we have to swallow. But be that as it may, it's not really the end – we've still got a road trip ahead of us, with over 3,300 miles to cover, taking us from one coast to the other.
We need to cover it in good time too – not Neal Cassady good time, but decent time nonetheless. We've dawdled too long on the West Coast to afford us a leisurely drive home. Our first leg: San Francisco to Boulder, Colorado; about 1,200 miles. We have a couple of days' journey ahead of us.
There is nothing like hitting the dry desert of California to set a right dismal tone, and added to the pall of leaving the good times behind, it got so bad, I took out my notebook and wrote the heading "Top Ten Good Things About Heading Home" and proceeded to populate it with cheery thoughts. Sadly, try as I might, I could only come up with three things, so that didn't make things any better. Sigh. But there is something to be said that once you leave the coast, California is a lot less appealing, unless you like desert and lots of it.
We'd picked up Interstate 80 in San Francisco, and the idea was to keep driving until dark or to Reno, whichever came first. As we left the desert behind us and headed into the Sierra Nevada, the trees overtook the sky early and we began looking for a roadside inn with the help of our GPS lady. The Sierra Lodge up ahead in Emigrant Gap is the closest, and really, there isn't much of a choice in these parts.
They were quite surprised to see us. I think we might have been their first overnight guests of the paying kind. It seems that Sierra Lodge is a retreat, and we've walked in on an executive committee meeting of the lodge members who need to suspend their meeting while they bustle about finding us a room. Our room was lovely, they were very accommodating about sending a fax for me in the morning, and breakfast was yummy. And all those coffees while waiting for Bridget to join me meant a trip to the loo. And the only reason I mention that is to reveal one of the photographic essays I undertook on this road trip: an eclectic selection of bathroom doors. The Sierra Lodge's fit the bill.
Our morning drive through Tahoe National Forest brought us into Reno, Nevada, on the other side, and a much needed pit stop at Jiffy Lube to get Dexy all lubed up for the journey home. We were in the outskirts of town …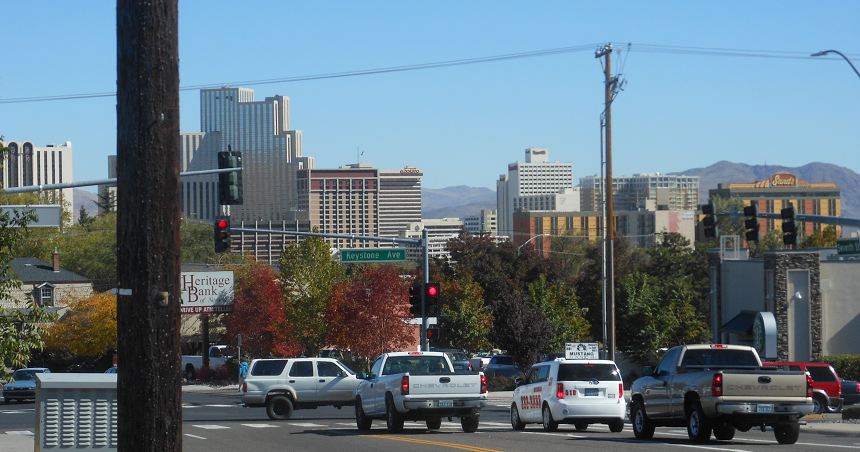 Today is all about Nevada. It's a big, wide state with lots of driving in it. I-80 all the way…
We were passing through Elko, Nevada, during sunset – this wide open country is made for beautiful skies at night.
Up the road another 50 miles we stopped for another Super 8 night, this time in Wells, Nevada. We're so close to Utah, you could almost smell it; we'll be there by morning.
And so we are. By late morning we're driving through the salt lands. Where we are is the former Lake Bonneville, and out here on its western edge it's been dry for eons. All that remains are the mineral deposits. And the Bonneville Salt Flats, site of record-breaking land speeds on their measured mile. The current record is an astounding 763.035 mph, set in 1997, according to Wikipedia.
We stop to read the sign at the rest stop on the side of the road, and then we're on our way.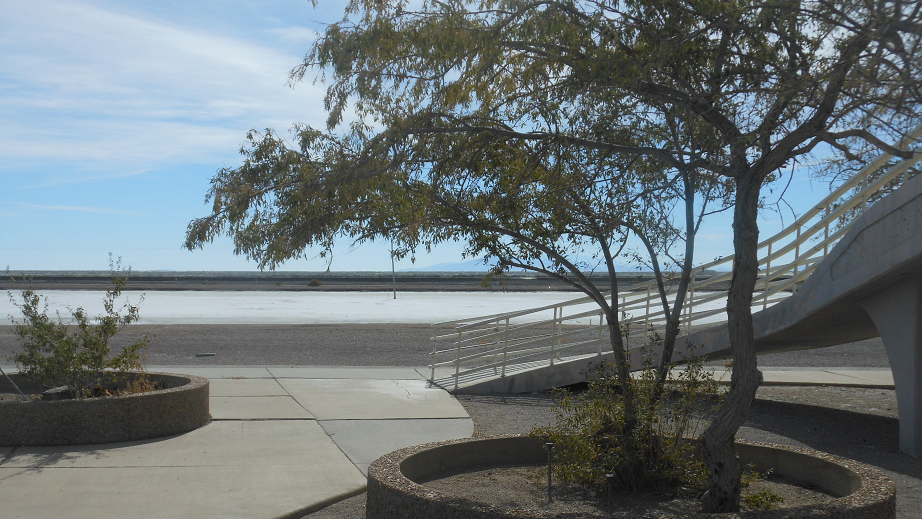 We're driving east toward Salt Lake City, up ahead nestled in the mountains. As we get nearer, we pass by Great Salt Lake on our left, one of the few liquid remnants of Lake Bonneville. This bit of water on the right is but a mere pond …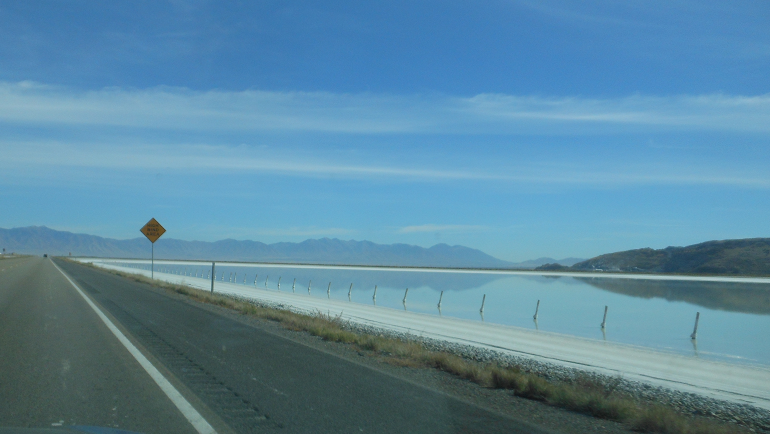 We make it to Salt Lake City in time for a late lunch, but not much time for sight-seeing. While I leave Bridget double-parked on the street, I rush into Temple Square downtown for the two-minute self-guided tour (you come all the way to Salt Lake City, you've gotta see the thing).
Inside the Tabernacle, choir not in session

West of Salt Lake, we took our first detour off of I-80, taking the more southerly Highway 40, which promises to have some splendid Colorado scenery up ahead as we get closer to Boulder. But for today, we make it as far as Vernal, Utah, after a lengthy delay at what must have been a tragic multicar accident about 25 west of there. That put us in shooting distance of Colorado.
The first town over the border is a place called Dinosaur, Colorado …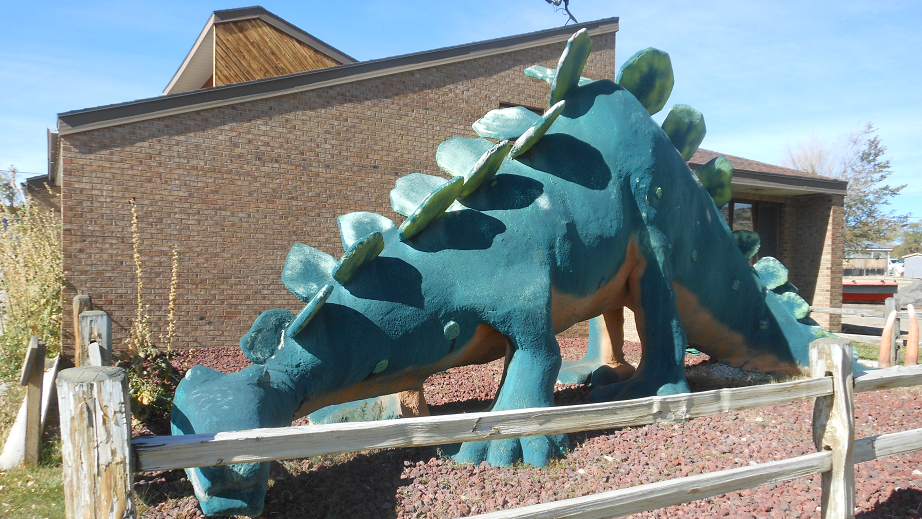 … where the woman at the corner store, when told of our plans to take 40 on into Boulder, shook her head and said the road's not open, we'd have to take 64 south and eventually pick up I-70 into Denver/Boulder. Back in May when we were on I-70 heading to Denver, I recall looking at the map and eying Hwy 40 to the north cutting through Rocky Mountain National Park and looking forward to the day I was there. But it turns out this is not to be that day.
Instead, a very pleasant drive through the countryside …
… arriving in the town of Rifle at the junction of I-70, and from there it was a straight shot through to Boulder through the foothills and mountains. We'll be there long before the sun goes down.